Sweet or savory breakfasts?
I'm forever caught in the dilemma.
I know several people who eat the same thing every morning – oatmeal, eggs, fruit.  I just can't do it.  Breakfast is my favorite time to get strange.  Thank god it's usually good, because I can get HANGRY in the morning.
Today's Sweet Potato and Spinach Hash may not be terribly strange, other than the fact that it could be a dinner side were it not for the egg.  It came together out of my usual end of the week "use all the random leftover things."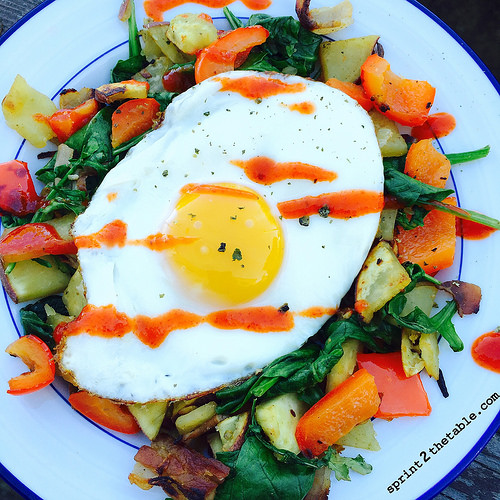 By Thursday and Friday it really is like an episode of Chopped, Home Edition.  Vegas is always suspicious, but she's willing to try anything.  This week, we happened to have Japanese sweet potatoes, spinach, and bacon on hand.
Nine times out of 10 I roast my sweet potatoes in the oven.  That way, I just wrap 'em up and forget about it while I'm doing other things.  Sautéing them seems to take too much effort.  However, I've come to realize if I cut them on the thin side (about 1/4 of an inch) it greatly decreases the time it takes to cook.  Duh.
Why are the most obvious things so hard?
No savory breakfast in complete without a little #yolkporn on top.  They drippy yolk oozing out over the flavorful hash is a thing of beauty.
---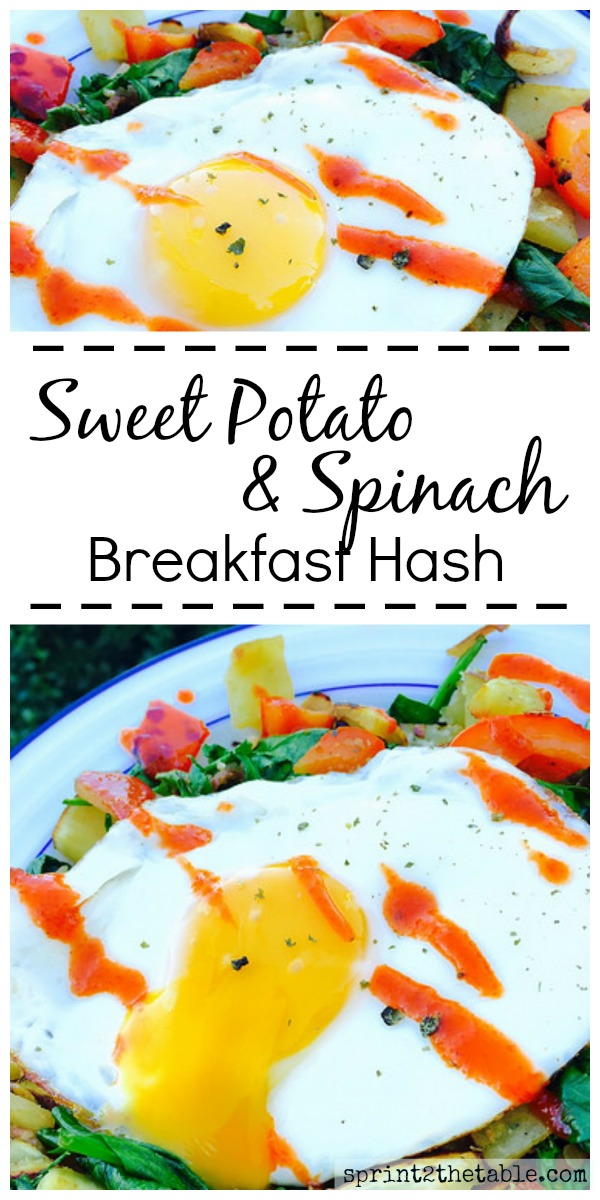 Sweet Potato and Spinach Breakfast Hash
1 medium sweet potato, peeled and cut into ~¼ inch pieces
1/2 yellow onion, thinly sliced
1 red bell pepper, diced
4 strips of bacon, diced
1 tsp cumin
1/2 tsp smoked paprika
1/2 tsp freshly ground pepper
2 cloves garlic, minced
2 C fresh spinach
2 eggs
Heat a large greased skillet over medium heat.  
Add the sweet potato, onion, bell pepper, bacon, and spices.  Cook, stirring occasionally, until sweet potatoes have softened, ~15 mins.
Add the garlic and spinach to the skillet and cook ~5 mins more, until the garlic becomes fragrant.  Taste and adjust seasonings if needed.
Upon adding the spinach and garlic, begin frying the eggs to top the hash.  Heat a greased nonstick skillet over medium heat.  Once hot, crack open eggs into the skillet.  Cover with a lid (this helps the tops to set without overcooking the yolk), and cook 3-4 mins.  They are done once the whites are set.
Plate the hash, top with the eggs.  Sprinkle with additional pepper, and add salt or sriracha if desired.
Makes 2 servings.
---
How have you enjoyed making co-workers, friends, or family stare with strange but good creations this week? The link up rules can be found here or by clicking on "Strange But Good" in the menu bar above. In short, I want to see what concoctions have earned you weird looks from co-workers, family and friends! Post your Strange But Good creations, grab the logo below for your blog, and link up here.
Remember to use #strangebutgood in any Tweets and Instagrams of your creations. 🙂



***
Another Vegas-approved breakfast.  I'm on a roll lately! 😉
Do you eat the same thing for breakfast every day?
What's your favorite breakfast to make if you have all the time in the world?