My name is Laura.  I hoard booze.
Really.
Many of you were surprised that I could keep this pumpkin beer in my fridge – untouched – for 2 months.  That's actually easy for me.  It's mine.  It's not going anywhere.  It won't spoil.  It will be there for me in 2 months (after my next figure competitions).
Going out… that's another story.  That lamb-stuffed squash blossom is seasonal!  The beers on tap rotate!  I might not remember to come back to try the bacon Manhattan!  (Ok, ok… it's unlikely I'll for forget bacon).  You get my point.
As such, this is (part) of my collection:
Many of you commented and tweeted about YOUR favorite pumpkin beers that I should try.  Thank you for the suggestions!  I would like to officially announce that I am open to donations. 😉
Enough about my sobriety.  You know what goes well with beer?  PIZZA!  Kat has an awesome Sweet Potato Pizza Crust to share today!  
I'm not-so-secretly hoping she'll make me one to drink with my pumpkin beer in a couple of months… 
---
Mix it up: Night Running and Sweet Potato Pizza Crust
This weekend, I (Kat) mixed it up by visiting a place I used to live, Savannah, GA.  I had a great time with friends, and sat at a booth with/for the Stonewall Bar Association at Pride.  I also got to visit with great old friends!  It was super fun. Now I'm trying to mix it up at home and outdoors.
I have been trying to mix it up by running with more friends (which is more difficult than you think).  I get turned down all the time, and people don't invite me on group runs very often (Editor's note: My invite must have gotten lost in the mail…).  So I decided to inquire about this lack of running buddies.
I find that the friends who know what kind of distances I run are afraid to run with me because they think I'm fast.  WRONG.  I am not actually that fast, but I can run super far, for a super long time (Editor's note: Lies.  You are fast.  But you are a patient partner.).  That being said, I enjoy running at an 8:15-9:15min/mile pace in the city, and depending on the trails and the distance, 10:30-13min/mile.  So, run with me!  Let's mix it up! 🙂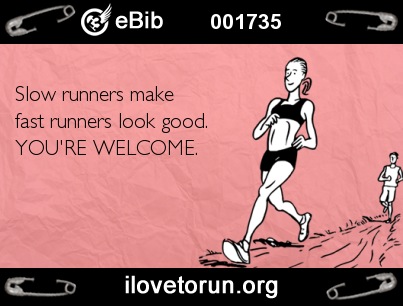 I have also found that running in the city on pavement, especially flat surfaces, really hurts my body.  My knees and feet ache terribly if I run on pavement more than 7 or so miles.  So, I stick to the trails as much as possible, and throw in a bit of yoga for strength and flexibility (Editor's note: You should come lift with me!).
While for many people, trail running is a great way to mix it up, because that's my usual form of running, I'm taking extra measures to mix it up!  This Sunday at 7:30p.m., I am going night trail running with some friends.  It's huge rush that heightens your senses, and it actually makes me run faster.  Check out this fun article on trail running at night.  If you want to join me, let me know, and I'll forward you information on the run.  I wish I could go during the full moon, tomorrow night!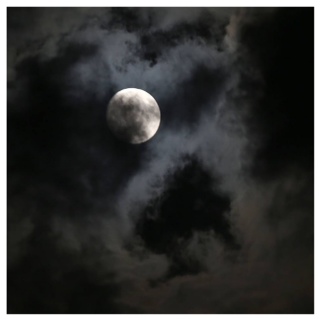 Speaking of mixing it up, my friend Julie from Savannah told me about a Sweet Potato Pizza she tried to make when I mentioned Laura's Cauliflower Pizza.  When I got home, I had to try this!  I didn't love any of the recipes I found online, so I tried my own!  (Editor's note: Story of my life.. also prepping this post made me come home and pull one of my cauliflower crusts out of the freezer for a pizza dinner!)
I wanted to capture a picture of it picked up once I realized how great it was, but I was near the end of the slice… excuse my excess Sriracha (I put that sh** on everything). ← Don't we all? 😉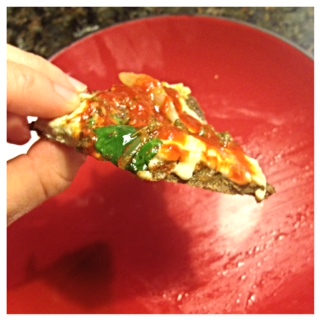 This pizza, like the Cauliflower pizza, can be picked up like a piece of pizza (Editor's note: It's not pizza unless you can hold it in your hands!).
It's a little chewy and a little crispy.  It has a bit of sweetness, and a bit of heartiness.  Really, a GREAT gluten-free pizza crust option!
---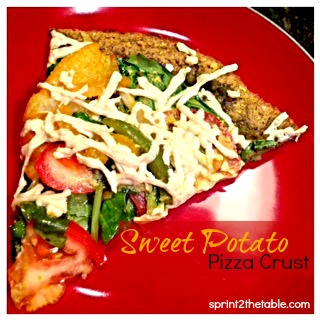 Sweet Potato Pizza Crust
½ C sweet potato (mashed)
1 egg (I bet this would be great with Chia, too)
¼ C almond flour
¼ C buckwheat
1 T flax meal
Pinch of Salt
½ tsp baking powder 
Preheat oven to 375.
Beat the egg, add the sweet potato, and then mix in everything else.  It should form a sticky dough.
Spread the dough onto a piece of parchment paper (about ¼ inch thick) and bake for 18 mins.  The middle should be firm when it's done (you should be able to pick it up).
Load with veggies/toppings of choice.  Bake for another ~7 minutes to heat.  Devour.
Also, if you like that bad-ass pizza cutter, check out Pequea Valley Forge. They have AWESOME kitchen utensils, etc. I found this on my trip to the beach in August, and it's my new favorite thing (which results in eating way more pizza).
My pizza has sautéed peppers and onions, Daiya mozzarella cheese, tomatoes and spinach.  Delish!
xo,
Kat
***
I told Kat yesterday that I was going to require taste tests from now on.   Quality control, right?!
How are you mixing up your running/lifting/workout routine to get an extra rush?
Did you try Laura's Cauliflower Crust?  Do you think the sweet potato or cauliflower does/would work better?  I wonder if we could combine them…