"Don't cry because it's over, smile because it happened."
This was the drama club's "quote" in high school.  You know, the one that everyone had written some where.  I think there is even a video of the club reciting it in unison post-curtain call.
Yes, I was a drama dork.  Not the cool kind that was the lead in musicals.  I did make up backstage.  Secretly, I wished I could act.
Having given up on drama (as an art and a personality trait I avoid like the plague), on Jenn's infamous What I Ate Wednesday I use this quote in reference to breakfast.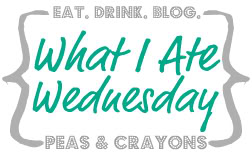 ---
Breakfast:
A breakfast soooo good I didn't want to take the last bite because that would mean it was over.
Sweet Potato Pie Oatmeal is by far my new favorite winter breakfast.  It was like having dessert for breakfast.  If only I'd had marshmallows on hand to top it off properly!
Recipe at the end!
Lunch:
In preparation for the Christmas party catering gig this weekend, I'm focusing on making as much room as possible in my fridge and freezer.
No grocery shopping.  Eating frozen meals and cookie muffin creations to clear freezer space.  Thai food.
Lunch today was a Chicken Enchilada Evol Bowl.  It wasn't too bad – especially with the Tabasco I "borrowed" from the office fridge.
The bowl microwaved evenly and wasn't as salty as many frozen meals out there (just over 500).  They used corn tortillas – far superior to flour, IMHO – making it gluten-free.
Speaking of salt, did you hear that the FDA is considering putting a limit on the amount of salt restaurants use?  Apparently the average American eats 11 CUPS of salt in a year.  Gross.
Dinner:
Next to my kickboxing gym there is danger a Whole Foods.  As a treat I sometimes stop in after class for a Hot Bar  Trash Can (a hodge podge of food that exemplifies my inability to choose just one or 2 thing from any menu).
I know it included kale-apple salad, sweet potato-cashew hash, buffalo-garlic tofu, seitan in some tasty red sauce, eggplant-zucchini-asparagus-onions in another tomato sauce, bowtie pasta, ancient grains, lemon-roasted carrot slices (these were REALLY good)… and a ritual… I always reserve a little corner spot for a teensy scoop of that glorious iced chocolate brownie.
Snacks:
I only managed pics of 2 of today's snacks.
Multi-Green Kombucha on the drive in to work.
Late-night chocolate chip cookie and almond milk (see earlier remark regarding the necessity of clearing out my freezer).
Unpictured: peanuts (I eat like I'm on a plane even when I'm not), Pure Protein bar, coffee, and a pre-workout FRS drink (which I swear does work!).
---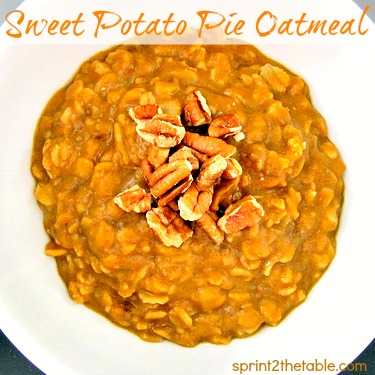 Sweet Potato Pie Oatmeal
1/2 C oatmeal (I used Bob's Mill gluten-free)
1/2 C unsweetened vanilla coconut milk (a la So Delicious)
1/2 C water
1/2 tsp cinnamon
1/4 tsp nutmeg
1/4 tsp ginger
1/4 tsp almond extract
Pinch of salt
3 T sweet potato puree 
1/2 tsp chia seeds (optional)
Cook the oats according to package instructions, adding spices and extract once boiling.  
When almost done (1-2 mins to go), add sweet potato and chia seeds.  Taste (careful not to burn your mouth like I did) and adjust flavors as needed.
Topping ideas: pecans, walnuts, marshmallows, maple syrup, brown sugar
Makes 1 serving.
***
Most of today's pics were tricked-out thanks to my new love – Instagram.
What is your favorite photo app?  Do share!
Do you concern yourself with salt intake?