We're on Day 5 of a successful cleanse!
16 to go.
Honestly, it hasn't been hard.  It's been so great having the friend support, and seeing them feel good makes me even more determined.
Results come quickly!  My friend sent me the following message yesterday morning:
I have an inordinate amount of energy.  This from a girl who consumed no less than 6 servings a day of caffeine… I'm like, let me clean the whole house, do laundry, and work all day with my kid on my hip.  WOO!
I'm so proud of my best friend!!!
The daily breakfast smoothies continue.  I do love smoothies.  With all of the random things I throw in them, I rarely end up with the same concoctions (except my favorite Liquid Sweet Potato Pie).
Atlanta is finally getting cold(er) this week and the thought of a cold drink for breakfast was too much to handle.  Then I remembered – seeds are allowed on the cleanse… that makes chia pudding legal!
I typically make fruit-based chia puddings like this peach cobbler chia or this banana cashew… but there was a giant sweet potato staring at me.  With my favorite smoothie in mind, I decided to try it as a chia pudding.
Sweet Potato Pie Chia Pudding.  Sweet chia, it was good.
Nuts aren't allowed, so that ruled out adding my usual nut butters… again, seeds are legal… sesame… tahini!
Turned out to be a genius mix-in.  The nutty, toasty flavor came through subtly, adding a cool dimension.
The martini glass certainly added something as well. 🙂
---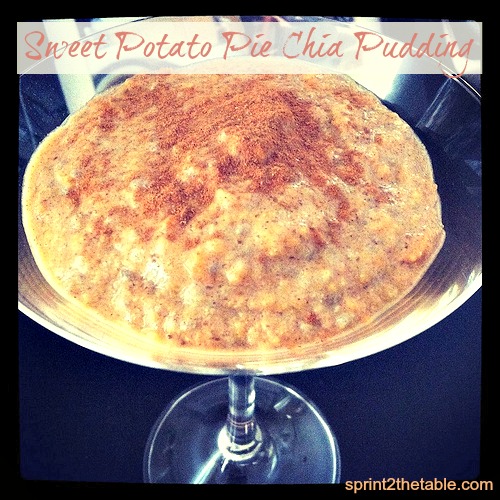 Sweet Potato Pie Chia Pudding
1/4 large sweet potato, baked
1 T chia seeds
1 scoop vanilla protein powder
1/2 C unsweetened vanilla coconut milk (or other liquid of choice)
2 tsp tahini
1/2 tsp cinnamon
1/8 tsp ginger
2-3 drops vanilla stevia
Shake of salt
Pinch cloves
In a bowl, mash up the sweet potato until smooth.  Mix in all other ingredients and refrigerate at least 1 hour (or overnight).  If it looks too thick, add more milk or water as needed.
Stir and enjoy!
***
Weekends are always my clean-eating weakness, so I'm really excited to have a dinner and game night with my cleanse buddies!
Have you made chia pudding before?
Are you celebrating Valentine's Day this weekend?  Share your plans – let me live vicariously!