I've been keeping secrets.
A few weeks ago you were all asking what this ice cream creation was:
It still needed some tweaking… and to avoid scaring people off I re-dressed it.  It's not easy being green.
This was the end result:
Sweet Potato Peanut Butter Ice Cream.
Sweet potatoes have long been abused.  For years they been drowned with brown sugar and marshmallows at your grandmother's Thanksgiving table.  These tasty 'taters don't need to be hidden by all that sugar-laden stuff!
It's time they were liberated.  In fact, sweet potatoes don't even need to be served hot to be delicious.  It's 80 degrees outside!  Let's celebrate with ice cream.  And peanut butter.
This sweet, nutty creation was especially good with the cinnamon and ginger additions.  Just enough to add a hint of flavor, these spices brought out the sweetness of the potato and highlighted the peanut element.
Topped with a little more cinnamon and enjoyed in the sunshine, this was the perfect afternoon treat.
___________________________________________________________________________________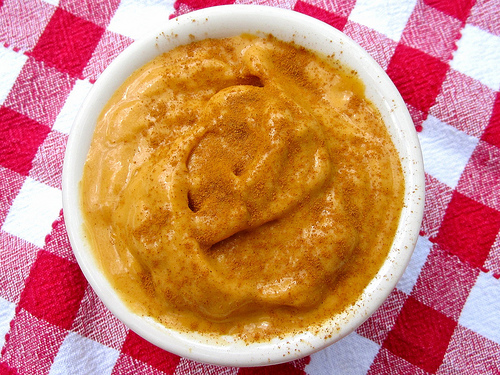 Sweet Potato-Peanut Butter Ice Cream



1 medium garnet sweet potato, baked

1 scoop vanilla protein powder (optional)

1/2 C unsweetened vanilla almond milk
1/2 in piece of ginger
2 T peanut flour (can sub peanut or other nut butter)

8 drops stevia
1/4 tsp cinnamon
Pinch of guar gum (or other thickener)
2 C ice
Place all ingredients in Vitamix.  Turn on machine and increase speed to #10; then to high. Use the tamper as needed to press the mixture into the blades while processing. In ~45 seconds, four mounds will form in the mixture.  Stop blending and serve immediately.
Note: Do not over-mix or your ice cream will melt. If your ice cream is more of a milkshake, firm it up by adding more ice cubes.

You may also use an ice cream maker; prepare according to maker instructions.
Serves 2.
***
I must have been strange kid because I didn't even like the marshmallow-topped casserole stuff back in the day.
Do you like all of that 'mallowed up casserole of your youth?
What is your favorite flavor or ice cream?