I know I've already complained…
But it's really flippin' cold.
Honestly, it isn't TERRIBLE.  I have a lot to be happy about.  I made it through security with my questionable stash, had a productive day at my client's office, and had a bangin' workout.
Not too shabby for a hotel gym that only had dumbbells, eh?  I sure was happy to have a homemade chicken burger, celery, and snow peas waiting for me in the room after that burn.
I was also happy to have my Pop Snax.  You can find these in the children's food aisle at Whole Foods.  Don't judge!  Kid food travels well and is typically low in sodium and sugar!
Even better?  When I asked an employee if she'd tried them before, she said she hadn't but that I could try them for FREE.  She game me the whole container.  Yet another reason I ♥ that place.
Enough about me and my random foods.  Kat is back this week with an amazing San Fran trip recap, and some serious mac 'n cheese food porn.
Heeeeere's Kat!
________________________________________________________________________________________
There are so many ways to be self-aware.  I think it's increasingly natural for many of us to be aware of our food and what we put into our bodies, and we are generally aware of our basic needs and desires.  For example… You could be aware of whether or not you are cat person or if you are more like a cat.  Laura and I both feel that the following photo describes both of us (Editor's note: Me?  Never… HA!):
But I'm talking about a different kind of awareness…the kind where you have to pay attention… to yourself.
Instead of looking at what others are doing or saying and judging them, looking at yourself and wondering why you feel that way about something said or done or the situation you are in.  Then, don't judge it or try to change it.  Just accept it.  Whether you're happy, sad, or in pain from a work out (or something in life), it's okay to accept it.
I started another 30-day yoga challenge on Saturday.  It was a spur of the moment decision, but I'm ready to make some changes.  What changes, you ask!?  Well, I'm not even sure I know.  I just know that I feel ready to change even more for the better, keeping with my New Year's theme of taking crap off my plate to enhance the quality of what I do take on.
Yoga makes me run smoother, love better, and enjoy life.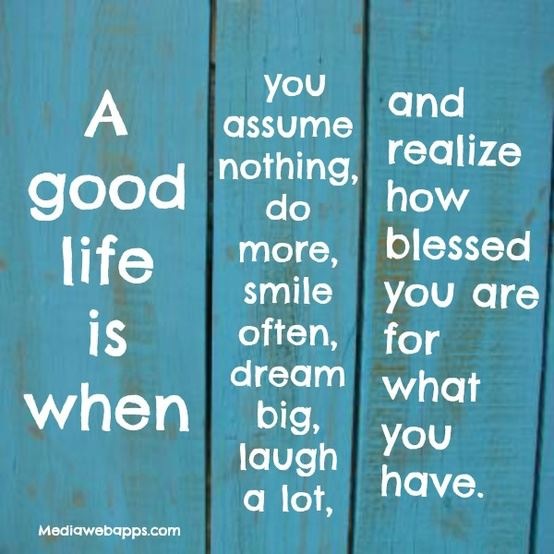 I want to be more aware of the way I respond to other people and situations and why.  I want to be more aware of my stressors and triggers that throw me into a mood, a frenzy, or some other state of discomfort.  I want to listen to my body's needs and desires in a new way.  Yoga really helps me to concentrate on feelings that flow naturally and become more aware of them.
My goal in all this is to learn to love myself and my life more.  I think my new "awareness" will help me to be more understanding, forgiving, and loving – of myself and others – in a unique new way.  In the physical long runs and in the long run of life, awareness leads to growth – physical, mental, emotional.  My theory?  This is how to live a long and fulfilling life.
Now… onto some PHYSICAL and FOOD!  Because I also personally think a good life is also when you get to spend as much time as possible outside being active and enjoying good food!  (Editor's note; AMEN to that!)
RECAP!
I had some good times with old friends and acquaintances, we went to Napa and I got to visit Sullivan Vineyards (that Laura recommended) and joined the wine club, saw the Golden Gate from the overlook in Sausalito at night, explored the whole city on foot, did a trail race, had a picnic at Cowgirl Creamery (Editor's note: No you didn't!  Lucky!!!), did more exploring, and rode on an old school cable car.  The trail run was the most beautiful, and the steepest I have ever done.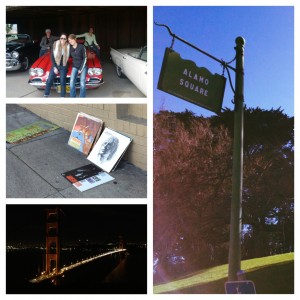 The SteepRavine was the steepest and hardest, but also the most beautiful trail run I have ever done!  It was a HUGE race.  I chose the 25K distance.  But… well…. as I told Laura and some other bloggers last week, I went off course, and ended up running an extra couple of miles.  Oops!!  But you can't really be upset about that when it was THAT beautiful!  (Editor's note:  You probably did it on purpose ;))
CHECK OUT THE VIEWS!!!!!!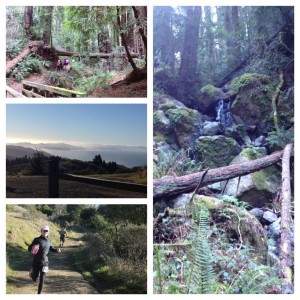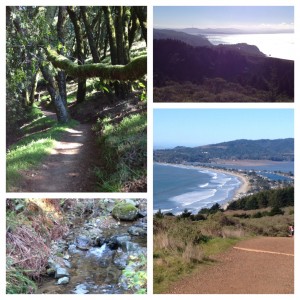 Some of the most inspiring moments in the race showed up when you least expected them.  I really paid attention to my body.  I had to stop and adjust my food.  It was freezing, and then hot, and then freezing.  But I got to meet a lot of cool people out there, one of whom told me that you usually can't see so far because it's too foggy.  Boy did I luck out!
My friends Sara and Jenny were kind enough to drive me out there and wait on me while I finished.  And then we had an amazing little picnic afterwards.  They really made my trip enjoyable.  They were spectacular hosts who made me feel at home.  The way they made me feel comfortable, made me feel calm, safe, and happy.  Definitely good!  They also helped me with my itinerary for my last day, where I got to visit the Ferry Building!  CHECK OUT ALL THESE COOL LOCAL SAN FRANCISCO GOODS!
I came back feeling extremely food inspired.  Jenny and Sara took me to a place called Homeroom Mac and Cheese.   Yes, that's what they make!  They specialize in Mac N Cheese!!!!  Check out their menu!  It's inventive and awesome.  I took a spin on it and created two of my own last Friday.  I made a Sweet Potato Pecan Baked Mac n Cheese and a Tomato Basil Pesto Baked Mac n Cheese.
I personally liked the sweet potato better, so I HAVE to share this recipe.  Let's pretend I actually measured most of this!
_______________________________________________________________________________________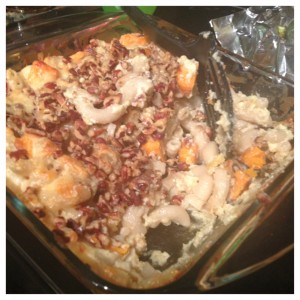 Sweet Potato-Pecan Baked Mac 'n Cheese
1 egg (tofu would work)
1 ½ C milk or milk substitute (I used coconut milk!)
¼ C fat-free sour cream (or substitute)
~2 T brown rice flour
~2 T butter
8-10 oz of Gluten Free Elbow Macaroni Noodles
CHEESE – LOTS OF GRATED CHEESE! (please grate your own… it DOES make a difference) – I used 1 C Cheddar, ¼ cup fontina, and ¼ cup smoked gouda
1 sweet potato
Pecans to top
Salt and pepper to taste (and a little cayenne)
Pre-heat oven to 375.  Prepare an 8×8 pan for the mac.
Cube your sweet potato into roughly ¾ inch cubes and spread out on a baking sheet.  Place in oven.  I did not season or oil – plenty of seasoning and oils from the rest of the meal!
Boil noodles according to package instructions.  Make them al dente; don't over-cook.  Strain, rinse with cold water.  Strain again. Set aside.
Now the yummy part!  Take your butter and flour and mix together in a sauce pan over medium heat.  USE A WHISK!  This makes a delicious roux.  Don't let it get TOO brown, but you want to do this for a good base flavor.
Reduce the heat to medium low, add milk, and mix until combined.  Wait a minute for the temperature to drop because you don't want your egg to cook!  Keep whisking.
Start slowly adding your cheese.  You could add even more than I recommended.  Add all but ¼ cup of the cheddar (reserve that for the topping).
Once all the cheese is good and mixed in, you should begin to feel excited, very excited about the creamy delectableness.  Add salt and pepper and a bit of cayenne, if desired.  Paprika or cinnamon would also be good here.  Taste it.  Make sure it tastes good.  This is an important step people – do NOT skip it!  Whisk again.
Pull the sweet potatoes out of the oven.  You want them to still be pretty firm, like the texture of an apple.  Add the sweet potatoes AND the noodles to the sauce deliciousness.  Mix up.  Put in 8×8 baking dish.
Sprinkle the reserved cheddar on top and about ¼ to ½ cup of pecans – however many you like!
Bake at 375 for about 40 minutes.
Note: When you pull it out, it WILL BE JIGGLY!  That's okay – it's because it's creamy.  Wait 5-10 minutes then serve and devour!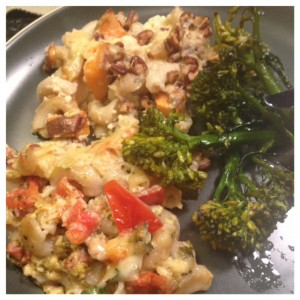 Please be sure to invite friends.  (Editor's note: I didn't receive an invite.  I demand an invite.  De-Mand.)  This will keep you from eating the whole pan in one sitting by yourself.  Your friends will never forgive you for making them the best mac n cheese of their lives.  Also serve with veggies.
I didn't get many good pictures because I had people over and we dove in too fast… SORRY!
-Kat
***
Oh Kat… why must she make me drool from my hotel room?  Whatever.  I have more fro-yo for dessert.  24 degree temps, be damned.
Have you ever been inspired by something you ate at a restaurant, and then liked yours better?
How often do you pay attention to YOURSELF?