I am not a morning person.
That's an understatement.
After hitting snooze too many a few times, I'm forced to race through my morning routine. I squeeze in a quick workout, shower, try to make my face look presentable for work, and inhale breakfast. This means I NEVER have time for something a decadent as baked oatmeal.
Then light bulb went off. Pre-Baked Oatmeal.  I made this Raspberry version last spring, but wanted to create one for the winter months.
Sweet Potatoes are one of the seasonal items I most look forward to. The sweet potato helps to bind these bakes together, and provides a creamy texture that is excellent against the chewy rolled oats.
Aside from the pie-like taste they add, sweet potatoes also pack a ton of nutrients. They are rich in Vitamins B6, C, D, and are good sources of iron and magnesium.
When you freeze them, all you have to do is pull one or two out and pop it in the microwave to defrost.  45 seconds later you can be shoveling delicately eating your oatmeal on the run.
Yes, this baked oatmeal recipe was created to be made in advance to freeze… however, I dare you not to eat one hot out of the oven.  I "iced" mine with a mixture of Greek yogurt, cinnamon, and a couple of drops of liquid Stevia.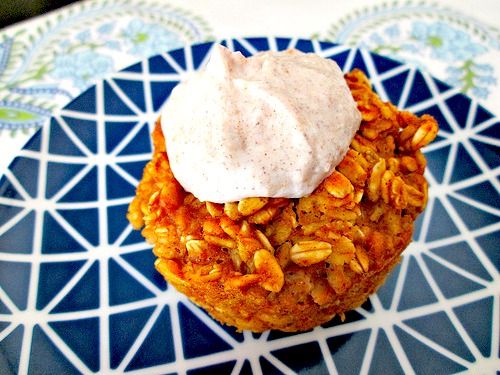 ---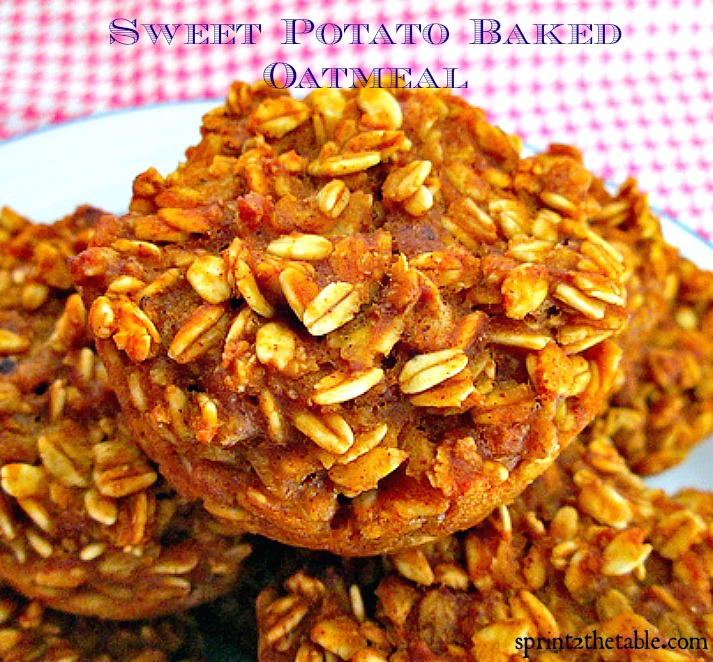 Sweet Potato Baked Oatmeal
1 ½ C canned or mashed sweet potato
1 egg
½ tsp almond extract
¼ tsp maple extract
3 C rolled oats
1 T cinnamon
½ tsp ground ginger
¼ tsp ground nutmeg
1 tsp baking powder
20 drops liquid stevia
¾ C Silk Pure Almond Unsweetened Vanilla
Pre-heat oven to 350 degrees. Line a muffin pan with cupcake liners, or grease with cooking spray.
Mix together sweet potato, egg, milk, and extracts. Stir in oats, spices, baking powder, and sweetener. Mix in milk and stir until combined.
Pour batter evenly into tins.  Bake 20-25 minutes, or until a tooth pick comes out clean.
Enjoy a few fresh, and allow the remaining to cool completely before placing in a freezer bag for storage. For a quick breakfast, remove muffin from the freezer and microwave ~30 seconds (until warmed through).
Makes 12 muffins.
Notes:
Use a flax egg (1T ground flax + 3T water) to make the recipe vegan
Use Gluten-Free Oatmeal to make these gluten-free
Can sub ¼ C sugar for the Stevia
Using Silk Pure Almond Unsweetened Vanilla rather than skim milk saves you 42 calories in this recipe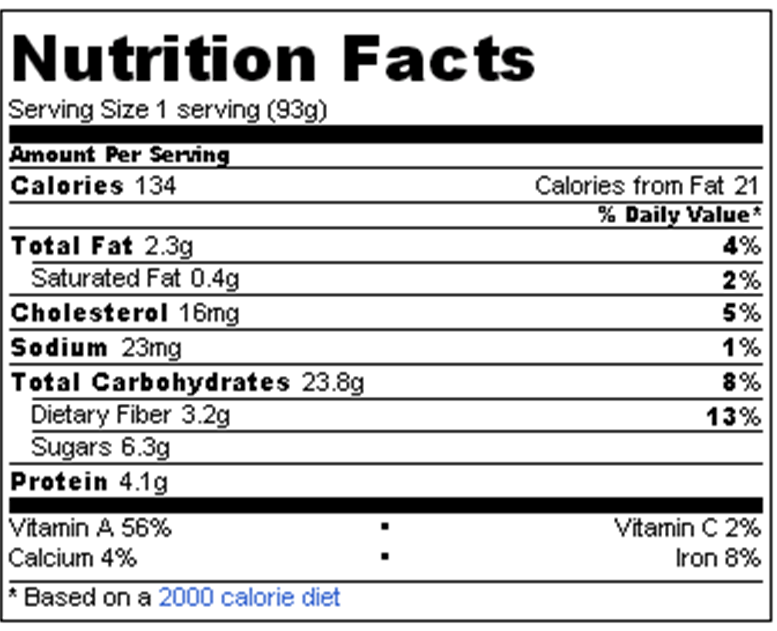 Be sure to check out Silk Pure Almond website and Facebook page to see more delicious, creative recipes!
This post is part of a sponsored campaign with Silk and FitFluential, LLC. All opinions are my own. Learn more about Silk Pure Almond Unsweetened on Facebook andTwitter.
***
Thank you all SO much for all of your support during the past weekend's race.  It was SO much fun, and we didn't come in last. 🙂  I'm working on a recap!
Are you a morning person?
What is your favorite "quick" breakfast?