A.K.A. The best thing I've ever put in my mouth.
I only wish I could take credit for this recipe.
While at the FoodBuzz Festival this fall I met Mai @ Butter and a Pinch of Salt.  She recently posted a link to this cake recipe and declared it the best cake she's ever made.  Knowing she's an accomplished baker, I had to try this out for myself.
Christmas is the perfect time to make the most fattening cake ever to share with friends and family!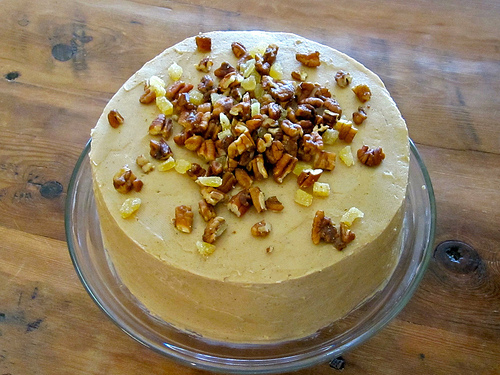 This cake is incredibly moist thanks to the sweet potato.  The texture silky beyond your wildest dreams.  The toasted marshmallow layer is insanely good – especially when you get a little crunchy bit.  And the buttercream… I'll just say that the bowl I mixed it in was clean before we put it in the dishwasher.
In the interest of full-disclosure, There are a few negatives to this deliciousness.
The Downside:
It took forever to make – I think I spent 4 hours on it
There are 5 sticks of butter in it
The Swiss buttercream icing can be tricky… I had to make it twice.
Splitting cakes to make the layers may induce a heart attack
It is addicting
All of that aside, you should make this cake at least once.  I know I'll be making it again next year.
Some Notes/Tips:
Freeze the cake layers before trying to split it
When she says don't let the water boil while making the icing… trust her
Don't skimp on the pecans
Add more ginger pieces in the cake
Don't stay home alone with it if you can't be trusted around desserts like me
I have to agree with Mai – this is the best cake I have ever made.  One of my tasters said "it's the perfect combination of a pie in cake!"  Indeed.
Recipe credit goes to my new idol – Sweetapolita.  Click here to unlock her secrets.
***
This is a once a year cake… but I'm already counting down the days until next year.
What is the most time-consuming food item you've ever made?
Was it worth it?