My blood is Southern, but the kinship stops there.
Well, there and with a preference for Coke over Pepsi.  I still feel strongly about this even though I no longer drink soda… but I digress.
Being Southern, you would expect me to love cornbread, but I've gone through life avoiding it.  I never cared for the gritty, heavy feel and the taste didn't draw me in.  My mom made it a lot when I was a kid.  My family even ate it in a bowl with milk poured over it.  Cornbread cereal?!  Blech.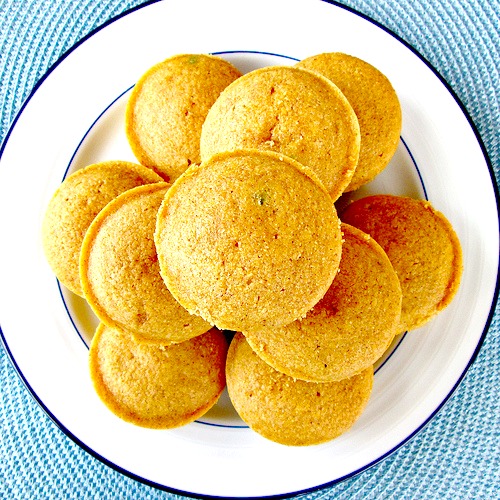 When a friend requested that I make him sweet cornbread, I was intrigued.  What if cornbread could be more like dessert bread?  I love dessert!
First I had to "fix" the texture.  By using a mixture of cornmeal and flour, the grittiness is less noticeable.  I also used a hand mixer to cream together the oil, butter, sugar, and eggs to make the bread light and fluffy.  The brown sugar adds a deeper sweetness.  It's noticeable, but it doesn't overwhelm.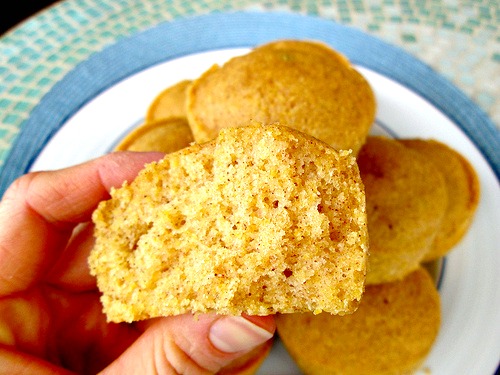 Those who know me won't be surprised that I also threw in a couple of jalapenos.  I thrive on heat, and this addition helps to retain the southwest feel of a traditional cornbread.
These miiiight not be the healthiest muffins, but it's not so bad.  And it's summertime.  Take them to a picnic and share the calories deliciousness with your friends and family! 😉
 _______________________________________________________________________________________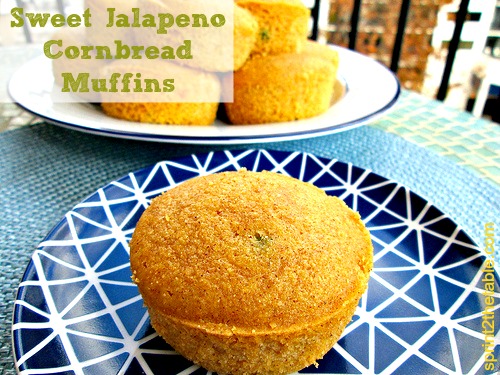 Sweet Jalapeno Cornbread Muffins
1 C all-purpose flour
1 C yellow corn meal
3 tsp baking powder
1 tsp cinnamon
¼ C canola oil
¼ C salted butter, softened
½ C sugar
¼ C brown sugar, packed
2 eggs
1 C unsweetened vanilla almond milk
1-2 jalapeños, seeded and diced
Preheat oven to 350.
In a medium bowl, mix together flour, cornmeal, baking powder, and cinnamon with a fork.
In a separate bowl, cream together butter, oil, eggs, and sugars with a hand mixer.
Add the creamed butter mixture and the milk to the dry ingredients and mix until just combined.  Fold in the diced jalapenos (you may adjust the amount of jalapeño used to your taste, or leave it out all together).
Pour into greased muffin tins and bake 12-15 minutes, until golden.
Makes 12 muffins.
Note: These could easily be made vegan using Earth Balance and egg replacer or flax eggs.
***
Despite having found a cornbread I enjoy, I still refuse to pour milk over it like cereal.
Do you like the food of your "people"?
If your favorite foods determined your ethnicity, what would your heritage be?  I'd be Italian.  Or Indian.