Forced rest is tiring.
This may be the understatement of the year.
Energy begets energy… sitting around does just the opposite.  Come 4 o'clock, my eyes have been glazing over and I am ready to be done working.  Since that's not an option, I've been enjoying a new pick-me-up.
Designer Whey – the makers of my favorite whey protein powder – came out with a new Sustained Energy Protein Powder.  Thanks to Designer Whey and FitFluential, I received this package to try:
How is the different from the regular whey?
Each scoop has 16g of protein, 5g of fiber, 1g of sugar and 100 calories
The Endurance Blend™ is formulated to provide stimulant-free, sustained energy
Added fiber helps control hunger
High in vitamins A, C and E to aid in workout recovery, and in calcium and vitamin D for yer bones
19 essential vitamins and minerals, including the B vitamins that energize your metabolism
Flavors are Vanilla Bean and Chocolate Velvet
I 100% love the taste of both the chocolate and vanilla.  I didn't notice a sky-rocket effect on energy, but I did wake up after eating my smoothie bowl.  At 4p, this was a great snack to curb hunger and tide me until dinnertime.
Unable to simply mix powder with liquid and drink it, I created a Cardamom Cheesecake Protein Bowl for my afternoon snack.  With spinach… because isn't everything better green?!  The cardamom and ginger made for a fun, refreshing flavor on a hot Atlanta afternoon!  (Recipe at the bottom)
Of even more interest to you…
Designer Whey is offering a giveaway!
SIX (6!!!) of you will have the chance to win your own Sustained Energy protein powder in either the Chocolate Velvet or Vanilla Bean.
***Giveaway OVER***
______________________________________________________________________________________
New tasty protein powders and giveaways are obviously marvelous… so is the fact that Marvelous diva Katie, welcomed a new baby this weekend!  Congratulations, Katie!!!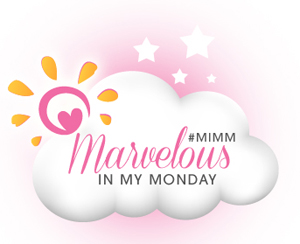 A few other Marvelous things:
I went to the Monday Night Brewery on Friday night.  They were the location Gather's launch party.  It was awesome.  Lots of good food, good beer… and beer rests in the bathroom.
Saturday I took shots.  Juice shots, that is.  This is called the "Grand Slam" at Arden's Garden.  It's shots of wheatgrass, ginger, lemon, and cranberry.  That ginger is intense.  They also gave me a little smoothie sample to chase it with.
Lastly, this girl's recap of her visit to Atlanta and absolutely made my day.  I miss her already.  #bloggercrush 
______________________________________________________________________________________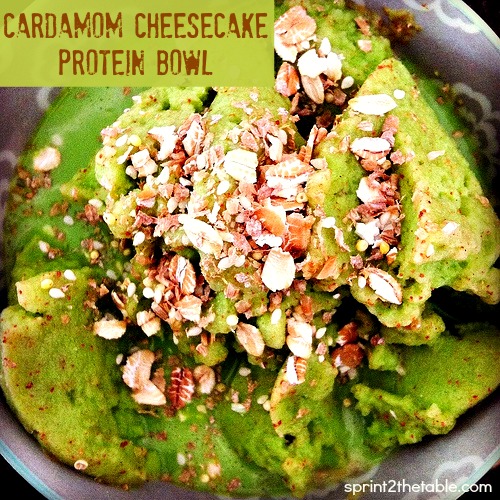 Cardamom Cheesecake Protein Bowl
1 scoop Designer Whey Sustained Energy (or other protein powder)

1 C fresh spinach (optional)

1/2 C no-salt cottage cheese

1/2 in piece fresh ginger (or /14 tsp grated)
1/2 tsp cinnamon
1/4 tsp fresh cardamom
Ice, to taste
Place all ingredients in blender and blend until smooth.  Add additional ice to achieve thicker, ice cream-like consistency.
Enjoy!
***
This morning I have my follow-up with the surgeon.  He better clear me to workout!!!
What marvelous things did you do this weekend?
What do you do when you need a mid-afternoon pick me up?