You're unique.
Just like everyone else.
It seems like everyone has done a "September Superlative" post!  I'm being a copy cat… but in a unique way because I'm doing it late.  😉
1. Most Popular:
Microwave Protein Cookie + WIAW – This nutty, protein-filled 30 second cookie was the most viewed post in September.  I also loved this post because it highlights a few of the many reasons women should lift weights. 
2. Most Likely to Win a Bar Fight
This Tequila-Lime Tilapia would kick your dinner's butt.  And it would walk out in a perfectly straight line 'cause the booze (mostly) cooks out.
3. Most Versatile
What isn't better layered like a parfait?  I'm awarding my Protein Parfait the Most Versatile because I've made it a million ways.  The original was a Tiramisu Protein Parfait, but September's flavor-of-the-month is a Pumpkin Tiramisu.
A few friends have made their own versions.  Check out this Chocolate-Peanut Butter version from Sarena: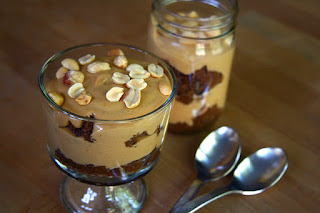 4. Most Unique
This is a no-brainer.  #sorryimnotsorry to be Captain Obvious, but most unique is all about the "Strange But Good" posts.   I'm craving peaches, so I'm going to call out the post with the Salmon-Peach Salad:
But you should check out the follow-up post for more #strangebutgood… like Mexican Hot Chocolate Protein Ice Cream.  If that's still not enough strange, click on over to Lauren's blog.  She's featuring some weird combos today, including my PB & Jeggs!
5. Most Photogenic
It's no secret that I abhor taking pics.  It's a necessary evil for me as a blogger… so when I get one that I really like, I get excited.  This Fig and Edamame Salad with Sriracha-Lime Vinaigrette was pretty and delicious (fashionable and functional?).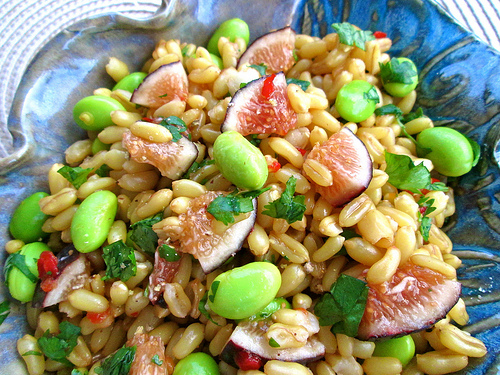 Honorable Mention
This isn't a September post, but I have to give it some love… my Mexican Cauliflower "Rice" Bowl was included in Fitness Magazine's 11 Easy Lunches to Lose Weight!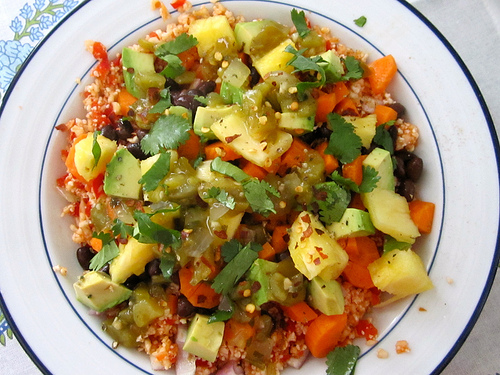 ***
I wasn't cool in high school, so no superlatives for me.  Even more reason to Bogart an entire blog post giving them to myself.  Bwhahaha!
Did you get a superlative in school?
What would your superlative be for the month of September?  Brag on yo' self!