The family workouts continue!
There's something especially satisfying about making your loved ones hurt. 
We're wrapping up some loose ends this week in Atlanta.  I'm still enjoying my time at home and loving mom's new digs.
We had a fun workout yesterday in her gym.  She said I worked her harder than any of the trainers she's worked with.   Mwhahahah!  Here's what we did: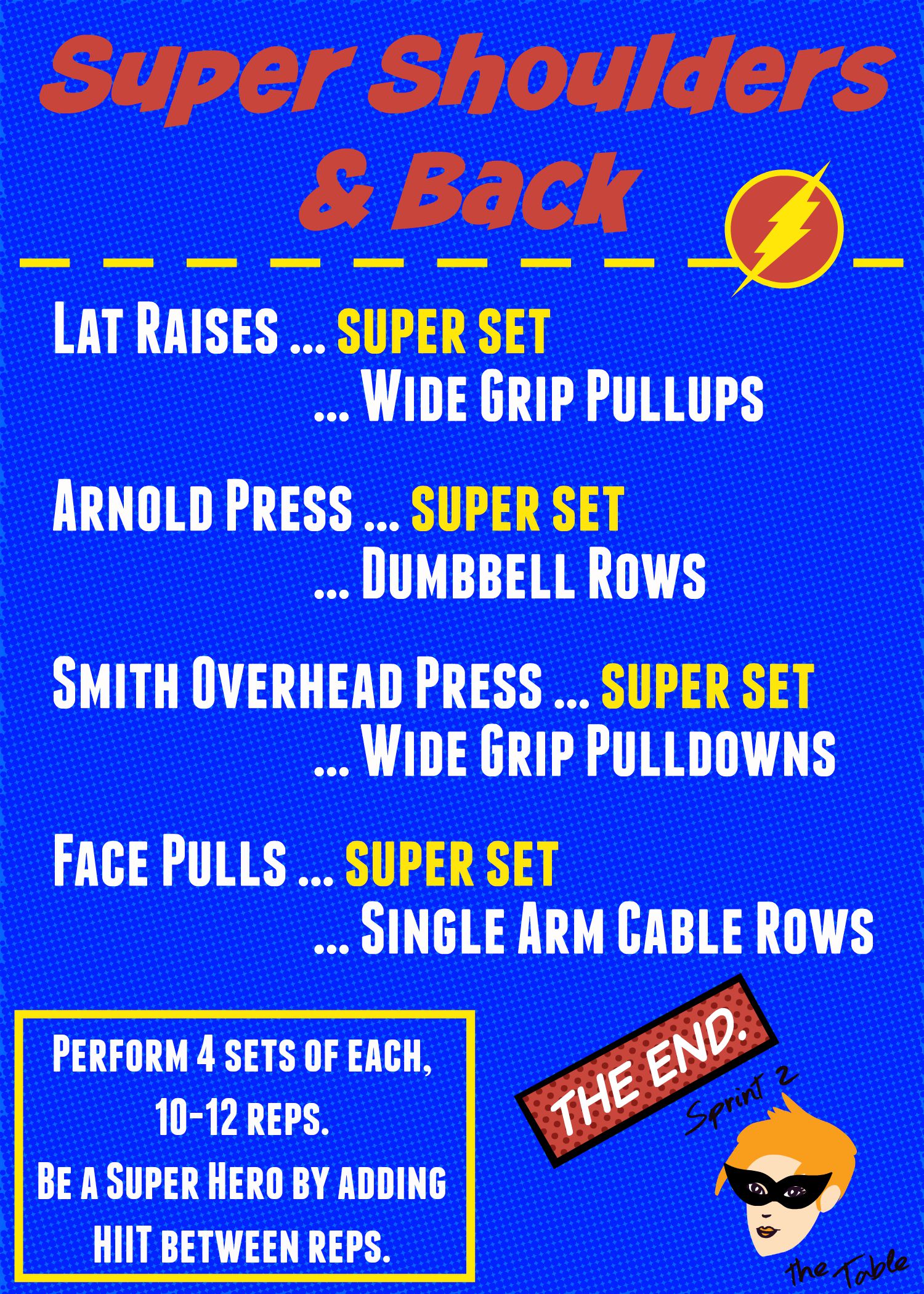 Super setting means you do an exercise back-to-back without rest.  So, for the first set, we did 10 reps of lat raises followed immediately by 10 (assisted) pullups.  Then mom rested while I did 15 pop squats.  That was my HIIT of choice to keep my heart rate up.
Questions about the moves above?  Click the names below for explanations.
Wide Grip Pull-ups (assisted if needed… I needed!)
Click here for some other HIIT moves I like to incorporate.
---
Now on to the food.  I'm hosting Jenn's WIAW again this week!  Check out my day of Atlanta eats, and join the party in the link up below!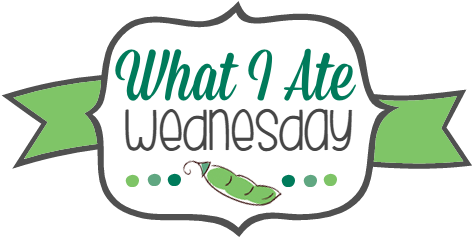 ---
Breakfast:
I had the usual morning cocktail.  Then French press coffee (my new addiction).
Then I enjoyed a new yogurt flavor from my old favorite company, Atlanta Farm Fresh.  This is my third day in a row eating their chia goji acai blueberry pomegranate Greek yogurt.  I'm also loving the NoGRAINola by Primal Paleo on top.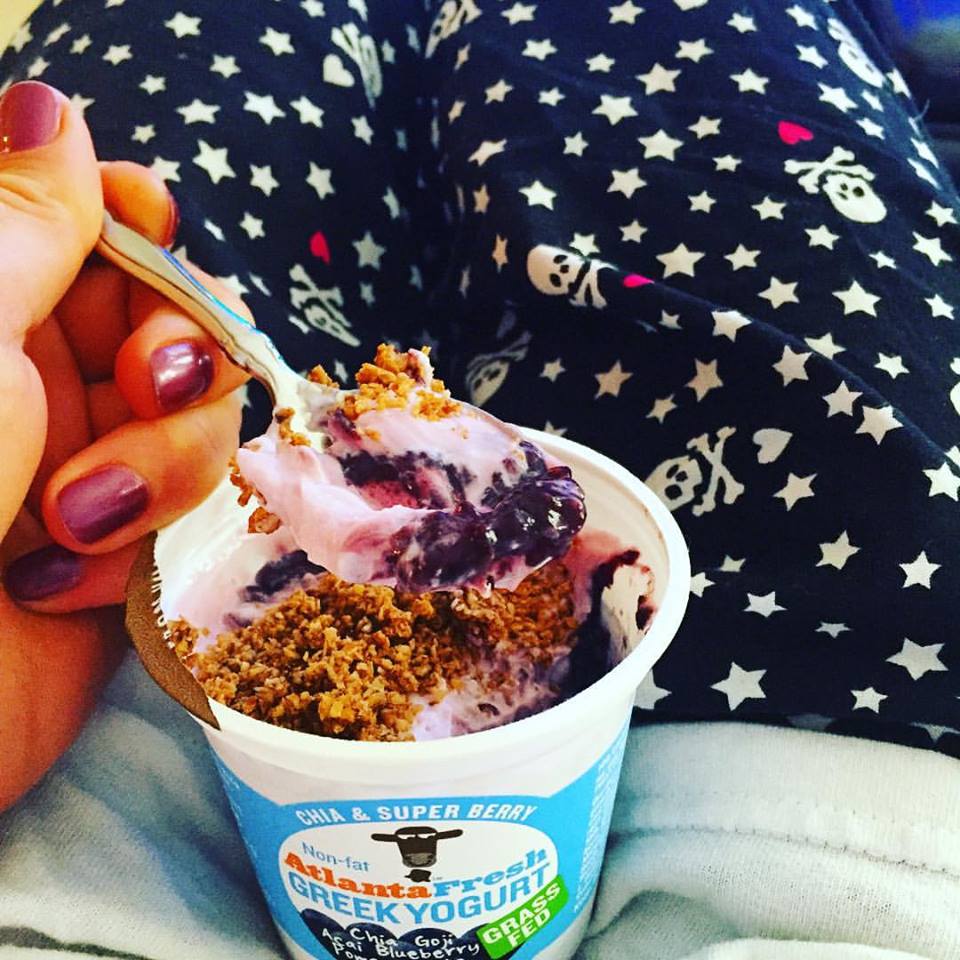 Lunch:
Mom and I had a meeting in the morning and we were starving after it was over.  Luckily we were within walking distance of one of my old favorite lunch spots: Souper Jenny.  Mom hadn't tried her second cafe, Juicy Jenny, so we decided to eat there instead.
The vega, gluten-free lunch selections are arranged on a bar allowing patrons to serve themselves.  I love this option because I get to try a little but of everything.
It was all fantastic, but the vegan gouda cheese-stuffed figs were my favorite.
Post-Workout Snack:
Our post-workout protein was a chocolate–butternut–spinach shake with oats blended in.  I got mom hooked on my favorite Growing Natural Chocolate Rice Protein too.  I love that she had it on hand in her new place.
For the shake, we blended together ice, hemp milk, Chocolate Protein Powder, 
1/4 C frozen butternut squash, 1/8 C Purely Elizabeth Ancient Grain Organic Oatmeal, a handful of spinach, cinnamon, and a little stevia.
The butternut may sound strange, but it's a sweet squash that makes the smoothie creamy.
Mom really needs a vitamix…
Dinner:
My baby sis and her boyfriend came over for dinner.  We snacked on (unpictured) hummus, crackers, and cheese while we caught up on our days, then headed out to the grill at mom's place.
The baby and the boy had grilled chicken and we had wood plank salmon and mahi mahi from Whole Foods.  I don't often buy the pre-seasoned stuff, but this was really good!  It was the perfect way to ease back into cooking.
There was also a grapefruit-vodka-club soda cocktail (or two) and some dark chocolate for dessert.
***
I swear I'm going back to San Diego one day…
Have you ever used a wood plank on the grill?  I loved the flavor!
Does your family workout together? 
---