People turn their noses up at the word "cleanse."
Yet they embrace the McDonald's…
This cleanse is my favorite because you can eat.  Don't get me wrong, I do miss peanut butter and meat.  However, judging from the way my body has responded, I needed the break.  I'll refrain from the TMI, but let's just say I'm definitely cleaner!
The other awesome thing about this cleanse is the creativity it inspires.  Check out of some the fun stuff I've made in the past few days!
Creamy Raw Red Pepper Soup with celery and tahini, cucumbers and balsamic, and asparagus with a nutritional yeast and Dijon sauce.
Quick quinoa salad with sautéed leeks and mushrooms, tossed in a sauce of nutritional yeast, Dijon, and balsamic vinegar and topped with celery leaves.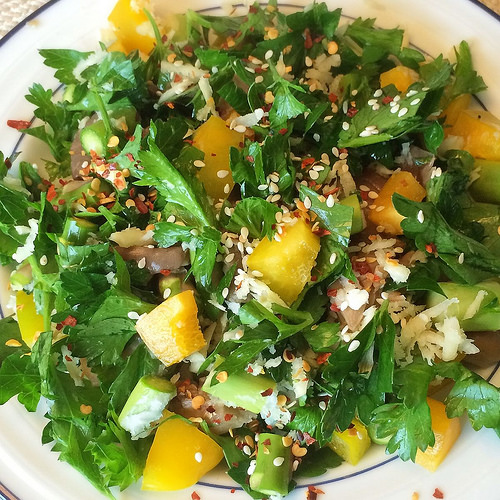 Parsley salad with riced parsnip, asparagus, yellow bell pepper, marinated shiitakes, sesame seeds, and red pepper flakes tossed in a mix of coconut oil and lemon juice (← awesome combo!).
Carrot Cake Protein Ice Cream topped with coconut "fluff." Fluff = coconut flour, cinnamon, and enough coconut milk to reach desired consistency.
---
BUT… it's not all rainbows and butterflies.  I've had some fails.  Vegan, gluten-free pancakes are impossible hard.
GF zucchini protein pancake FAIL.
Whatever.  I topped those bitches with warm mashed strawberries and a little shredded zucchini then ate them like a champ.
In true fashion, I nursed my wounds with shots.
This is the Grand Slam from Arden's Garden: wheatgrass, ginger, lemon, and cranberry.
Then a little TLC from the Whole Foods hot bar.  It's a cleanse "cheat."  I think everything was within the parameters, but there was a lot of sodium… and probably excess oil.
I didn't care.  $15 later I was happy and full.  I need to buy stock in Whole Paycheck Foods.
One more thing to paper myself – my quarterly manicure and pedicure!  Really this is to save everyone from looking at my janky fingernails and chipped polish on my toes.
I asked her to put the glitter on my middle finger.  She must have thought I was kidding.  Notsomuch.
Then I finally got back into the kitchen to prep for the week.  I chopped up a ton of veggies and tossed them in lemon juice, avocado oil, cayenne, and cumin.
On the side I gave my carrot sticks a rub down in coconut oil and cinnamon to have as a "dessert." I still like to have a little sweet after a meal!
***
Proving that clean eating doesn't have to be boring is pretty marvelous.
What is your favorite veggie dish to make?
What was your last kitchen fail?  Anyone have a GF, vegan pancake recipe?!