It's a sunshine-y day!!!
Hey, we're supposed to start the week on a positive.  #cheese
This weekend was beautiful and sunny in Atlanta.  I spent Saturday morning working out, then did some shopping. I purchased fresh eggs from the farmers market before heading to Fresh Market for some goodies:
I really love the wraps and the lentil hummus!  Hatch chilies aren't new to me, but I was thrilled that they were grilling them fresh outside the store to sell.  Score!  They went really well with the shrimp I bought (pre-cooked and tails removed – I can't stomach doing those myself just yet).
Then I got dressed to watch two of my favorite people get married.
Admittedly, I was a little anxious about the reception.  Open bar, lots of tasty reception food… and cake.  I mustered all my motivation and commitment.
I knew I wouldn't last without my own treats, so I came prepared.
Bring your own food to a wedding?!  Why not?  I made a quick turkey salad with my hatch chilies, parsley, and tomato.  That was tossed in a sauce of nutritional yeast, apple cider vinegar, cumin, and smoked paprika.  I also brought some green bean chips, a chocolate calcium disk, and kombucha.  The kombucha was awesome to have so I felt like I had a "drink."
Confession: I took a teeny cake sample.  It was worth it.  So there.
Sunday there was more marvelous with a great workout followed by a trip to Whole Paycheck Foods.  On bike.
It was supposed to help with self-control… but really it translated to weighted cardio on the ride home.  It's 6.5 miles round trip!  The need for kabocha is not to be denied!
See that beer in the middle?  It's a pumpkin beer.  I'm afraid it will all be gone by the time I can drink it after my competition, so I asked the beer man (Max) to recommend the very best.
I purchased a single and it will remain in my fridge until mid-November.  Wish me luck.
---
I've been tagged by a few people for the Sunshine Award.  Thank you!!!
The last one I saw was from Janetha… based on the first question alone, I knew I had to answer. 🙂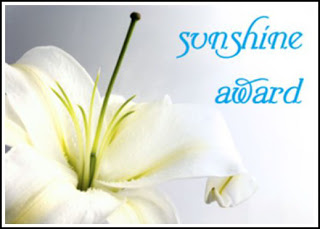 1. Do you believe in aliens?  Why or why not.
I don't know… I'll say yes.  Because who are we to think we're all that's out there?!
2. If you could do ANYTHING in the world and have that be your career and your skills, paycheck, or anything else was not an object… what would you do?
I'd travel.  That my one day get boring, but being able to explore and experience the world without the chains of time or monetary needs is my idea of heaven.
Like that time I ended up in Chile by accident and found myself on board a US Navy ship… 
3. What is your earliest childhood memory?
That's tough… I don't remember?  Maybe dancing around the living room to old records at Christmas time with my dad.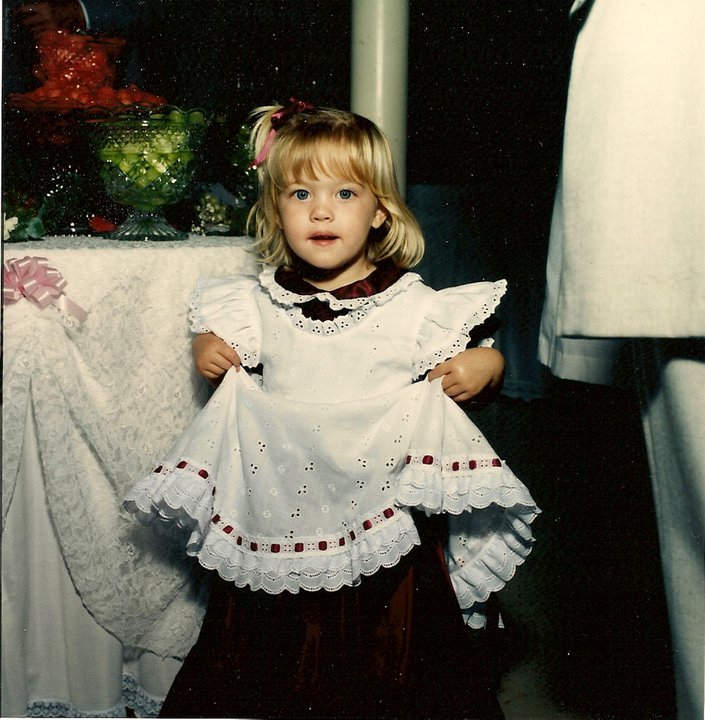 4. What's for dinner tonight?
How about last night?  That's what I have a picture of.  😉  It was one of my new wraps spread with salsa and topped with shrimp, broccoli slaw, and a little local #yolkporn.
5. What was the most fabulous vacation you have ever been on in your entire life?
Italy.  2 weeks traveling to small towns on a self-guided food and wine extravaganza.  I almost didn't come home.
Often I wonder why I did.
6. If you HAD to give up one of your senses (touch, taste, sight, hearing, or smell) which would it be?
NOT taste or smell!  Maybe hearing?  It seems like that's the easiest one to accommodate for, especially if you're able to hear prior.
I'd rather not hear half the shit that comes out of people's mouths anyway… 😉
7. Would you rather always be super freezing cold or ridiculously overheating hot? (and no, you can't have a warm blanket or AC to combat the issue!)
Bring on the heat!  I hate being cold.  I have Raynaud's Disease and it's uncomfortable and creepy when my fingers go white-purple.
8. Why did you start blogging?
My mom told me to.  Seriously.  I was reading a lot of blog and getting inspired to make all of this #strangebutgood stuff and my mom said "you should start a blog!"  So I did!
9. What was the last compliment you received and what was the last one you paid to someone?
Yesterday I Instagrammed a sneaky selfie from the gym and my girl Meg sent me the sweetest text that made my night:
"Wow girl you're looking phenomenal.  Be proud of yourself."
*Please don't be offended, Zumba people.  I just thought it was funny.  I tried it at Blend and it was HARD for this white girl.* 
I'm struggling through this prep and someone noticing progress that's hard for me to see in myself feels really, really good.
I paid it forward by telling a girl in the elevator that the homemade (paleo!) fudge she was bringing up looked amazing.  Then I tried to steal one.
10. What is your most favorite thing to eat?
I hate this question (sorry Janetha!).  I love different foods for different reasons, and it depends on the mood!
Right now I'm digging the Pumpkin Pan-lette (remember when I did it with sweet potato?) I made Saturday morning.  There's no flour in it – the base is just pumpkin and egg whites.  Like a pumpkin omelette, but cooked like a pancake.  Pan-lette. Get it?
Whatever you call it, it is a fluffy cake of fall deliciousness.  I topped with a peanut flour sauce, which we all know I'm addicted to.
---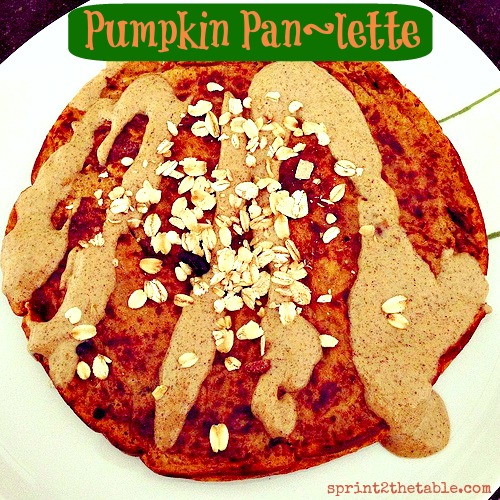 Pumpkin Pan-lette
1/2 C pumpkin puree
1/2 C egg whites
1/2 tsp butter extract (or vanilla)
1/2 tsp pumpkin spice
1/4 tsp cinnamon
Pinch of cloves
4-5 drops vanilla liquid stevia (optional)
For the sauce:
1 T peanut flour
1 T Greek yogurt
1/2 tsp cinnamon
1/4 tsp vanilla extract
2-3 drops vanilla liquid stevia
Almond milk or water, to thin
Combine all pancake ingredients into a medium bowl and stir until smooth.  Pour into a prepared (I used PAM) skillet and cook as you would a pancakes (~2-3 mins on each side).
Note: I made this as one huge pancake, but I'd advise you to turn it into 2.  It required some serious acrobatics and two spatulas to flip.
Meanwhile, stir together sauce ingredients in a small bowl.
Plate your pie-cakes, top with peanut butter syrup, and enjoy!
***
 Don't forget to check out all the other marvelous in the world over at Katie's link up!
The Sunshine rules say you have to come up with 10 questions and tag 10 people.  Everyone and their brother has already done this… so I tag YOU!!!  Choose one of the questions above and answer it below.  Sharing is caring.
Would/have you ever brought your own food to a wedding?