I'm cheating a little this week.
Not Ashley Madison style though… here's to karma.
I'm cheating by not having a actual strange but good recipe.  Vegas and I are in Arizona and I didn't really do anything that strange food-wise unless you count my salmon scramble in Wednesday's post.  Or maybe my road salad.  Perhaps Vegas' gas station selections.
We did eat some strange food in Scottsdale Wednesday night though!  I spent a couple of hours of the drive searching for the best possible food options for dinner when we arrived.  I landed on SumoMaya – an Asian-Mexican fusion concept.  We were not disappointed!
First up was the lump crab guac with lime.  So fresh and tasty!  I loved that it was chunky guac.
We also had drinks that I didn't bother to picture after a 5+ hour drive.  Vegas got a Green Flash IPA (because obviously we go to Arizona to drink San Diego beers) and I got a cocktail that involved Yamazaki (a Japanese whiskey), some sort of orange liquor, and yuzu juice.  It was delicious.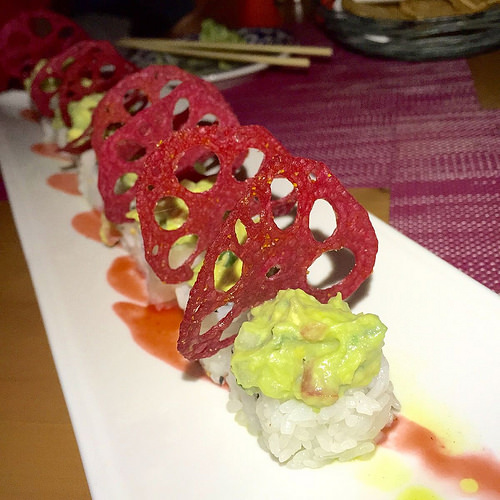 The presentation alone of the roll we split was incredible.  It was called the Rollo Chingon.  It consists of adobo grilled shrimp, guacamole, cilantro, jalapeño, red lotus root chips, and a balsamic strawberry glaze.
To be honest, we didn't think it was that spectacular upon first bite.  I love guac, but the mound of it on top of the roll masked the other flavors.  On the second bite we scraped of 75% of the guac and were able to get the shrimp flavor and the subtle richness of the glaze.  It also allowed us to appreciate the crunch of the lotus root chip.  Vegas agreed and we ate the rest of the roll sans guac.
Then the mains.  We had fried rice that had no chance at a decent picture.  It was a delicious kimchi fried rice with egg, shiitake mushrooms, bamboo shoots, pickled red onions, and scallions.  We ordered this with a steak at our server's suggestion; she described the combo as a party in your mouth.  How could we not take that suggestion?
The above is the Prime NY Strip with wild mushroom-soy coconut reduction.  Also not a good pic because… brown food.  But it was SO GOOD.  The coconut-soy could have been so very wrong with red meat, but the hint of sweetness only added to the rich steak and 'shrooms.  If you ever go, it's a must order!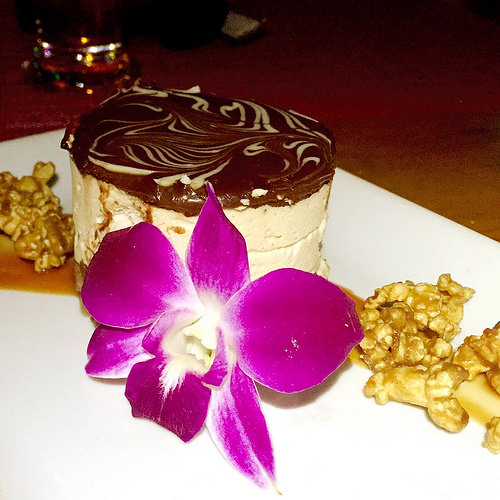 We were stuffed, but after a meal like that we HAD to see what dessert was like.
I don't remember exactly what this was called, but it was basically a peanut butter mousse thing with chocolate ganache on top and a brittle-like crust.  The caramel corn on the side was like crack.  I'm not even exaggerating.
My apologies for the crappier-than-usual pictures – it was really dark!
---
How have you enjoyed making co-workers, friends, or family stare with strange but good creations this week? The link up rules can be found here or by clicking on "Strange But Good" in the menu bar above. In short, I want to see what concoctions have earned you weird looks from co-workers, family and friends! Post your Strange But Good creations, grab the logo below for your blog, and link up here.
Remember to use #strangebutgood in any Tweets and Instagrams of your creations. 🙂



***
In other news, I had a champion hotel workout the next morning.  Tasty fuel that was!
Have you ever heard of Asian-Mexican fusion?
What's the strangest thing you've eaten this week?