Winner, winner…
Chicken dinner!
I mean… FRS Healthy Energy!  A random winner has been selected from Tuesday's giveaway…

Congrats!!!  Send me an email with your address and we'll get the trial pack out ASAP. 🙂
I'm going to keep it short and sweet because I cannot WAIT for you to read Kat's post today… I hope you love it as much as I did.
BUT first I have to say I am so proud of the Supreme Court overturning DOMA.  This was the scene in ATL today: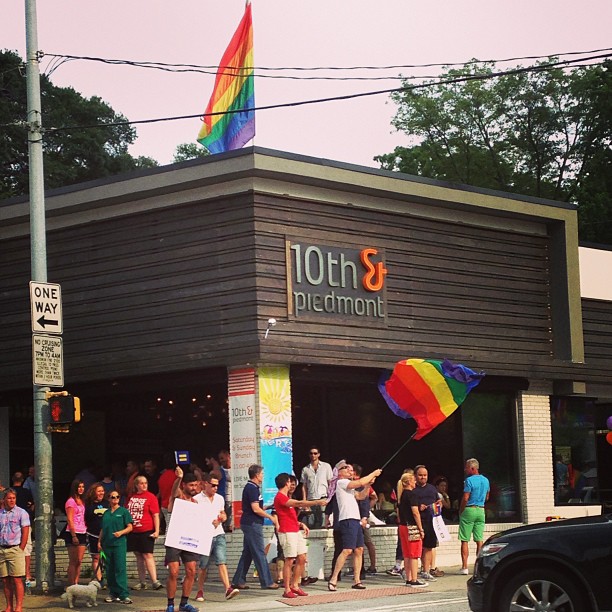 And here's Kat!!!
________________________________________________________________________________________
Summer Salads and Summer Mistakes
Sometimes we make mistakes.  You might not know about it right away, but then it bites you in the ass later.  Sometimes literally.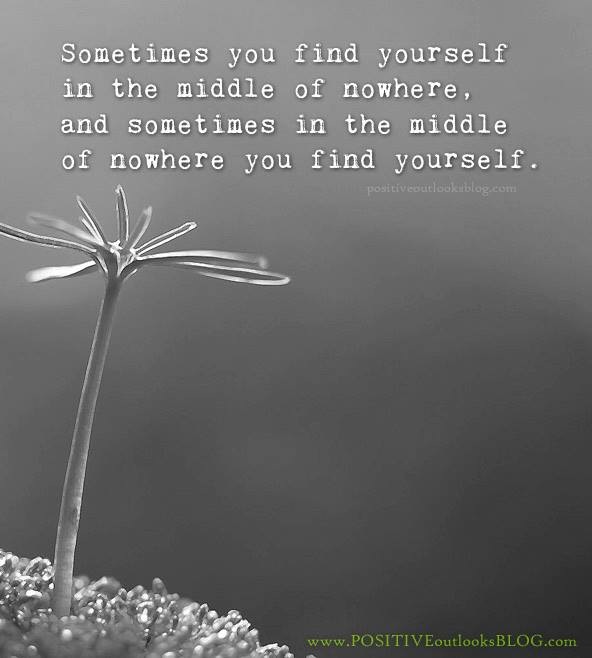 Many of you who read my posts frequently know that I am an avid trail runner.  Many of the reasons for trail running involve self-exploration and challenging yourself.  Many times it's to find answers and get some therapy.
Really, it's the one of the only ways I really know how to "work out" all the emotional/psychological stuff that comes my way.
Other times you find yourself on a trail, learning things the hard way… like when you wipe with poison ivy.  Yes, that happened!  On the beautiful Pinhoti Trail, near Dalton, GA.
I have been suffering with poison ivy, and going to numerous doctors to embarrassingly reveal the damage.
While my itchy body heals, I'm learning to laugh through painful situations that resulted from a very very very silly/stupid mistake.
(I'm sparing you the pictures, but I really wanted to post some! haha!)  Editor's note: I saw the pics… they were nasty and NSFW.  LOL!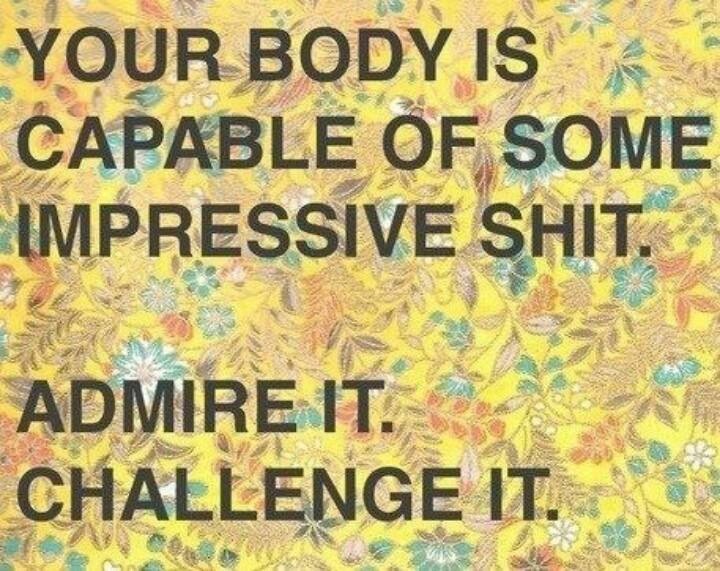 _______________________________________________________________________________________ 
In the meantime, as I plug along with bar review, I have been experimenting with some fun summer recipes, and I have two for you today!
The first is so easy I didn't think to post about it at first, but it's a fabulous easy, cheap recipe.
It's extremely refreshing!  It only lasts about 3 days in the fridge, but is especially good the first two days!  It's a great snack or accompaniment to any meal.  I think it even can serve as a healthy dessert!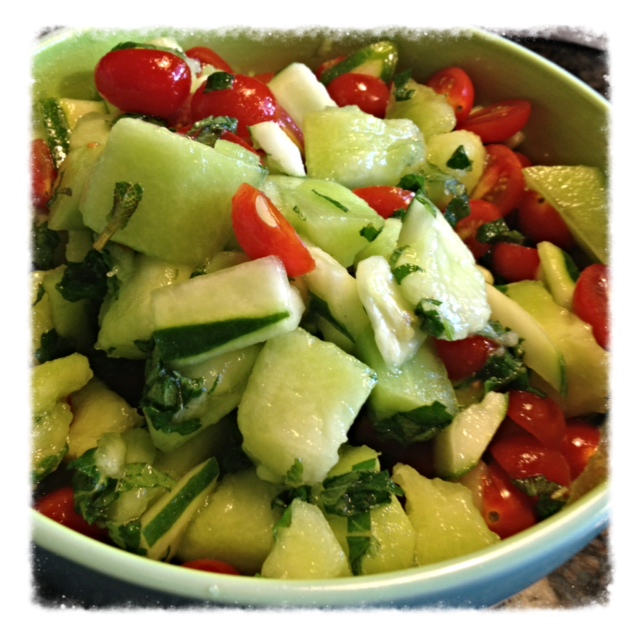 Summer Melon Cucumber Salad
1 Organic Honeydew Melon
1 Pint Organic Grape Tomatoes
1.5 Organic Cucumber
4 Sprigs of Mint
1-2 Tbsp mild Olive Oil
1 Lime
1 Diced Jalapeño (optional)
Pinch of Salt
Cut the melon into cubes, cut the tomatoes in half, chop the mint, squeeze the lime, and toss it all together!
_____________________________________________________________________________________
The second recipe I want to share is the Hazelnut Curry Goat Cheese Balls that I made for Laura her first day home after surgery.  (Editor's note – this was AMAZING and I have Kat to thank for new-found my raw corn love.)
I tried it again a couple of days later, and it was just as good.
The whole meal only takes about 30 minutes to both prep, cook, and serve.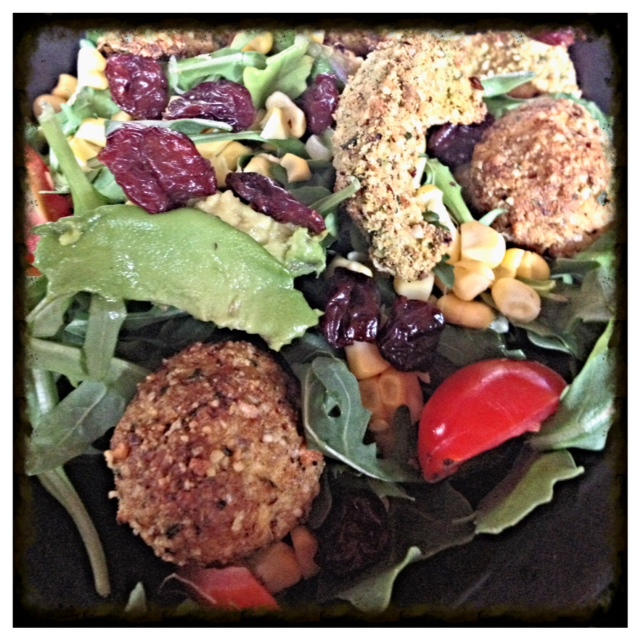 Hazelnut Curry Goat Cheese Balls
6 oz goat cheese
1/8 cup Hazelnut meal
1/8 cup premade Thai Curry Almond Seasoning*
1.5 Tbsp Coconut Oil
Salad Ingredients
*Admittedly I bought the curry seasonings at Whole Foods, but you could easily make this yourself.  I would actually recommend it, because the seasoning alone is a little salty.  The curry seasoning contains almond meal, Thai yellow curry spices, dehydrated garlic, and dehydrated onion.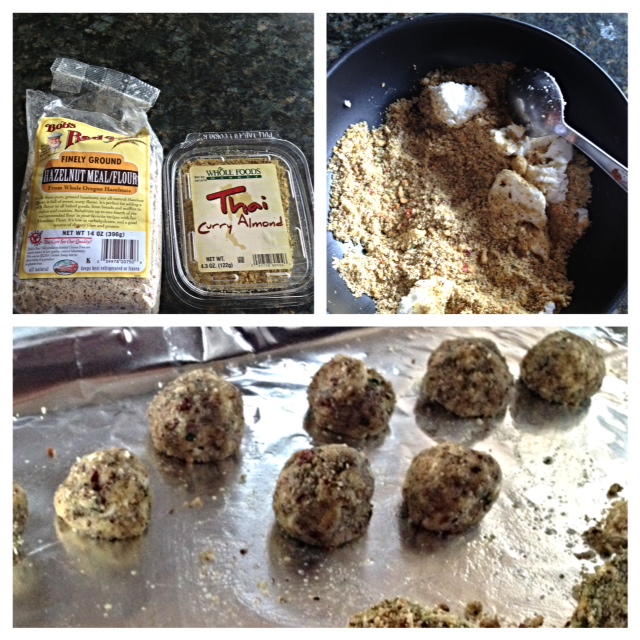 Preheat the oven to about 425.
Mix equal parts the curry seasoning with hazelnut meal.
Scoop 1-1.5 inch balls of goat cheese and press it into the mixture, and form a ball with as much seasoning as possible.
Place on a foil-lined baking sheet.  Repeat until you have made as many balls as you want!
Lastly, drizzle melted coconut oil on the pan and rolled the balls in the coconut oil.
Bake 12-15 minutes until they are brown.  Don't worry if they aren't hard right away.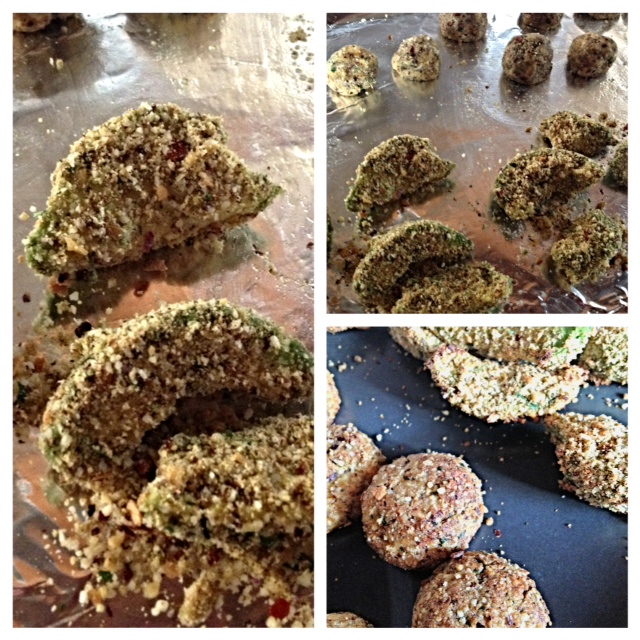 When I was at Laura's, she also thought the avocados would taste good in the mixture, so I coated a few avocados and tossed them on the pan with the goat cheese.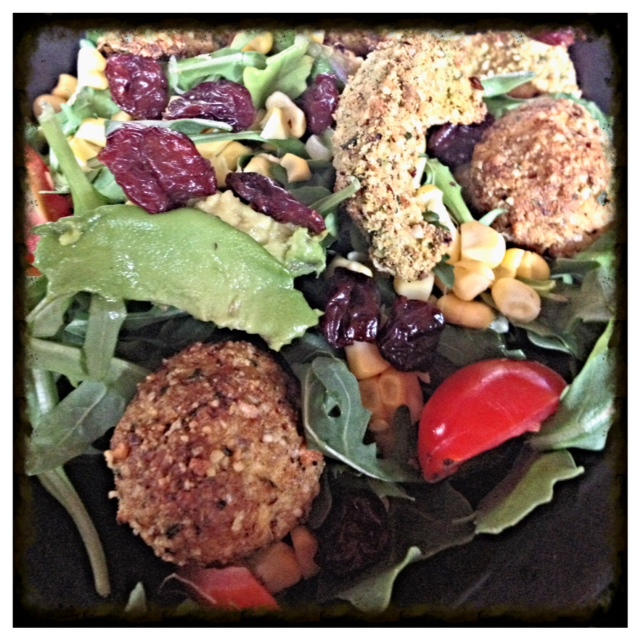 Serve on a summer salad.  I think they pair best with arugula, dried cherries, fresh corn, and tomatoes.  I also topped mine with some avocado, a little olive oil, and used the rest of the seasoning as a topping!
The combination of textures and flavors was fresh, fun, and something you can definitely rinse and repeat more than once in the same week!
***
I'm still stuck on Kat's poison ivy mishap… I can't even imagine!!!  I saw pics… please send her healing thoughts!
What mistakes have you laughed about lately?
What is your favorite go-to summer salad recipe?