Today is day 1 in South America.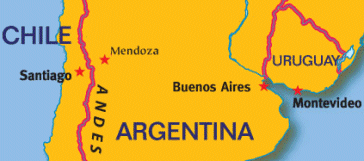 We are going to be landing in Buenos Aries (BA) and heading straight to Uruguay.  It's a quick flight from the BA airport, so we opted to do that straight away – jet lag be damned!  More on the reason we chose Uruguay tomorrow…
Today's guest post if from my good friend and fellow blogger (my Blend!) Heather @ Better With Veggies.  If you don't know her, you are missing out.  Not only is she a rockstar endurance athlete, but she also does it all on a vegan diet.  The dishes she creates would give any carnivore gourmet a run for their money!  Also, she addicted to kale. 🙂
---
Hi Sprint 2 The Table readers!!
I'm Heather, a 30-something food & fitness enthusiast living an active life fueled by a plant-based diet. I'm a Digital Strategy Director by day, runner and multisport athlete by night. My husband (Kirk) and I also coach running, triathlon and duathlon to athletes of all levels. And when I'm not doing either, I enjoy writing about my adventures on Better With Veggies!
While Laura is off enjoying her exotic vacation in Argentina, I'm honored to be sharing a few new recipes with you today! In Atlanta, we're firmly in grilling season — although we have been known to grill year-round at our house. Inspired by the popular bourbon & brown sugar glazed entrees, this plant-based version is bursting with flavors and perfect for summer grilling!
Let's start with the drink. As with most cocktails in our house, Kirk created this one to match what I was cooking. I had bought a bag of peaches early in the week and it was time to eat them before they turned to mush. Fresh peach juice is a great way to put that sweet flavor to very good use! A little southern twist on the traditional Manhattan cocktail, this is one drink I know we'll be enjoyed again this summer.
Redneck Manhattan
Keywords: beverage
Ingredients (Serves 2)
40ml fresh squeezed peach juice
80ml bourbon
dash of angostura bitters
Instructions
Combine all ingredients in shaker 2/3 full of crushed ice. Shake well and strain into 2 cordial glasses or 1 martini glass.
While you're sipping the cocktail, you'll have plenty of time to prep & assemble dinner. Lots of grilling going on in this dish, just using the oven to roast garlic for that delicious sweet flavor to come out. Steaming the tempeh is a trick I learned from Laura (I think), that really helps the tempeh absorb even more of the delicious marinade and remove the bitterness that some people taste from tempeh. As with most marinades, the longer you let it soak, the deeper the flavor – but 15 minutes is enough if you're pressed for time.
Grilled Peach-Drunk Tempeh
Keywords: grill bake entree vegan vegetarian tempeh summer
Ingredients (Serves 4)
8 ounces tempeh
1/4 cup rum or bourbon
2-3 tablespoons brown sugar
1/2 sweet onion
1 tablespoon balsamic
1 1/2 tablespoon olive oil
3 peaches
1 head garlic
8 ounces mushrooms, sliced
3 cups arugula
Instructions
Preheat oven to 400 degrees. Preheat Grill to 450 degrees.
Steam tempeh for 15 minutes. Cut into at least 8 slices and place in a shallow dish. Slice mushrooms and add to dish.
Mix together rum (or bourbon) and desired brown sugar. Add mixture to tempeh & mushrooms, cover & shake well to coat. Let marinate for at least 15 minutes.
Remove outer casing from garlic and chop top off with a sharp knife (just enough that tops of the cloves are exposed). Place entire head onto a piece of aluminum foil and fold into pouch with no openings. Place on cookie sheet and bake in oven for 30 minutes.
Vertically slice 1/2 onion and pile onto a piece of aluminum foil. Add balsamic & 1 tablespoon olive oil and fold foil into pouch, with a small opening on top for steam to escape. Grill for 20 minutes.
Place mixture on aluminum foil and fold into pouch. Grill for 15 minutes.
Slice peaches in half and discard the pits. Place cut side up on grill for 5 minutes, flip and grill for additional 5 minutes. Set aside.
Divide arugula among 4 plates. Top with tempeh mixture, then onions. Add peaches & roasted garlic to the top or sides of plate.
Serve both the cocktail and entrée together for a fantastic combination of flavors. Enjoy!
I hope you enjoy these recipes – and that you'll check out other recipes on Better With Veggies.
***
I'm dedicating today finding the perfect Uruguayan drink to pair with this in honor of Heather. 🙂
Who wants to crash Heather's house for dinner with me?
Do you like grilled fruit?  I love peaches and watermelon on the grill.