Curiosity killed the blogger.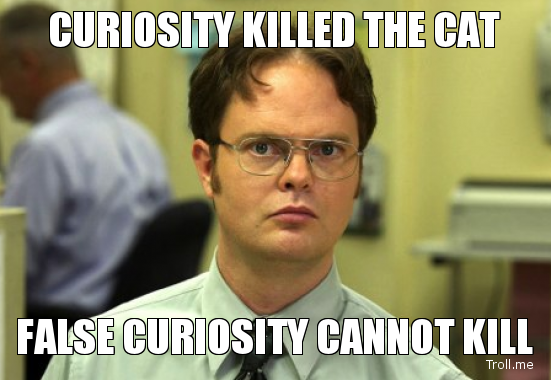 In the spirit of all things faux Irish and green, I caved to the Shamrock Shake.
My healthified version was quite tasty!  I mentioned Wednesday that I am not a fan of minty desserts.  This was an exception.  Two contributing factors:
I didn't make it too

sweet

The extract I used was a high-quality

peppermint extract

.
The green color is all-natural from the spinach and avocado.  Avocado also made this shake more creamy and milkshake-like.  You can't taste either "healthy" ingredient, and (to my earlier point #1) they aren't sweet additions.
You know I have to do the obligatory nutritional comparison.  This doesn't even begin to take into account all of the added vitamins and nutrients in my version!
McDonald's Shamrock Shake (size small): 416 calories, 9.8g fat, 72.4g carbs, 61.5g sugar, 9.4g protein
vs.
My Shamrock Shake (1 pint): 198 calories, 8g fat, 13.3 g carbs, 1.3g sugar, 20g protein*
*This will vary slightly depending on your protein powder, milk, and topping choices.
This shake was minty and refreshing at the top o' the morn.
It was still pretty dark, so I didn't fully capture the color until I took it to the bathroom to eat while getting ready (does anyone else do this?).  Check out the neon green under the bright lights!
---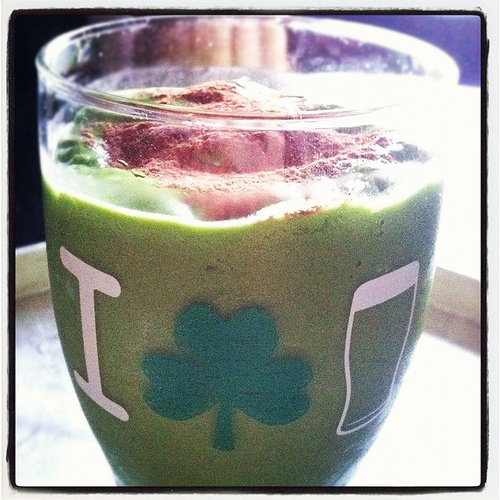 Shamrock Protein Shake
1 handful spinach (~1.5 C)
1 scoop vanilla protein powder
1 tsp maca (optional)
1/4 large avocado
1/2 C unsweetened almond milk
1/4 tsp peppermint extract
7-8 drops liquid stevia (or other sweetener)
Ice
Place all ingredients in a blender and blend until smooth.
I topped mine with cinnamon, but some whipped cream and chocolate would have been good as well.
***
I made the FoodBuzz Top 9 yesterday with the my Creamy Tomato Basil Soup – thank you for the Buzz!  Check out my soup and the other 8 recipes out by clicking here. 
Have you made your own Shamrock yet?
Who is running a race this weekend?  I can't wait to cheer on Tina, Heather, Lee, and Lindsay in the Publix 1/2 Marathon!