I'm beet up and 'choked up this Monday!
It's the second installment of Heather's Meatless Mondays from A-Z challenge!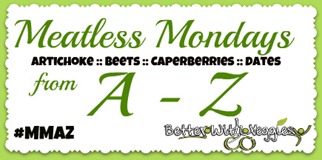 Last week the ingredient we were to use was artichokes, and I submitted this Quinoa Stuffed Artichoke.  Without thinking, I incorporated this week's ingredient – beets – into the recipe by soaking my quinoa in beet juice.
This week… Oops, I did it again.
My submission is a Golden Beet and Tempeh Stuffed Poblano Pepper, and in my tempeh stuffing I incorporated both beets AND artichoke hearts.
If you are someone who doesn't do well with red beets, I encourage you to try the golden variety.  Golden beets tend to have less of an "earthy" taste, and are slightly sweeter than red beets.  I loved that sweetness in this dish balanced with the mild heat of the poblano pepper.
Don't be scared of the poblano.  It rates a 4 out of 10 on the Scoville Scale (compared to a habanero which is 9 out of 10).  A poblano's heat is more of an accent than a punch.  They are perfect for those who like just a touch of spiciness.  FYI – the reddish-brown poblanos are more ripe, and are sweeter than the true green ones.
Poblanos are commonly used in Mexican dishes, but I took this in a more Indian direction by coating my sautéed stuffing ingredients in a quick sauce made of curry and nutritional yeast.  Curry is an excellent pairing with the nutty tempeh and nutritional yeast flavors, and the sweetness of the beets added a fun twist to the stronger flavors.
Admittedly, I'd never roasted a pepper before.  It seemed like a complex task for some reason.  Rest assured it was stupid-easy, and definitely worth a shot.  This recipe can be easily multiplied and customized to fit the needs of a crowd!
 Next week's ingredient is caperberries… should I purposefully aim for artichokes, beets, and capers?  😉
_____________________________________________________________________________
Workout recap before food though!  This week was a weird one.  I traveled on Wed/Thursday so I had to take a rest day midweek.  Being on an airplane makes my body really tired/weak-feeling, making Friday's workout was a hard one.  I also had a weird pain in my heel on Friday morning.  It feels bruised, but I didn't do anything that would bruise it.  It happened before I workout – almost immediately as I got out of bed.  It still hurts today… I've been resting and icing, and I skipped past leg day Saturday to give it a rest and instead focused on upper body.  Like my triceps:
Last week I mentioned being frustrated that while I have seen increase in weight I can move, my weight is the same.  This week will bring some adjustments to my diet, adding more fats, protein from "real" sources (not powder), and a small increase in carbs and veggies (woo hoo!).  Candidly, I am a little nervous.  That's a LOT of food, and I often struggle to get in all  7 meals with the smaller portions.  If anyone wants to come shovel food in with me, I could use the encouragement! LOL!
Workout Recap (8/6 – 8/12):
Monday – Legs (w/ trainer)
Tuesday – Back/Triceps, Calf raises, 2 mile walk
Wednesday – Shoulders/Butt
Thursday – Rest, 1.5 mile walk
Friday – Chest/Biceps, Calf raises
Saturday – Back/Triceps, Calf raises
Sunday – Shoulders/Butt
______________________________________________________________________________________

Golden Beet and Tempeh Stuffed Poblano Pepper
1 large poblano
1/2 tsp avocado oil
2 T red onion, chopped
1/3 C golden beet, diced
1 large garlic clove, minced
1 serving tempeh
1/4 C chopped artichoke hearts
1 T apple cider vinegar
1 T nutritional yeast
1/4 tsp curry
Shake of cumin
~2T water
Preheat oven to 475.
Place the pepper on a baking sheet, and place in oven.  Roast for 30 mins, turning pepper every ~10 mins.  The goal is to char it on all sides.
Once charred, place in a bowl and cover with a towel to steam for ~10 mins.
Meanwhile, heat oil in a skillet and begin to saute onions and beets.  Once onion begins to turn translucent, add garlic, tempeh, and artichokes.  Add apple cider vinegar (or other white vinegar), and stir to combine.  Cook until warmed through, and garlic becomes fragrant (~2 mins).
Mix nutritional yeast, curry, and cumin with water and pour over saute.  Stir to combine and remove from heat.  
Remove pepper from bowl and begin peeling.  The skin with come off easily when they're cooked like this.
Make a small slit down the length of one side of the pepper, being careful not to cut through to the other side. Carefully remove seeds, leaving stem intact.  Spoon tempeh mixture into the pepper to fill.
Transfer stuffed peppers to baking sheet dish.  Place in oven and bake until golden, 5-8 mins. Cool for a moment before transferring to a plate.  Sprinkle with chopped mint, lime juice, and additional nooch sauce if desired.
Makes 1 (easily doubled or quadrupled). 
***
I didn't want to clutter the post with all of my cheat day treats, but this happened (among other things):
Have you ever had an odd heel pain?  Any advice?
Do you like beets?  What is your favorite way to eat them?