The gym is my happy place.
It really is the most relaxing part of my day.
Sometimes you need to get out of your comfort zone.  We grow from challenges… so I decided to challenge myself to a Strong Man!  That may have been a bit of a crazy move, but whatever…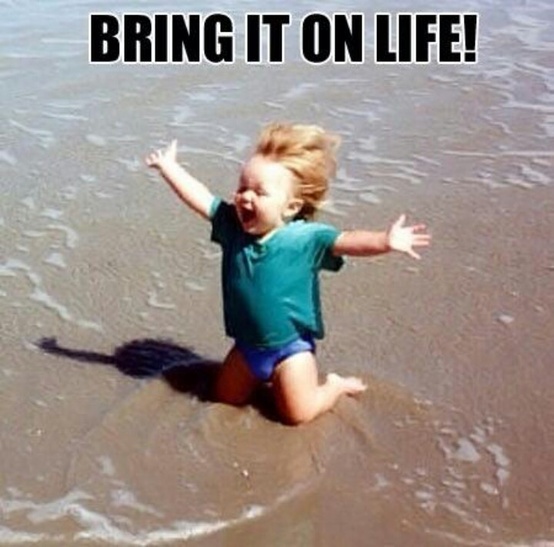 When I arrived at the Lee Haney event, I was surprised to find out that there was only one other female competitor.  That was really intimidating… there was only one other women willing to try this?!  She was really great though – her friendliness and outgoing attitude did a lot to calm my nerves!
First up was the Log Press.  It was a fail.  You were to perform as many clean and over head presses as you could in 1 minute.  I performed zero.  I got the 100 pound chunk of metal up to my chin, but it would NOT go over my head.  I tried 6 times!  I also bruised my chin in the process.
Second was the Stone Lift.  You had 1 minute to lift a 70 lb stone as many times as possible. This was actually pretty easy – I could have done more!  
I'm pretty good as long as I can use my legs for power.  The other girl got half a completion more than me.  If I hadn't had a bad pass from the ball man, I would have tied her (which I think is cool since she had a solid 75 lbs on me).
The Farmers Walk was next.  We had to walk 60 feet to a marker and back 60 feet (120 feet total) while holding 100 lb Farmers Walk Implements in each hand.  Again, not too hard.  I can use my legs no problem.
The last event was the one I was most excited for – the Truck Pull!  We pulled a 4 door Jeep Wrangler for 100 feet using a shoulder harness.  Silly me thought this wouldn't be too hard.  Get it started and it's all gravy, right?  NO.
I struggled and slipped on the wet ground to get the thing moving.  They eventually gave the truck a shove and off I went.  Every step was a struggle.  I thought I'd give up a couple of times, but I did make it.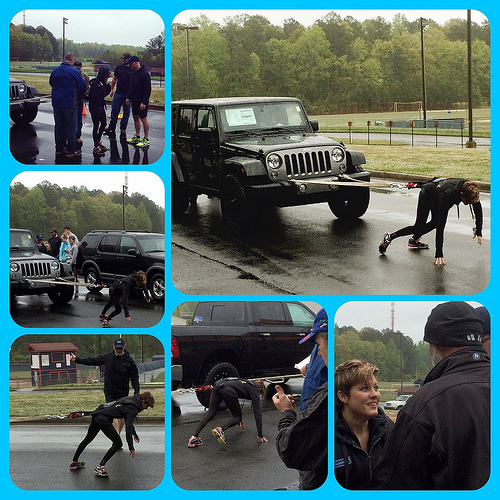 I saw the pics at the end and wished I'd worn different leggings.  I look like a teeny little ant!  Is that shallow? #sorryimnotsorry
These are addictingly fun.  I have a goal of being able to do that log press and then I'm going to try for another!  There's a whole lot to be said for getting out of your comfort zone and getting inspired!
***
The icing on the cake at the end was Lee Haney – 8x Mr. Olympia – recognized me and gave me a hug!
Would you ever do a Strong Man?  I know some of you have!
When was the last time you got out of your comfort zone?