I will never refer to this surgery as #strangebutgood.
The results, yes.  Surgery, no.
I am very grateful to Amalia for picking up the strange torch this week while I eat food that is strange to me – plain ("normal") foods.  Thanks to Momma for keeping me fed!
This wasn't planned, but Amalia even jumped on my strawberry obsession with this creation!  I can't wait to try her Strawberry Salsa out when I'm back in the kitchen.  Maybe over a salad?  With bacon…  😉
_________________________________________________________________________________
Hi everyone!  My name is Amalia and I blog over at Live, Travel, Eat, and Run.
Today I'm excited to be contributing to Laura's Strange But Good series. This idea came to me on my run this morning.  I had strawberries, tomatoes, an onion, and an avocado left in the house and needed to do something with them for lunch!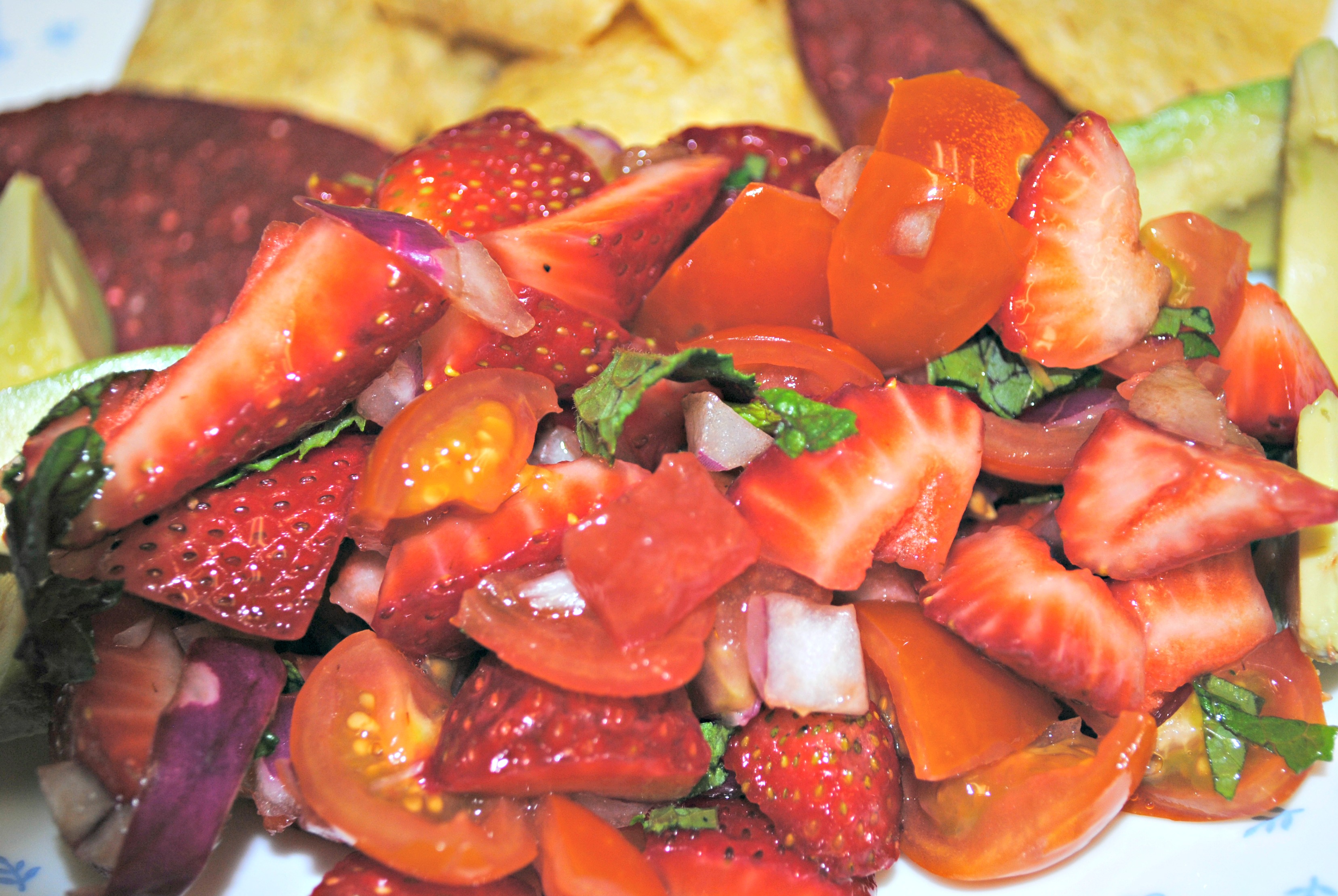 I love all of those foods; I just would never think to put them all together. As soon as I did, my salsa creation was born.
I am not a cook, and usually can't pull dinner together in time. However, this was an exception to the rule and I'm proud of how it turned out!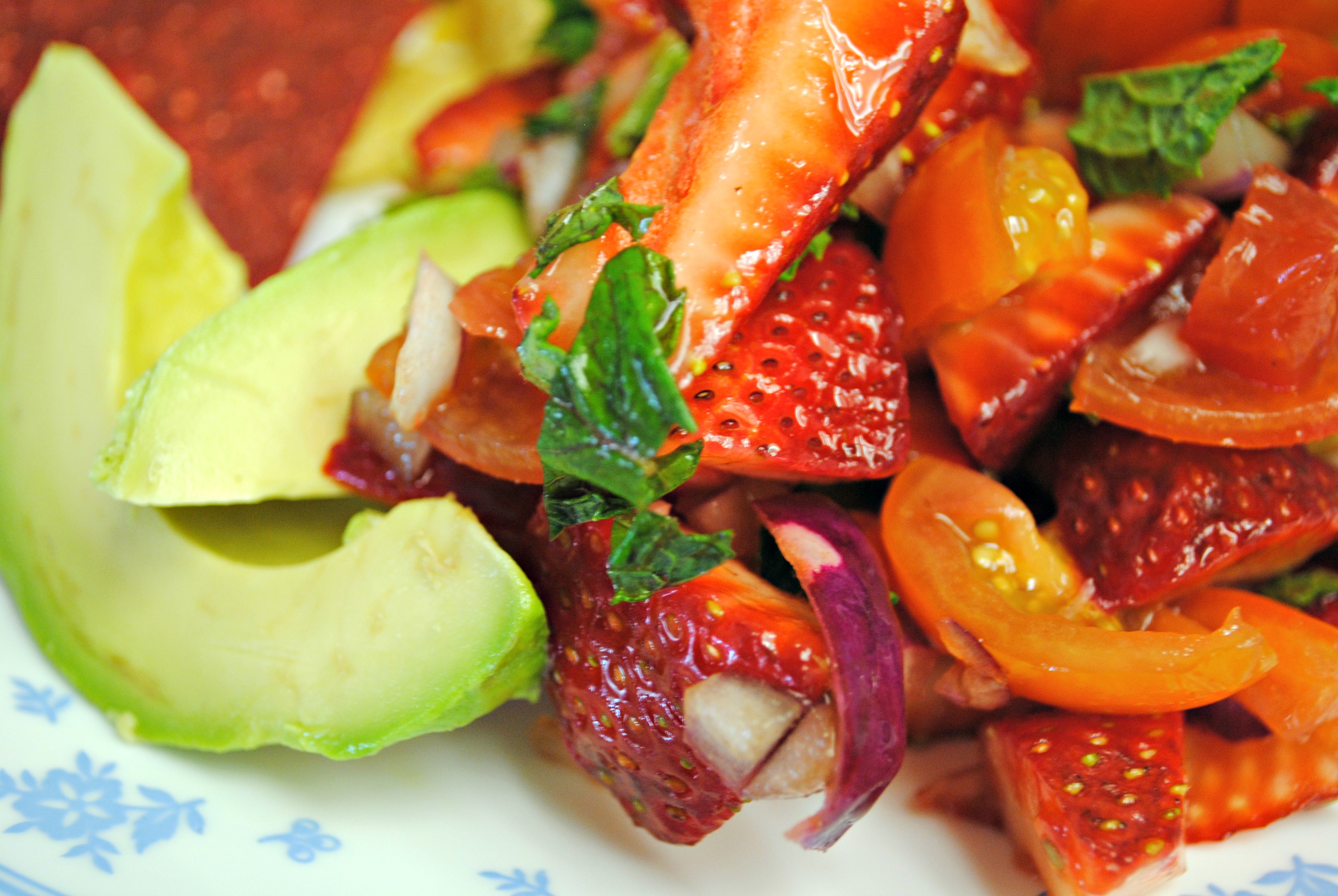 Strawberry-Tomato Salsa with Avocado & Mint 
1 container baby or grape tomatoes
1 pint strawberries
1/2 C red onion
1/4 C fresh mint leaves
1 lime
2 T balsamic vinegar
1 avocado
Chop up the tomatoes and strawberries as fine as you want for your salsa (I like 'em chunky) and toss them in a big bowl. Then, dice the red onion and add it to the pile.
Gracefully (or not so gracefully on my part) rip or tear or cut your mint leaves until they're tiny and throw them in as well.
Cut the lime in half and squeeze the juice over your mix and add the 2 tbsp of balsamic vinegar. Stir and you have your salsa! It keeps well in the fridge for a few days.
When you're ready to eat it, chop up an avocado and place on top or stir in. I don't mix in the avocado right away since it doesn't keep as well in the fridge and gets all mushy.
I just love the sweetness of the strawberries mixed with the tang of the mint and the acidity of the tomatoes and onion!  Enjoy with tortilla chips or on a salad.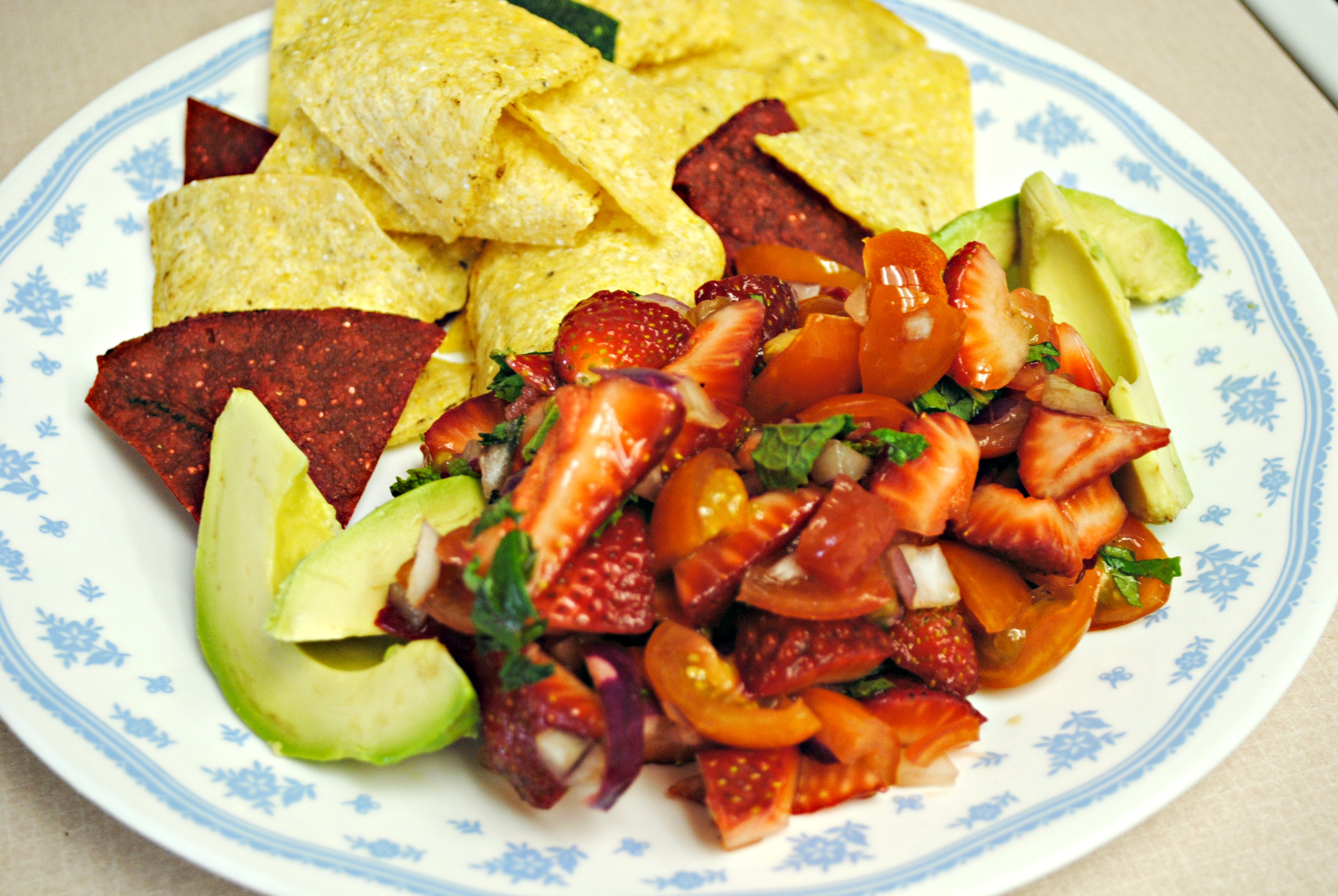 Modify:  Like it spicy? Add a jalapeno (I hate spicy).
Modify: Like cilantro? Throw it in! I'm sure it would be a great addition. I just dislike the taste of cilantro so furiously.
Modify: Not a vegan? Melt some cheese on top. Strawberries and cheese are just another strange but good combination you can try!
Enjoy!  And feel free to come visit me on my website , Twitter, Facebook, or Pinterest!
__________________________________________________________________________________
 How have you enjoyed making co-workers, friends, or family stare with strange but good creations this week?
The link up rules can be found here or by clicking on "Strange But Good" in the menu bar above. In short, I want to see what concoctions have earned you weird looks from co-workers, family and friends!
Post your Strange But Good creations, grab the logo below for your blog, and link up here.
Remember to use #strangebutgood in any Tweets and Instagrams of your creations. 🙂


***
Thanks to everyone again for all the support (get it?  bra… support… 😉 ).  Come back for a marvelous ball-related post on Monday!
Do you like a fruity salsa?  
What is your favorite plain food when you're not feeling well?