Dessert Noir
Funny how all you guys seemed more interested in hearing about the dessert than the carrot salad. 🙂
Maybe because you were invested in it since I asked for help selecting the dish for Feast Noir???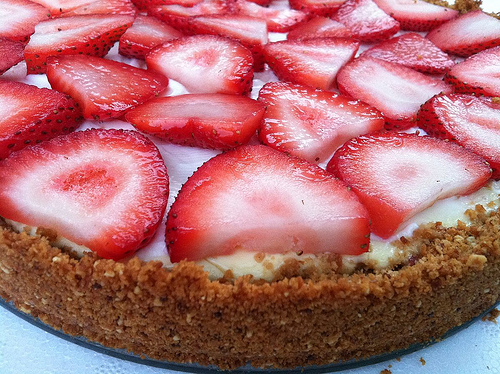 In the end, I couldn't choose between the tart and the brownies.  The smoky almond crust spoke to me… but how can you NOT have chocolate for dessert? *insert look of horror*
The tart was awesome!  My crust didn't hold together as well as I'd have liked (I used 6 T of butter – I adjusted the recipe below to read 8T), but the flavor and creamy filling were right on.
Don't let the smoked almonds scare you – they weren't at all overpowering.  I could only find salted, which worked well as long as you use unsalted butter.  The crust perfectly complemented the sweet flavor of the graham crackers and strawberries, as well as the slight tang from the Greek-style yogurt.
For chocolate, I baked Lavender Brownies from The Sweet Life.
They were ok... I loved the lavender flavor, but the texture of the brownie wasn't my favorite.  I'm more of cakey brownie person and these were closer to the chewy variety.
I'd love to try these again with a few adjustments for texture.
---
Strawberry Smoky Almond Tart
8-10SLICES
adjust servings
Ingredients
1.5

C graham crackers (1 package)

1/2

C smoked almonds

2

T palm sugar (you can use regular)

8

T unsalted butter, melted

8

oz cream cheese, softened (1/3 less fat works)

1/4

C Greek yogurt + 2T (I used Atlanta Farm Fresh 2% Greek-style yogurt)

1

T agave syrup

1

egg

~1.5 C strawberries (enough to cover top of tart), cut into thin slices
Instructions
Preheat the oven to 350°.
In a food processor, combine graham crackers with the almonds and sugar. Mix until finely ground.
Add the melted butter and pulse until the crumbs are evenly moistened.
Press the crumbs into the bottom and 1/2 in up the side of a 9-inch springform pan. Bake for 10 mins, until the crust is set.
Meanwhile, wipe out the food processor bowl. Add the cream cheese, sour cream, egg and agave. Process until smooth.
Pour the custard into the crust and bake for 15 mins, until set. Let the tart cool slightly and transfer to the freezer to chill. (Note: you can make ahead and store in the freezer for at least a couple of days.)
Spread the remaining 2 T of yogurt across the top of the tart. This will help to anchor the strawberry slices. Arrange the strawberries in a circular fashion over the custard.
Remove the ring, cut the tart into wedges, and serve.
***
 Ah, how I love dessert.
What is the best dessert you have made lately?
Do you try to "healthify" all desserts, or do you let treats remain full-fledged treats?