Stop!
Please take a moment to think about those who were affected by last night's storms.  Especially the kids at the University of Alabama.
My cheese buddy from 'Bama, Matt @ The Athlete's Plate, was thankfully unharmed.  He tweeted a terrifying video a friend took of the tornado last night.
As we learn more throughout the day, keep them on your mind.
____________________________________________________________________________________
The (initial) verdict is in on my new kicks.  I'm liking the Newton Motion's!
A few observations:
I feel like my legs are being worked differently… in a good way
They are totally "bouncy" – I don't know that they give my energy back, but it feels cool
I'm sore!  (see the first point)
They are effective in helping me to run midsole
Running midsole is probably the cause of point #1… and #3
I have a feeling my legs are going to feel a little wobbly during this morning's run.
_____________________________________________________________________________________
Have you ever walked past a display in the produce section and been stopped in your tracks by a (good) smell.  Last night my nose located some fresh strawberries at the grocery store that I couldn't resist.
It was enough to inspire a breakfast repeat (a rarity).  Strawberries and Cream Oats were just as amazing the second time around.
My brain cells pulled through again and I remembered Leanne's recipe for Strawberry Ice Cream.  Shout out to Leanne @ Healthful Pursuit for keeping me in good supply of low-sugar treats (and for teaching me to spell pursuit… it's just one of those words for me…).
I'm fully confident that new shoes and a good test-run deserve ice cream.
Shout out to my job for keeping me in good supply of Delta Airlines' pretzels.
I fully intended to make a nice, normal strawberry ice cream.  Then I spotted those pretzels and rekindled my romance with sweet + salty.  I was 5 seconds away from adding pepper too, but I refrained.  Next time.
This Strawberry Pretzel Ice Cream was quite tasty.  The pretzels were awesome in it.  Even if you don't add them – *gasp* – do use a shake or two of salt to bring out the strawberry sweetness.
 _____________________________________________________________________________________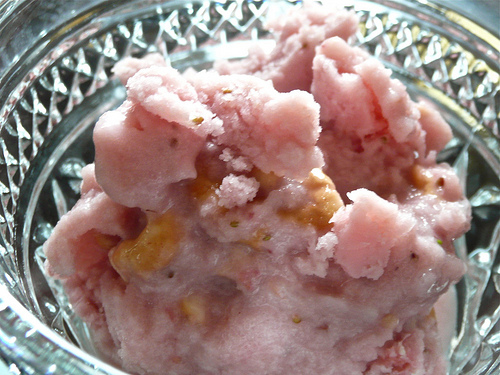 Strawberry Pretzel Ice Cream
3/4 C light coconut milk
1/4 C unsweetened almond milk
1 cup strawberries
1 tsp pure vanilla extract
1 T maple syrup
1/4 tsp guar gum
1 package of Delta pretzels, slightly broken up (probably 3-4 regular pretzels)
Combine all ingredients EXCEPT the pretzels in a blender and blend until smooth-ish (I left a few bits of strawberry).
Pour into ice cream maker and make as directed by manufacturer, adding pretzels in the last 1-2 minutes.
Scoop into 2 bowls and enjoy!  (One at a time.)
Notes:
– According to Leanne, you can do this without an ice cream maker by pouring into a bowl and freezing 1.5-2 hours.  You need to remove every 30 mins to whisk so it doesn't make a strawberry ice cube.  You'd probably want to add the pretzels in the last 15-30 mins
– You could use agave, honey, or stevia rather than maple syrup to sweeten this
– You can probably do this without the Guar Gum.  It's a thickener, so your ice cream will be more cream-like with it
– I'd love to try this will full-fat coconut milk
***
The Royal Wedding is tomorrow!  Are you waking up to watch it?
I was going to resist… but I may do a strategically-timed-uncharacteristically-early morning workout.