I lost Vegas.
Not literally, thank god. 
We've been doing a little 21 day reset.  Vegas said she'd give it a week and then see if she wanted to keep going.  She lasted a week like a champion… but then I lost her.
Actually, we both went a little off the reservation Saturday night.  I got back on track Sunday, but Vegas was done.  She's still been basically eating whatever I eat… just with a side of caffeine and peanut M&Ms.  She had no complaints about the protein pancakes we had for breakfast (more on that below).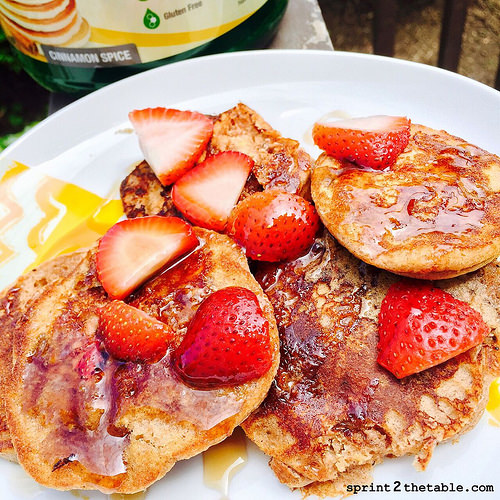 As for me, I'm committed to sticking to it.  I am feeling pretty good.  My energy is coming back, I lost a couple of pounds of fat, and my "digestion" is like a well-oiled machine… if you know what I mean. 😉
---
This WIAW I'm still having fun with creative, vegan meals in the kitchen.  It's been like an episode of Chopped up in here.  Vegas is so tolerant…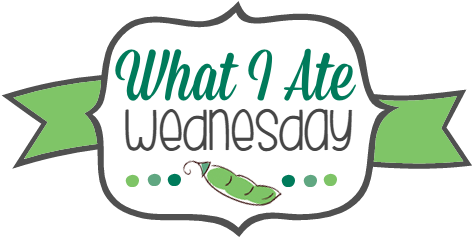 Read on for my eats, and then check out Jenn's blog for everyone else's delicious creations!
---
Breakfast:
I had the usual morning cocktail and morning sludge.
Vegas woke up craving pancakes.  She's been such a champ that I thought it would be ok to test out the About Time protein pancakes mix.  One of the things I love about these is that the ingredient list is totally recognizable, and it packs 21g of protein and 6g of fiber.
All you have to do is add water… I couldn't help myself though.  I added some mashed strawberries too – about 4 big ones per serving.  It worked really well with the Cinnamon Spice flavor!
Just a warning about the sodium content… it's really high.  If you're a sweaty summer exerciser that might be a plus.  If you're a body builder that is used to cutting salt, you'll probably taste it.
Speaking of summer heat… did you check out the Prohydrate Tropical Protein Slushie I made?
Lunch:
Lunch was not really what I set out to make, but it worked really well!  We've had it for the past 2 days, actually.
As soon as I can get it together and write it out I'll post the recipe.  It was basically rice pasta, parsley, tomato, cucumber, zucchini noodles, and a herby creamy dressing.
Post-Workout Snack:
Smoothie bowl – this one was Growing Naturals Chocolate Rice Protein Power, banana, spinach, hemp milk, and ice.  Topped with cacao nibs and ground flax.
There's not much that I love more than a chocolate and banana combo.  Maybe chocolate and peanut butter… or sea salt… and caramel… mmmm…
Dinner:
Veggie plate: leftover braised cabbage, asparagus, red bell pepper, and half an avocado.  Drizzled with a tahini-miso sauce.  Cayenne on the avocado.  I can't get enough of these California avocados!
Dessert:
This was my dessert scene: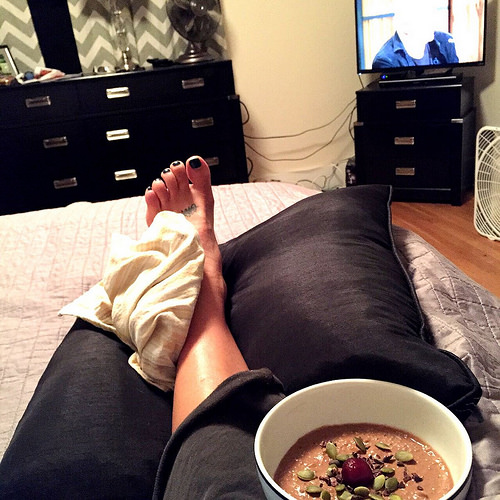 Chocolate-Sweet Potato Chia Pudding with pepitas, cacao nibs, and a cherry on top while icing my ankle and watching Chopped.  I'm thinking I strained my Achilles.  Not pleasant.  What was pleasant was the chia pudding.
Chocolate-Sweet Potato Chia Pudding
1 T chia seeds
1/3 C mashed sweet potato
1/2 tsp vanilla
Water, to thin
***
This post is sponsored by FitFluential on behalf of About Time.
Want to try out these protein pancakes or Prohydrate?  Visit AboutTime and use the code 'fitfluential' for a sweet 25% off deal!
What's your favorite thing to combine with chocolate?
Do you like protein pancakes?  What's your go-to?