My best friend, Mallory, is having a baby.  A baby boy!
Naturally, I threw her a baby shower and served a pink cake.
Oops.
This cake had been planned for a while, but as the day drew closer I got more and more nervous about making the cake for the party.  That's a lot of pressure!
Thankfully, this Strawberry Chantilly turned out really well.
Using toasted hazelnuts was a departure from the original pecan crust, but now I couldn't imagine it any other way.  The mommy-to-be even requested it be turned into a cookie.
I'll be toying with the recipe to make it able to stand alone in cookie (or blondie?!) format. 🙂
Easy while looking impressive, this cake is refreshing, spring-like, and showcases the now-in-season strawberries perfectly.
More spring party recipes to come!
_____________________________________________________________________________________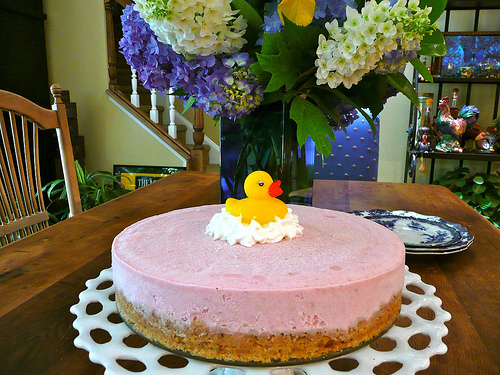 Strawberry Chantilly
Adapted from Coleen's Recipes.
Crust:
1 C all-purpose flour
1/4 C brown sugar
1/2 C butter (salted)
1/2 C toasted hazelnuts, chopped
Filling:

2 egg whites
3/4 C sugar
2 1/2 C sliced strawberries
1 C heavy whipping cream
1 tsp vanilla
1 tsp fresh lemon juice
Preheat oven to 300 degrees.
Cut the butter into the flour and sugar until crumbly.  Stir in chopped hazelnuts. Press into a 9″ spring form pan and bake for 25 mins, until just beginning to turn golden.  Set aside to cool completely.
Pulse strawberries in a food processor to form a puree.  (I left a few chunks.)
Pour puree into a mixing bowl and add egg whites, sugar, and lemon juice.  Beat with electric mixer on high for ten mins.  (You can use a hand mixer if you're ghetto like me – it's good for the arms!)
In a separate bowl, beat the heavy whipping cream and vanilla until stiff peaks begin to form.  Gently fold the whipped cream into the strawberry meringue mixture. Pour into cooled crust and cover. Freeze for at least 6 hours, preferably overnight.
***
This weekend flew by!  What can't was at least reach a compromise of working 4 days and weekend-ing 3 days?!
Do you order cakes or make them for parties?
What is your favorite cake to make?