Are you pronouncing "açaí" correctly?
Are you pronouncing it at all?
Açaí (ah-sigh-ee) bowls are all the rage in California.  And with good reason – they are delicious!  They're also $13.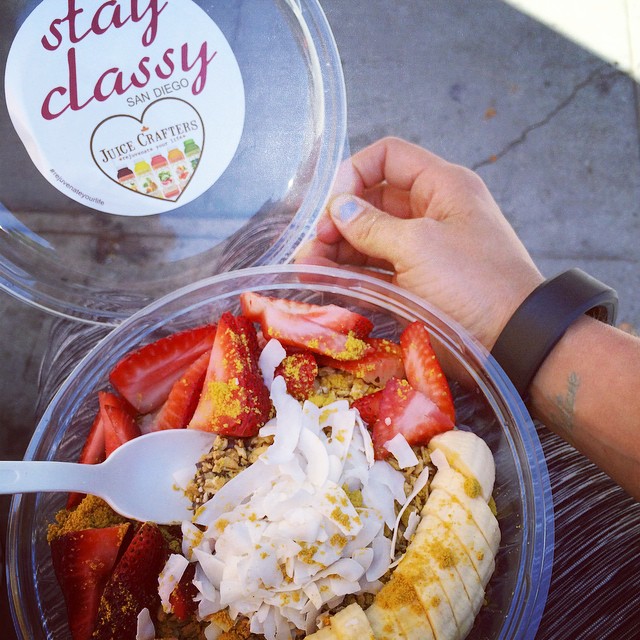 Why are people spending so much on these?  Aside from the taste, açaí is a super food.
Açaí is the berry of a special Amazon palm tree.  It tastes sort of like a blueberry – not overly sweet.  It also tastes a little chocolate-y to me.   Strange, but quite good!  Açaí is jam-packed with antioxidants, amino acids, and essential fatty acids.
You probably won't find the berries at the grocery store, but you can find packets of açaí pulp in the frozen section at certain health food stores (ahem, Whole Paycheck Foods).  The packets aren't cheap, but it's a lot cheaper than buying a $13 bowl!
I picked up a few and decided to make my own protein-rich bowl with the new strawberry flavored Growing Naturals rice protein.  It had a strange color, but it really was good.  Vegas even approved.
And yes, I'm still sneaking sweet potato in our smoothies.  It's not a secret anymore since she read about it… but the taste isn't detectable.  You only need a little bit and it makes these bowls super creamy!
---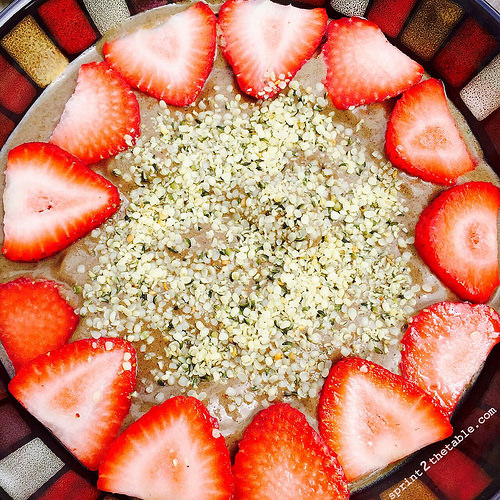 Strawberry Açaí Protein Bowl
1 scoop strawberry protein powder
1 frozen açaí packet
1/2 C strawberries
1 C spinach
1/4 C baked sweet potato
1 tsp maca
1/2 tsp cinnamon
Ice and water, to taste
Toppings: strawberries, hemp hearts, cocoa nibs
Place everything in a high-speed blender and blend until smooth.
Scoop in a bowl and have fun with the toppings!
---
How have you enjoyed making co-workers, friends, or family stare with strange but good creations this week? The link up rules can be found here or by clicking on "Strange But Good" in the menu bar above. In short, I want to see what concoctions have earned you weird looks from co-workers, family and friends! Post your Strange But Good creations, grab the logo below for your blog, and link up here.
Remember to use #strangebutgood in any Tweets and Instagrams of your creations. 🙂



***
Unrelated, but what am I going watch now that I've binged my way through OITNB?!
Have you tried açaí? 
Have you tried the sweet potato trick yet?