Spring has sprung, and I can't get enough of these fresh berries.  Here are two ways to enjoy seasonal strawberries in your oats.  Start your day with Strawberries and Cream Oatmeal!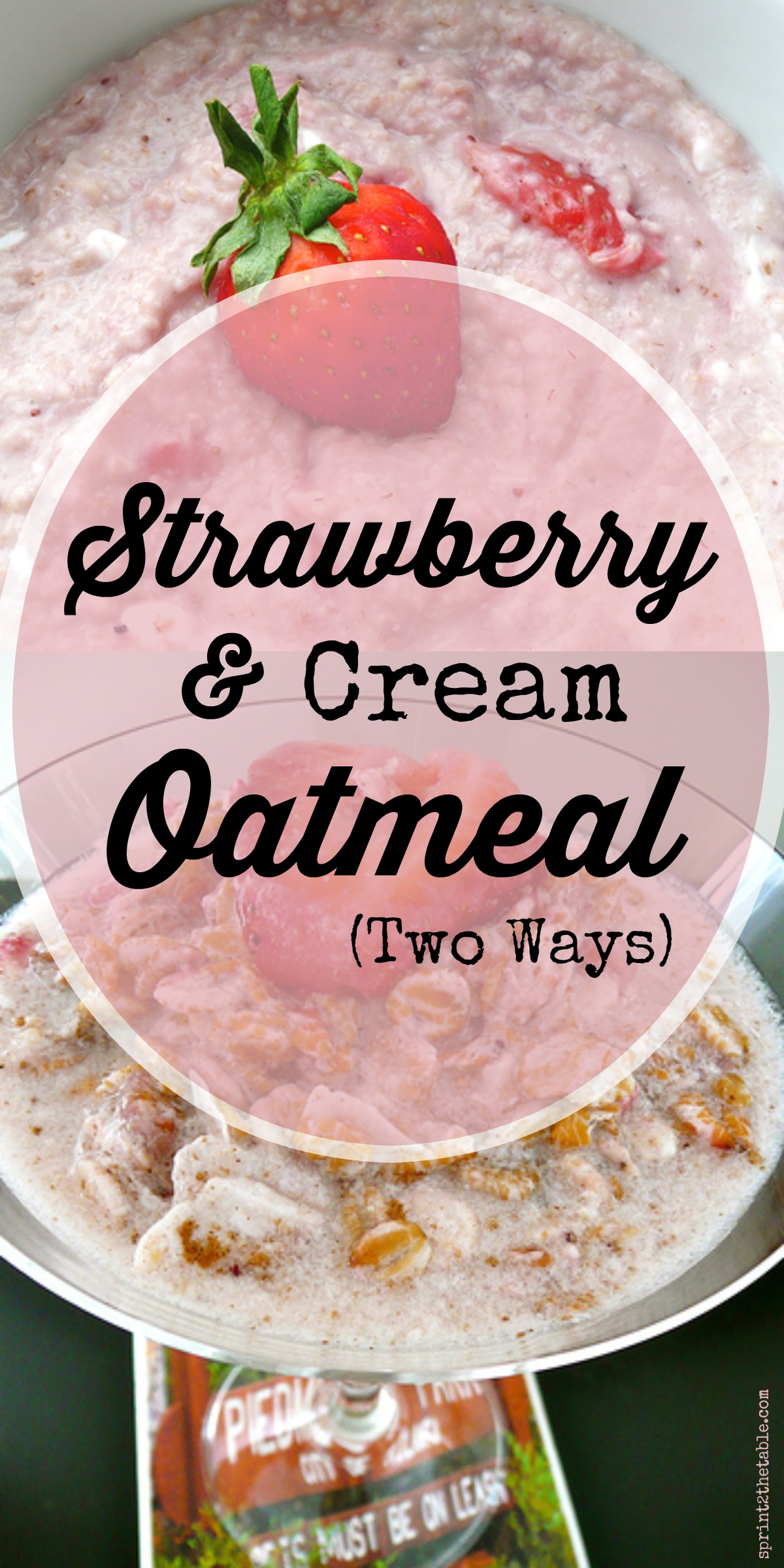 Whole Paycheck actually had GREAT prices on strawberries.  Naturally, I stocked up.
After my ridiculous shopping spree, I'm making a concerted effort to USE everything I bought before it goes bad.  I will not go out to eat every night.  I will not got out of eat every night…
Welcome back to patio eating and tasty fresh fruit!
In effort to use my berries (life is tough, right?), I had TWO versions of strawberry oats this week (recipes at bottom).
1. Strawberries and Cream
Is it just me or does the green sticking up on top of that strawberry look like bunny ears?!
2. Strawberry-Coconut Overnight Oats
P.S. Check out the cool coaster!  I got a set of them at the Sweetwater 420 Festival, all with different pictures from around Atlanta printed on them.
My favorite was #1 – Strawberries and Cream.  That was the most deliciously creamy bowl of oats ever.  AND I got to utilize one of the new (to me) items I bought – cottage cheese. The cheese gave it a little saltiness that highlighted the sweet berries.  It also added some tummy-filling protein to the meal.
I'm now obsessed with cottage cheese.  I cannot pass the fridge without opening it to take a bite right outta the container.  So weird.
#2 – Strawberry-Coconut Overnight Oats – were very good too.  I was craving more cream though.  Next time I'd add a scoop of Greek yogurt.  Which I'm out of currently. What I LOVED was adding dried, unsweetened coconut to them.  After marinating in the berries and coconut milk overnight, the coconut became a satisfyingly chewy addition.
For both of these recipes, I used my Magic Bullet mini-cup to partially puree the strawberries.  I say partially because I like to have a few chunks of berries mixed in.
I'm proud to say that I've done really well using my groceries.  I've been eating tons of monstrous salads, roasted my first brussels, become addicted to cottage cheese, and made a great roasted tomato soup to pair with my grilled cheese.
---
Strawberries and Cream
1/4 C oat bran
1/2 C unsweetened coconut milk (I used So Delicious)
1/4 C strawberry puree
1 tsp vanilla
1 tsp cinnamon
1/4 C cottage cheese
Mix first 5 ingredients together and prepare on stove top as directed on oatmeal box.  With ~ 1 min to go, stir in the cottage cheese.  
Inhale. Slowly enjoy like a responsible adult.
---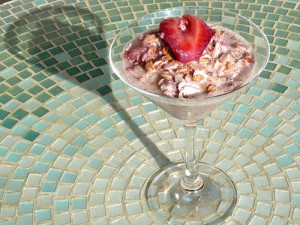 Strawberry-Coconut Overnight Oats
1/2 C multi-grain oatmeal
1 C unsweetened coconut milk (So Delicious, again)
1/4 C strawberry puree
1/4 tsp almond extract
1 tsp cinnamon
2 T dried coconut, unsweetened
Mix all ingredients together.  Cover and refrigerate over night.  In the morning, stir and dig in!
***
I hope the Easter Bunny brings me a mimosa!
What's your favorite springtime fruit/veggie?  
Who's making something fruity for Easter brunch?