I have some strange friends.
In the most delicious sense of the word.
One of my favorite things about #strangebutgood every week is all of the fun ideas I get from all of the link ups.  I pin them to the #strangebutgood board for safe keeping until I can make them.  Last week's links were so good I've already tried two!
Exhibit A
Arman's Sea Salt Dark Chocolate Waffles Pancakes.  I basically followed his recipe, except I reduced the milk so they would work as pancakes and I replace the sugar with Xylitol.  They were the fluffiest rounds of deliciousness I've made in a while!
My topping was peanut flour sauce (peanut flour + stevia + coconut milk) and the following strange creation…
Exhibit B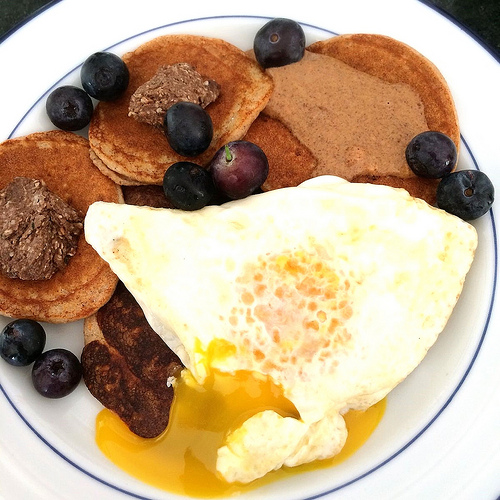 Christa's Chocolate Maca Hemp Seed Spread has been my topping of choice lately.  It was so easy!  I just dumped everything in my Vitamix and blended away.  I left mine a little chunkier than Christa – I'm a fan of crunchy nut butters, so I thought this should be similarly treated.
I couldn't decide if I wanted chocolate spread or a little #yolkporn atop my protein pancakes yesterday.  So I had both.
Other things this is good on: ice cream, protein bowls, apple slices, carrots, sweet potatoes… your finger…
---
Then there's the honor of having someone actually brave MY #strangebutgood recipes!  Both Megan and Heather braved my Creamy (Raw) Red Pepper Soup and gave it the Instagram post of approval!
---
How have you enjoyed making co-workers, friends, or family stare with strange but good creations this week? The link up rules can be found here or by clicking on "Strange But Good" in the menu bar above. In short, I want to see what concoctions have earned you weird looks from co-workers, family and friends! Post your Strange But Good creations, grab the logo below for your blog, and link up here.
Remember to use #strangebutgood in any Tweets and Instagrams of your creations. 🙂



***
Speaking of strange… I'm headed to a crawfish boil tonight.  Those little bugs creep me out!
Have you made any #strangebutgood recipes?
What is your favorite thing to top with a seed/nut butter?