Strange is global.
Ever use a Turkish toilet?  I still have nightmares.
Switzerland suprised me with it's fancy strangeness.  I had one huge "treat" meal there.  By treat, I don't mean indulegent (I did that on emore on e occassion).  I mean ridiculously expensive fancy.
The day started innocently enough.  I left Lucie to in Basel to explore Interlaken for a few days.  One of the best things about Europe is the train system.  You can get anywhere so easily!  And it's fast – I left in the late morning and arrived in time to check into my B&B and do a little exploring before my fancy dinner.
I went for a leisurely run to take in the sights.  There were streams and lakes filled with impossibly blue water, majestic swans, breathtaking mountain views, and a cable car ride to the top of a small peak called Harder Klum.  I had a salad and glass of wine at the top while I gawked at the view.  Also, there was a cow.  And a certain apron.  Strange, no?
Then it was time to get cleaned up for tyhe evening's adventures.  I found the swankiest hotel in the city, Victoria-Jungfrau,  and pranced in to the Brasserie for a little self-romance.
As soon as I set down, the server wheeled over a cart that held a giant silver basin of champagne on ice.  Clearly, I'd found my home.  They also brought out homemade bread and three toppings: herbed quark, butter, and some mix of apple and onion that I supposed to be more addicting than crack.  There was also an amuse-bouche, or gift from the kitchen, that was some sort of cheese sauce with a cheese souffle, and a delicately pickled slice of cucumber.
Next up was the started.  I selected the wild garlic soup with a garlic-stuffed ravioli.  It was perfection.  Just the right amout of food!  The foam on the top of the soup was light and rich, and that little ravioli was the single most perfectly cooked piece of pasta pillowy goodness I've ever had.
And it was green.  Perfect for a dose of foamy strange!  It was all I could do not to stick my finger in the glass to get every last bit of the soup.
Then came the main.  Chicken stuffed with morels over a bed of creamy spinach, balsamic reduction, and barley.  The cubes are "bread dumplings" that were essentially a savory black potato bread pudding.
It seems strange to order chicken in such a fine establishment, but the stuffing and sides were too enticing to pass up.  Those bread cubes alone were worth the price of admission.  The thought of dessert My pride held me back from begging my server to bring seconds.
Dessert.  The whole menu was #strangebutgood.  They offered indulgences like fennel creme brulee with candied celery and lemon verbana foam and a goat cheese-saffrom dome with rhubabrb compote and dandieon sherbert.  The struggle was real!
I sipped an espresso and ate some housemade chocolates while I mulled over the choices.  Therapy.
My selection?  Strawberry crunch (a soft of strawberry brownie with a nutty crust) with absinthe strawberries and garlic ice cream.
I died.
Not wanting the night to end, I waddled down to the hotel bar where I listened to the pianist while sipping bourbon.  As a good Southerner, I know that bourbon can only come from Kentucky… but after a meal like that, I'll let them call their booze whatever they like.
Faceplant into bed back at my B&B.  Strangely enough, I managed not to mess with the guitar hanging on the wall through the whole stay!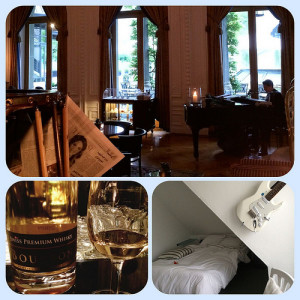 _____________________________________________________________________________________________
How have you enjoyed making co-workers, friends, or family stare with strange but good creations this week? The link up rules can be found here or by clicking on "Strange But Good" in the menu bar above. In short, I want to see what concoctions have earned you weird looks from co-workers, family and friends! Post your Strange But Good creations, grab the logo below for your blog, and link up here.
Remember to use #strangebutgood in any Tweets and Instagrams of your creations. 🙂



***
Now I'm hungry all over again.
Have you ever been on a train?  I've neve been on one in the US (unless you count Disney World).
Do you have one "big" treat meal on vacations?