Strange friends are the best of friends.
Most of the time, but we won't go there.
Arman is my #strangebutgood brother from another mother.  When I knew I was going to be gone for this week's link up, he was the first person I thought of to carry the torch!  He didn't disappoint, even if he IS pissed at me.
I've made many of Arman's creations and can assure you that even though they sound strange, they are amazing.  I still dream of the bison version of his Cheeseburger Pancakes I made!
So, without further adieu, here's my twerking brother…
---
Hey fans of all things strange….but good.  My name is Arman and I'm the blogger behind The Big Man's World – a Melbourne born chap who is currently trying to balance the big world of responsibilities – one meal, one deadlift and one kitchen experiment at a time.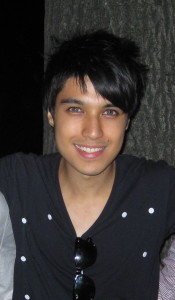 I must say I was annoyed when Laura asked me to host this Friday's round of #strangebutgood.
Why?
She's off to Switzerland.
But why be annoyed?
Well. Hear me out. Since the beginning of our blendship (we can't move to friendship status until we've met), I've been convincing her to come to Australia. Seriously. I made tantalising recipes to tempt her, harassed her on instagram and even vibed with her on many occasions in weekly recipe themes. (For three weeks straight, we used the same ingredients- Sriracha, beef and kabocha).
I even Twerked in her honour.
Yet she goes to Switzerland. Thanks, Laura.  (Editor's note: You're so very welcome. :P)
I've been a big participant in the weekly #strangebutgood linkup so thought today, I'd share my three favourite #strangebutgood offerings….in pancake form!
Lamingtons are an Australian dessert which is based off a soft, sponge cake dipped in chocolate and covered in shredded coconut. More often that not, it contains jam in the centre.
Transform them into pancakes = #strangebutgood.
High protein, gluten free and with a grain free option? Give yourself a taste of Australia. You're welcome.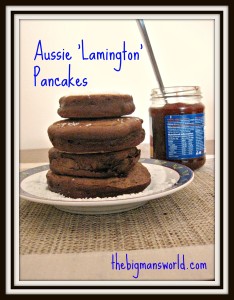 Don't chuck a pie in my face or chase me with a pitchfork but sorry…I will always take white potatoes over sweet potatoes. It's not uncommon for me to eat a kilo of white potatoes in a day.
However, sweet potatoes are amazing when incorporated in these sweet potato and cheddar pancakes.Perfect for breakfast, lunch or dinner.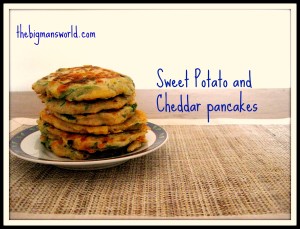 This is what happens when you crave cheeseburgers and pancakes concurrently. Not to mention that you're too greedy to pick one of them. You just have both. Both in pancake form.
Sub any ground meat for beef or crumbled tempeh or tofu for a vegetarian option. Just promise me one thing… Don't skimp on the cheese. That reminds me of the time I ate cheese with every meal. Moooooo.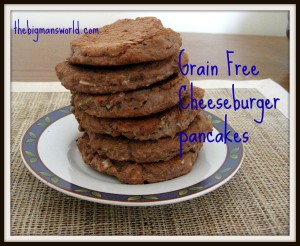 Thanks for letting me take over on here Laura! For more recipes, random rants and some healthy living perspectives from a food and fitness loving guy from Australia – come visit The Big Man's World.
---
How have you enjoyed making co-workers, friends, or family stare with strange but good creations this week? The link up rules can be found here or by clicking on "Strange But Good" in the menu bar above. In short, I want to see what concoctions have earned you weird looks from co-workers, family and friends! Post your Strange But Good creations, grab the logo below for your blog, and link up here.
Remember to use #strangebutgood in any Tweets and Instagrams of your creations. 🙂



***
Everyone give Arman a big twerk for keeping #strangebutgood going this week! 😉
Have you ever tried one of Arman's recipes?  Those Cheeseburger Pancakes ROCK!
What is the strangest pancake you've ever made?