Strange is good, but not always.
I don't know if I can get on board with this.  Maybe the Cinnamon & Sugar.  Pumpkin Pie Spice is really pushing it.  Certainly NOT the White Chocolate & Peppermint.
The Huffington Post agrees with my assessment.  They compared the Cinnamon & Sugar to Cinnamon Toast Crunch.  They couldn't take more than a bit of the White Chocolate & Peppermint, calling it a "horrible abomination to humanity."  These interesting chip flavors are set to debut in November.
Who am I to judge?  Some of you may think items on this Friday's "Strange But Good" list are just as revolting.
_______________________________________________________________________________________
1. Banana-Cottage Cheese Toast.  With Bacon.
I mixed up some no-salt cottage cheese, 1/2 a mashed banana, cinnamon, peanut flour, and just enough almond milk to keep it from being dry.  Then I slathered it on top of a toasted piece of P28 High Protein Bread… and topped it with a teeny bit of crumbled bacon.
Sweet, salty, creamy, and crunchy.  This breakfast was everything I could want.  Clearly this was before the great sodium cut.
Side note: one of my favorite ATL chefs, Kevin Gillespie, now has an online show.  Check out "The Bacon Show."
2. Dilly Salmon and Raspberry Salad
After the blood orange and curried salmon salad success I posted on Wednesday, I decided to keep going with the salmon combos.  This salmon was pre-coked in dill and lemon, them I shredded it and mixed it with raspberries, fresh basil, and crushed Marcona almonds.  Ah-mazing.
That bite from the raspberries was perfect with the salmon and the crunch factor from the almond sent me over the edge.  A healthy fat win.
3. Vegan Softserve with Sriracha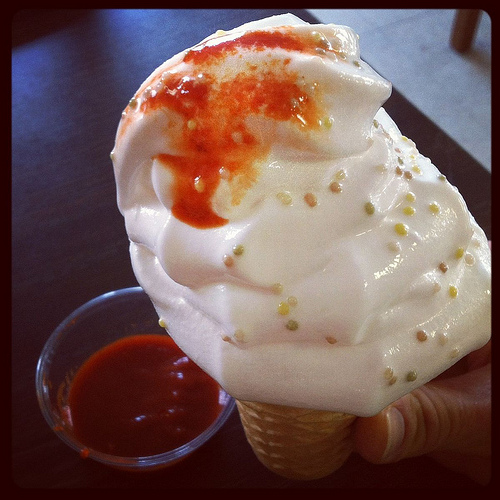 While Allie was in town last weekend, we hit up Dough Bakery, one of my favorite vegan spots in Atlanta.  They offer vegan softserve cups, cones, or shakes. I opted for the cone with sprinkles… and then I eyed the Sriracha left over from our biscuits.
Sweet and spicy… I wanted it to be better than it was.  It needed another component.  Maybe if it had been a sriracha chocolate sauce?  Strange… still mostly good.
They also had zombie cupcakes.  I refrained, but I had to share this picture of Halloween strange But Good-ness: 
4. Semi-Homemade Hotel Breakfast
PSA: The Homewood Suites in Ft. Worth, TX doesn't serve oatmeal everyday.  They alternate them with grits (welcome to the South).
Luckily I had a BYOP (bring your own protein) back up plan.  I'm surprised the TSA didn't take my bag with all the goodies I packed.
Into my bowl went:
1/2 a mashed banana
Mini-box of Cheerios
1 serving protein powder (pre-mixed with flax before I left)
Sugar-free syrup (first time I've seen that on a b'fast bar!)
Peanut butter
It wasn't half bad!  I wish there was cinnamon, but the stuff they had was pre-mixed with sugar.  Remember to mash the banana first if you're working with one bowl.  It gets messy if you try mashing with the cereal in the bowl (not that I would know…).
My awesome boss didn't even blink an eye. 🙂
5. Vegan PB & Zeggs*
I know I posted this with the recipe on Wednesday, but I have to give it another shout out.  Since the loss of egg whites, I needed a new way to enjoy my PB& Jeggs creations.
Scrambled tofu is a great, low sodium alternative to eggs!  I am so in love with my Peanut Butter and Carrot scramble (PB& Ceggs)… naturally I had to try it with zucchini too.  New favorite Meal 6 is PB & Zeggs.
My only changes were to use grated zucchini in place of carrot and used almond extract in place of the maple.  Topped with extra cinnamon because I'm an addict it's good for you.
*I suppose I should name this PB & Zofu… but that just doesn't sound as good!
Bonus Round:
This is a bonus because I'm not telling you what it is until Monday!  Let's just say it was delicious.  Any guesses?  2 hints: it was for Meal 2 on Thursday…. and it contained 20g of protein. 🙂
***
I'm thinking of hosting a bi-weekly (weekly?) "Strange But Good" round-up.  Would anyone be interested in participating?
Would you try those funky Pringles flavors?
What's the strangest thing you've eaten this week?