Bacon is good.
And a huge part of why I didn't make it as a vegetarian.
Long ago Heather hipped me to the fact that Bacon Bits are vegan… but I have never cared for them.  They taste like what I imagine dog food to be.
When Kat posted a recipe for vegan TVP Bacon Bits, I couldn't WAIT to try my own recipe.  Since I can't have bacon this close to my competition (too much fat and sodium), this was the perfect time to make my own bits!  I took Kat's idea to use nutritional yeast and cumin, but I cut the sodium, sugar, and the oil.  That does NOT mean I cut the taste though!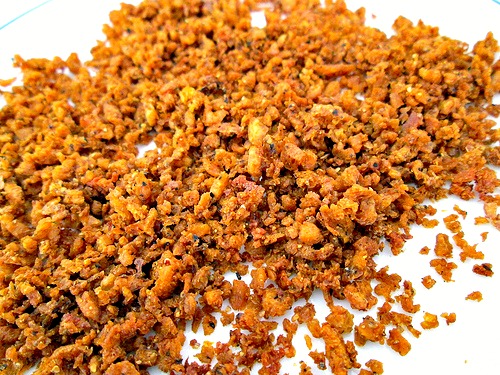 These smokey, spicy little bites are crunchy and packed with flavor.  For the longest time I had only regular paprika in my cabinet… let me be the first to admit that was WRONG.  Smoked paprika is the way to go.  It makes a massive difference; I was shocked at the amount of smoke it lends to dishes.
I used stevia for a hint of sweetness and I added maple extract because… who doesn't like maple bacon?  I also like my bacon peppered, so that went into this mix as well.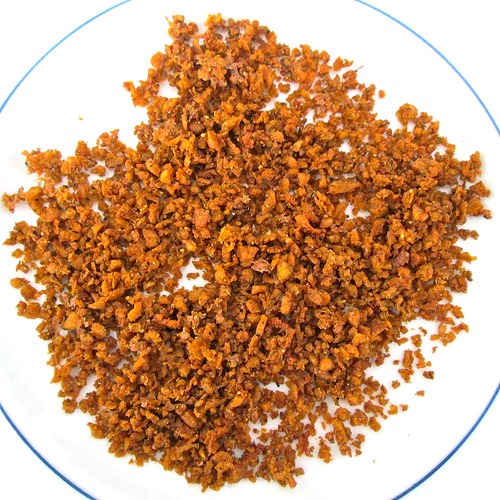 In case none of this is strange to you, I created a #strangebutgood breakfast salad using these Smoked TVP Bacon Bits.  It's a simple mix of heirloom tomato, pear, cilantro…. and raspberries.  Don't be scared – tomatoes pair really well with fruit! The coolness of the fruit and the smokey, slightly spicy Bits are a fantastic contrast party in your mouth.
Eaten with cinnamon oatmeal and turkey "sausages" (that recipe is coming next week).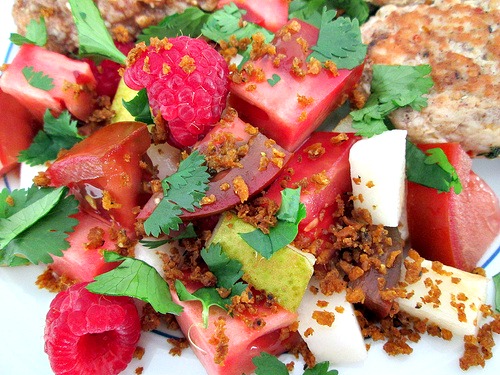 ---

Smoked TVP Bacon Bits
1/4 C hot water
1 T nutritional yeast
1/2 tsp cumin
1/4 tsp smoked paprika

1/4 tsp turmeric
1/4 tsp black pepper
1/4 tsp maple extract
5-6 drops liquid smoke
3-4 drops liquid Stevia
Preheat the oven to 350 degrees.
Stir the TVP into the water and allow to soak.  Meanwhile, mix the dry ingredients together in a small bowl.
Once TVP has (mostly) absorbed the water, stir in the dry ingredients and add extract, smoke, and sweetener.  
Squeeze out excess moisture and spread mixture across a lined baking sheet.  This is important – you need to really spread it out so that moisture doesn't gather.
Place in oven and bake for 20 mins, stirring half way through.  When crispy and golden, remove from oven and allow to cool completely.  Store in an airtight container.
---
How have you enjoyed making co-workers, friends, or family stare with strange but good creations this week?
The link up rules can be found here or by clicking on "Strange But Good" in the menu bar above. In short, I want to see what concoctions have earned you weird looks from co-workers, family and friends!
Post your Strange But Good creations, grab the logo below for your blog, and link up here.
Remember to use #strangebutgood in any Tweets and Instagrams of your creations. 🙂
***
This time next week I'll be with my trainer on the road to my 2nd figure competition to check in and get spray tanned!!!
Do you like bacon bits?
What one thing would you find most difficult to cut out of your diet? Healthy fats are the hardest for me right now!