My food get stares at home.
And comments.
On the road, people really think I'm odd.  I suppose it isn't exactly normal to travel with 21+ servings of protein.  Whatever.  Today's Strange But Good eats may not be strange in the comfort of your own home, but on a business trip in snowy Ohio they weren't exactly mainstream.
My breakfasts were semi-homemade hotel hot bar creations.  The best combo was this high-protein coffee oatmeal:
Coffee Protein Oatmeal
Oatmeal (pre-made from the breakfast bar)
1 serving vanilla protein powder
Cinnamon (from hotel kitchen – they usually have it if you ask)
Coffee
Peanut butter
Mix oatmeal, protein powder, and cinnamon with just enough coffee to combine.  This oatmeal was quite dry, so it took about 3/4 cup.  Top with peanut butter and enjoy!
_______________________________________________________________________________________
My mid-morning snack was not to shabby either!  I packed no-salt deli turkey and almonds, and grabbed an apple from the hotel.  Not strange, but maybe a bit odd to pull out of your bag in a conference room.
Everyone wanted to go out for lunch, so we caravaned to Outback Steakhouse.  I suppose I could have found something on the menu, but it would have been filled with salt.  Knowing we'd go out for dinner and I'd get more than my fill of salt later, I ordered a salad and topped it with my BYO protein  – balsamic marinated chicken.  You better believe I swiped a slice of their warm bread.  It's the only thing I like at Outback, and oh boy is it good.
Again, not a strange meal, but bringing your own food into a restaurant will earn you some stares.
________________________________________________________________________________________
I am REALLY proud of myself for getting to the gym both nights at the hotel.  I had great workouts, and my co-workers even joined me for a bit.  Of course, I crammed in my protein back in the room.
Dessert protein (i.e. Meal 7) is the most important meal of the day, right? 😉  This is one of my favorites on the road.  I buy individual servings of Greek yogurt (I used Oikos here), mix it with fruit and other flavors, and cover with foil to freeze.  When it comes time to eat, it's thawed into fro-yo!
This was an Asian Pear-Cardamom Frozen Yogurt.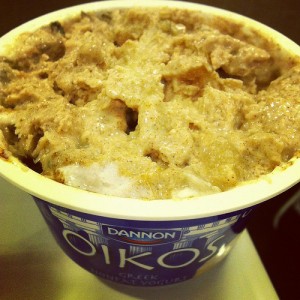 Asian Pear-Cardamom Frozen Yogurt
1 serving plain Greek yogurt

1/2 Asian pear
1/2 tsp cinnamon
1/4 tsp cardamom
1/4 tsp vanilla
Stevia or other sweetener, to taste
Pulse pear in a blender or food processor until only a few small chunks remain.
Stir together yogurt, pear, cinnamon, cardamom, vanilla, and sweetener.
Cover container and place in freezer.  Remove and let soften to frozen yogurt consistency.  You can freeze just 1 hour if eating immediately.  Or, if you don't have time to thaw, microwave ~30 seconds.
________________________________________________________________________________________
Time for some legit strange but good food from YOU!
The link up rules can be found here or by clicking on "Strange But Good" in the menu bar above.
In short, I want to see what concoctions have earned you weird looks from co-workers, family and friends!  Post your Strange But Good creations, grab the logo below for your blog, and link up here.
Remember to use #strangebutgood in any Tweets and Instagrams of your creations. 🙂



***
I'm praying we get off the ground this afternoon before the snow storm hits!  Then I get to do it all over again next week...
Have you ever brought your own food to a restaurant?
What is your strange but good this week?  Do share!