It's getting a little odd.
Next week should be really interesting.
I refuse to buy more food until I go.  There's enough in my freezer to feed a small African village me for months.  Not to mention all the going away dinners and lunches.  No way do I need to go shopping.  But look out, Whole Foods San Diego.
As such, there are no real recipes.  There are concoctions, favorites from local spots, and dinners with my family (you know that always gets strange).  Because when your house looks like this, everything is a little strange… but oh, so good.
I finally got my hands on the funky yogurts from Blue Hill.  I've had the butternut (below) and the sweet potato so far.  They're pretty good, but a bit thin when you're used to Greek yogurt.  After I added my own flare they were really good – protein powder to thicken them, a little stevia, cinnamon, and an array of toppings.
I still have the tomato and parsnip flavors in my fridge!
The cake below was gifted to me by one of my favorite Atlanta restaurants, La Tavola.  It's a flourless chocolate cake with sea salt, olive oil, and almond sliver brittle.  It's amazing – I can't eat there without ordering it.
If you're ever in Atlanta, go here.  Eat at the bar and talk to Kris.  Order the meatballs and the brussels.  Have a glass (or two) of their biggest red wine.  And don't skip the cake.  Tell them I said hi.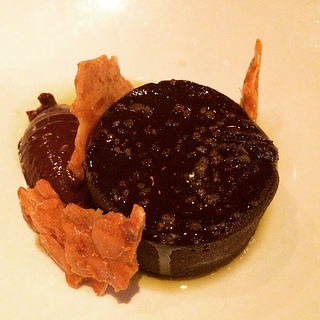 I'm also having dinners with my family.  For Fat Tuesday I made pork chops and cheesy rice.  The food was good but normal… what's strange is that my mom now knows how to play Cards Against Humanity and a entire bottle of Whistle Pig (whiskey) plus two chocolate bars are gone.
No week is complete without pizza.  I make a bunch of my cauliflower crusts to keep them in the freezer for quick meals.  Frozen pizza say what?!
This was the last one I had in there.  It was topped with sautéed bell peppers, mushrooms, onion, and leftover pork.  I made a strange sauce out of pumpkin purée, salsa, and nutritional yeast.  Delish.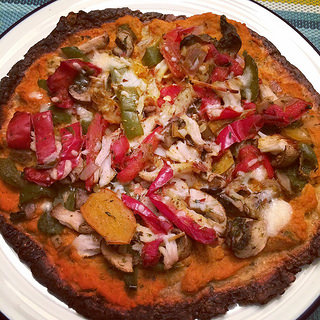 ---
How have you enjoyed making co-workers, friends, or family stare with strange but good creations this week? The link up rules can be found here or by clicking on "Strange But Good" in the menu bar above. In short, I want to see what concoctions have earned you weird looks from co-workers, family and friends! Post your Strange But Good creations, grab the logo below for your blog, and link up here.
Remember to use #strangebutgood in any Tweets and Instagrams of your creations. 🙂



***
I apologize in advance for the squirrel-like mature of blog posts for the next 2-3 weeks.  You should be in my head… #strangebutgood
What's the strangest thing you've eaten before leaving town?
Would you play Cards Against Humanity with your mom?  I have the coolest mamma ever.