Strange doesn't wait for 5 o'clock!
Neither does my mother… she's in Mexico! 😉 
Remember Kat's "Amazing Kitchen Mistakes" post?  We've been on the same wave-length eating similarly, so I apparently am also making happy accidents.
Have you ever under estimated how much is left in a bottle?  I thought there was just a drop of butter extract left when I dumped it into my oatmeal… it was more like 1/2 a teaspoon.  I thought I'd ruined it.  Too much extract can be nauseating (and I don't need more of that!).  It turn out, too much butter extract in your oats is like eating cookie dough for breakfast.  Strange, but unbelievably good. 
Cookie Dough Oatmeal
1/2 C oatmeal
1 C water
1/2 tsp cinnamon
1/2 tsp butter extract
1/4 tsp vanilla
5-6 drops liquid Stevia
1 T peanut flour (or nut butter, to taste)
My toppings: pomegranate arils, Greek yogurt, more cinnamon
Cook oatmeal as usual, adding flavors in the last 2-3 mins (or when your microwave finishes).  Stir in peanut flour when just done, adding addition liquid as needed.  
Add toppings.  Inhale.
---
I'm not the first person to do eat quinoa in the morning… but it's still uncommon enough to be strange.  And it's good!
What took me so long it beyond me, but quinoa for breakfast is amazing.  If you haven't tried it, you must.  Particularly this cinnamon-y version.  The heaping scoop of cinnamon with the coconut butter had me dreaming of an airport treat that shall not be named.
I just realized this looks a lot like the oatmeal above.  I had a lot of pomegranate.*  Sorry.
 *Did you hear the FTC found "POM Wonderful health claims to be deceptive?"
Cinnamon Roll Breakfast Quinoa
1/2 C quinoa, cooked with a cinnamon stick
1/2 tsp coconut butter
1 tsp ground flax
1/2 tsp almond extract
1/2 heaping tsp cinnamon
1/4 tsp ginger
Milk, to taste (I used ~ 1/8 C unsweetened vanilla almond milk)
My toppings: pomegranate arils, Morningstar maple breakfast sausage
Stir it all together, top with your favorites, and enjoy!
---
In order to kill two craving with one stone for Meal 2, I added a poached egg to the last of my mom's Matzo Ball Soup.  The strange part isn't even the egg.  It's HOW I poached it.  My lazy arse poached that thang in the microwave.
Let me be the first to tell you that runny, silky, yolk porn goodness streaming into a hot bowl of soup is heaven on a spoon.  So good that I wanted to be spooned after it was over.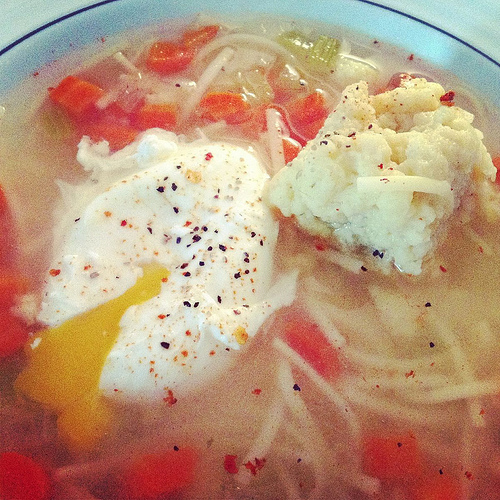 Microwave Poached Egg
1 egg
1/2 C water
1 T apple cider vinegar
Fill a small bowl (I used a cereal bowl) with water.  Add 1 T of apple cider vinegar (this is important – it keeps the egg white intact).  Microwave until boiling hot, about 2 mins.
Crack the egg and gently drop it into the water.  Whites will begin to cook/thicken, and you may need to use a spoon to carefully direct them around the yolk.  
Microwave for another 20-30 seconds.  Remove immediately from water and place in soup, atop salad, on bread, etc.
---
Now for the link up!  The rules can be found here or by clicking on "Strange But Good" in the menu bar above.
In short, I want to see what concoctions have earned you weird looks from co-workers, family and friends!  Post your Strange But Good creations, grab the logo below for your blog, and link up here.
Remember to use #strangebutgood in any Tweets and Instragrams of your creations. 🙂
***
This time tomorrow I'll be in a forest in FLA… in the midst of an 8-hour adventure race.  Ahhhh!  #strangebutcrazy
Also, I forgot to mention I was featured in FitFluential's Ambassador Spotlight yesterday! Check it out here.
Have you ever made breakfast quinoa?  What are your favorite mix-ins?
What #strangebutgood creations have you enjoyed lately?