There's some "rule" about not eating after 7p.
I call bullshit on that rule…
I don't buy into that.  You're body uses sleep time to recover.  What helps the body recover?  Nourishment!  Why would you go to bed hungry?
Plus, then you wake up hangry.  I don't need any added grump-factors early in the morning!  Thus, I always have a midnight snack.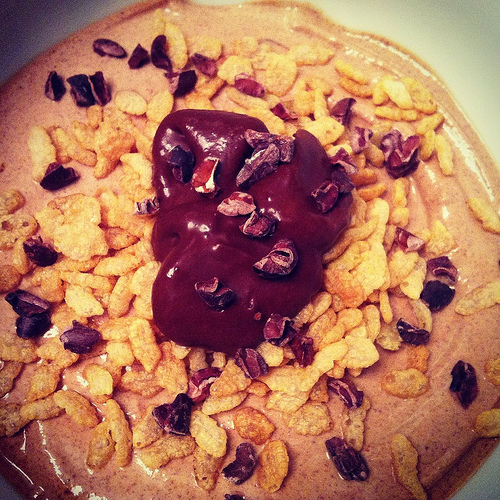 This just looks like an innocent chocolate Greek yogurt bowl… a little cereal, cocoa powder sauce, cacao nibs… cayenne… but that's not strange for me.
Then this happened: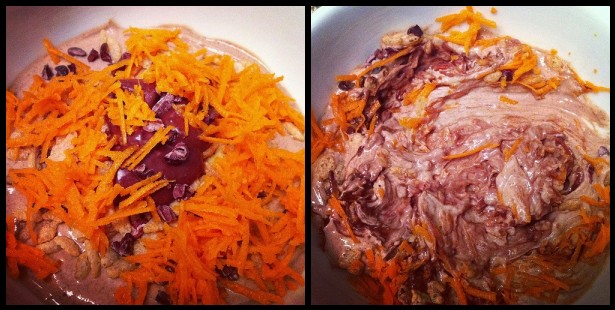 Attack of the killer carrot!
You guys know I love carrots.  A lot.  What could be better than carrot cake?  A Chocolate Carrot Cake Protein Bowl!  So, I grated a carrot and tossed it into the mix.  Then mixed thoroughly.
All swirled together, each bite had creamy chocolate, a ribbon of rich cocoa sauce, sweet carrot, light crunches from the crispy cereal, and a satisfying bite from the cacao nibs. Sensory overload, in a strange but good way.
Obviously I hated it.
---
Chocolate Carrot Cake Bowl
3/4 C Greek yogurt

1/2 scoop chocolate protein powder
1/2 tsp vanilla
1/2 tsp cinnamon
1/4 tsp ginger
1/8 tsp cayenne (optional)
1 carrot, grated
In a small bowl, combine all ingredients.  
Top as desired.  My toppings included: brown rice crispy cereal, cacao nibs, and a cocoa powder sauce (1T cocoa powder, 1T almond milk, 3-4 drops liquid Stevia).
Devour.  Sleep like a baby.
---
I want to see YOUR strange but good food!
The link up rules can be found here or by clicking on "Strange But Good" in the menu bar above.
In short, I want to see what concoctions have earned you weird looks from co-workers, family and friends!  Post your Strange But Good creations, grab the logo below for your blog, and link up here.
Remember to use #strangebutgood in any Tweets and Instagrams of your creations. 🙂
***
This week has seemed longer than most… I'm really looking forward to the weekend and some Oscar-watching!
Do you believe in a late night snack?
Will you watch the Oscars?  Is anyone making some Oscar-themed snacks?  I'm putting my strange but good thinking cap on…