This will be shocking: the recipe was inspired by a recent meal at an Indian restaurant.
One day I'll get over this Indian obsession.
In my defense, this #strangebutgood creation doesn't actually involve Indian flavors (for a change).  Unless you count cinnamon and ginger, but I put those on basically everything. Several weeks ago I enjoyed a meal at a new Indian restaurant, Chai Pani.  New to Atlanta, I should say.  They have a location in Asheville, NC.  It's an Indian street food concept, but it actually is a sit-down restaurant.  And it's good!
The inspiration for my pizza creation came from the Tandoori Fish Wrap I ordered.  It consisted of "Tilapia seared with tandoori spices in a griddled wrap (brushed w/ egg) with onions, cilantro, rice, roasted lentils & chutneys."
My non-Indian pizza version was a simple baked chicken breast.  The sweet and tangy grapefruit against the plain chicken was refreshing.
The bit of basil on top was a nice green addition, both in terms of taste and looks.  Of course I topped it with a little more cinnamon.  The warm spice always reminds me of dessert!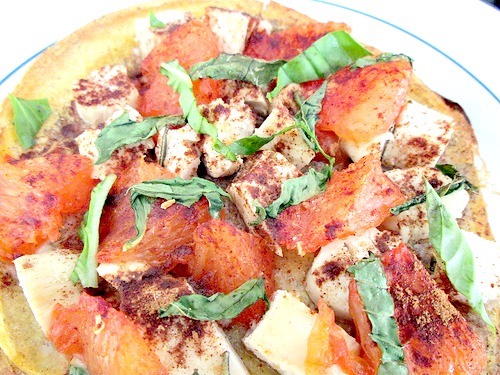 This could so easily be made vegetarian with tofu.  I absolutely love the way it puffs up when it bakes… that will for sure be my next version!  I think you could even use a flax egg in place of my "real" egg whites for a vegan version.  Someone let me know if that works.
Griddled bread.  Coolest idea ever.  It's like French toast from the 'hood.  (Get it?  Wrap?  Rap?  Blessed are those who amuse themselves…)  See the crispy, egg-y goodness peeling back from the tortilla?  That's #strangebutgood heaven, friends.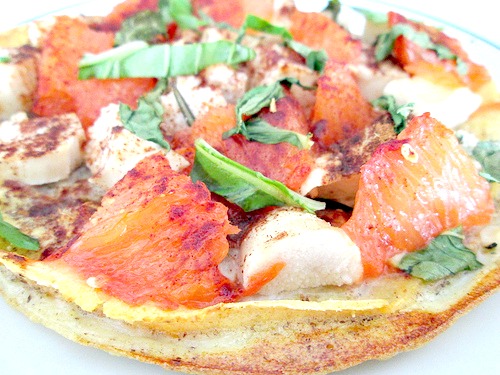 ---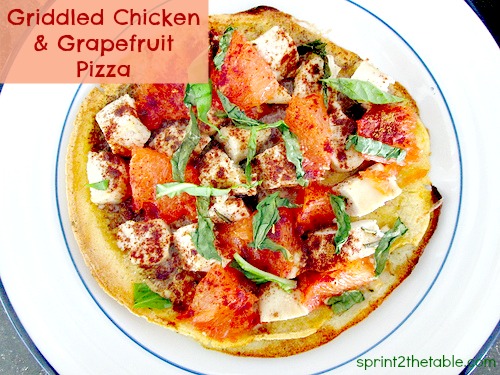 Griddled Chicken & Grapefruit Pizza
2 T egg whites

1 tsp flax seed
1/2 tsp ground cinnamon
1/4 tsp ground ginger
1 corn tortilla
1/2 grapefruit, sectioned
2 oz chicken, cubed
Basil
In a small bowl, combine egg whites, flax, and spices.  
Place tortilla in a small pan over medium-high heat.  Pour egg mixture on top.  
Cook 1-2 mins, until egg starts to firm.  Flip the tortilla, cooking 1-2 mins more. 
Remove from heat and place on a baking sheet or pizza stone (or keep on pan if oven-proof).  Top with grapefruit sections, chicken, and basil.  Sprinkle with additional cinnamon, if desired.
Place in oven under broil for 15 mins, until slightly browned.  Watch closely so as not to burn.
Remove from oven, plate, and enjoy!
---
Who else has enjoyed making co-workers, friends, or family (or the occasional restaurant worker) stare with strange but good creations this week?
The link up rules can be found here or by clicking on "Strange But Good" in the menu bar above. In short, I want to see what concoctions have earned you weird looks from co-workers, family and friends!
Post your Strange But Good creations, grab the logo below for your blog, and link up here.
Remember to use #strangebutgood in any Tweets and Instagrams of your creations. 🙂
***
I'm headed back home today.  I packed all that food, but now I have NO idea what I'll eat until I get to the grocery store Saturday afternoon!  Whoops!
Have you ever had a griddled wrap?
What's been #strangebutgood in your life lately?