'Tis the season for tradition.
Hahahaha… who am I kidding?
My tradition is to eat dessert during this season of joy.  The traditional part ends there.  Today I have 2 non-traditional desserts to add to my dessert tradition: Lucky Popcorn Cake and Potato Chocolate Chip Cookies.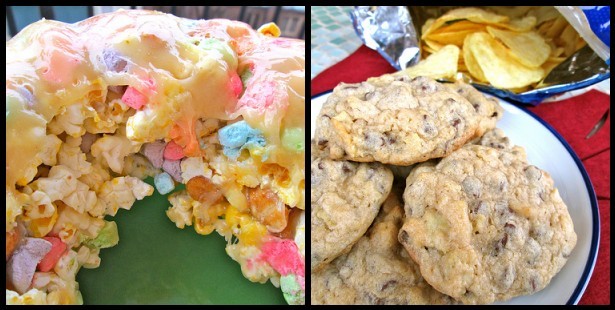 I urge you to try something new this holiday season.  Perhaps even something Strange But Good.  The world won't end, I promise.
Exhibit 1:
This cake is an epic creation.  Other than it's shape, it's really not a cake at all.  My girl Heather sent me a giant bag of Lucky Charms marshmallows.  Just the marshmallows.
After I died of shock and joy, I begin thinking of the possibilities… most people would wait until St. Patrick's Day, but couldn't we all use a little luck on the day of the end of the world?  Or, if we're all alive tomorrow, extra luck dealing with family over the holidays?
Think of a rice crispy treat, but with popcorn rather than crispies.  In this no-holds-barred dessert, I used buttered popcorn, a bag of Jet-Puffed marshmallows, the Lucky Charms marshmallows, and honey-roasted peanuts.
You can modify this easily to incorporate your favorite mix-ins (chocolate chips would be awesome).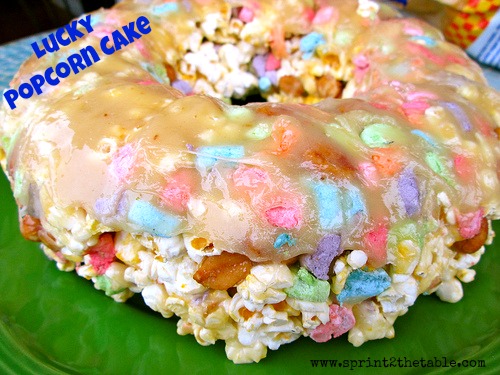 Lucky Popcorn Cake
 2 bags buttered popcorn
2 C Lucky Charms marshmallows
1/2 C honey-roasted peanuts
1/2 C butter
1 16 oz bag of marshmallows
Grease a large bundt pan.  Set aside.
Pop 2 bags of buttered microwave popcorn as directed on the package and dump into a LARGE bowl.  Pick out any unpopped kernels.
Mix in Lucky Charms marshmallows and peanuts.  
Melt butter over medium-low heat in a large saucepan.  When melted, add in a 16 oz bag of marshmallows.  Stir until melted and smooth.
Remove from heat. Let sit a minute so it's not painfully hot when pouring over the popcorn mix.  
Place popcorn mixture into bundt pan and pour marshmallow butter mix even over the top.  Press the popcorn down into the pan to consolidate and make more "cake-like.".
Cover with foil and let cake set for at least an hour to set and cool.  
To serve, loosen sides of cake from bundt by carefully running a knife around edges.  Flip pan over onto serving platter.
Store covered tightly for up to 1 day.  Best if eaten fresh.
Exhibit 2:
Is there anything better than the combination of chocolate and something salty?  The salt balances the sweetness for a little explosion of happiness in your mouth (get your mind outta the gutter!!!).
This may seem a little "out there," but I promise you it works.  Did you even dip a potato chip in chocolate or a french fry in your Frosty?  It's like that.  In cookie form.
Two words of advice: Don't skimp on the chips.  Try not to eat half the batter.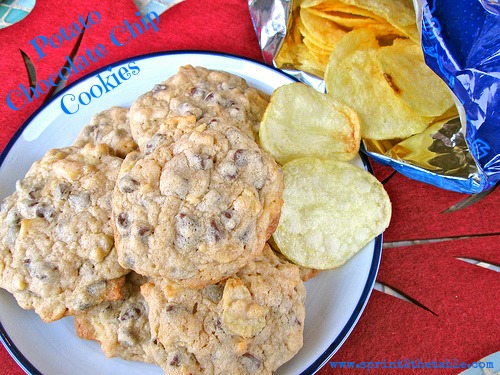 Potato Chocolate Chip Cookies
1/2 C (4 oz) butter, softened
1/3 C (3 oz) brown sugar
1/3 C (3 oz) sugar
1 egg
1/2 tsp vanilla extract
1 C (6 oz) flour
1/2 tsp baking soda
1 C crushed potato chips
1 C (6 oz) mini chocolate chips
Pre-heat oven to 375 degrees.
In the bowl of your electric mixer (or with a hand mixer), beat the butter and sugars until light and fluffy (about 2 – 3 minutes).  
Add the egg, and vanilla extract and beat until incorporated.  Beat in the flour mixture until just combined.
Fold in crushed potato chips and mini chocolate chips.
Scoop cookies onto a parchment -lined baking sheet and bake for 8-10  mins.
Makes 24 cookies.
---
Want to Join?
All you need to do to join this link up is create a concoction that is Strange But Good, post it with the Strange But Good logo, and link up to your recipe.  (See below for code.)  In the Strange But Good post each week, you'll see a link to add your own recipe and picture at the bottom of the page.  I'd prefer you use a new strange but good dish, but if you realllly have a good previous one you can add it.
Not a blogger?  You can play too!  Send me an email with a picture of your food and a brief description by noon on Thursday and I'll include it in Friday's post (too late this week, obv… but next week it's on!).
Remember to use #strangebutgood in any Tweets and Instragrams of your creations. 🙂
***
I hope Santa likes #strangebutgood cookies…
Do you crave the salty-sweet combo?
What was your #strangebutgood this week?