Blues aren't always bad.
Unlike pink… 😉
I've been going through a blueberry phase.  One that has resulted in some Strange But Good creations throughout the day.
Breakfast:
This was a new take on my Maple TVP Oatmeal.  I have been craving more savory foods for breakfast lately, and had just purchased fresh rosemary.  Why not with blueberries and a lemon twist?
Rosemary-Lemon TVP Oats
1/3 C

TVP

3/4 C water (or milk)
1 T fresh rosemary, chopped
5-6 drops lemon liquid Stevia
Juice from 1/4 lemon
1/4 tsp ginger
1/2 C egg whites (optional)
Blueberries
Add first 6 ingredients (everything before the egg), stir, and bring to a boil.  
Reduce heat to a simmer and cover.  Cook about 10 mins, until mix thickens.  
Pour in egg whites.  Allow to cook for 2-3 more mins, stirring frequently so that the egg doesn't form chunks.  The mixture should be silky smooth.  Swirl in blueberries.
Scoop into bowl and add additional berries to top.
Note: For a vegan option, add a flax egg, protein powder, or simply leave the egg out.
Lunch:
Again, I was feeling the sweet + savory.  I had made a bison burger as part of my Sunday food prep.  I  crumbled it up, mixed in some BBQ sauce and red pepper flakes, and warmed it in the microwave.  Then I stirred in the blueberries.
These 3 "Bs" sound strange.  The pic isn't pretty.  But I SWEAR its delicious.  My BBQ sauce is a sweet & spicy, and the sweet hint complemented the berries perfectly.
Dessert:
I have a thing for sweet potatoes, even at midnight.  This midnight snack had me sleeping like a baby.  Until I had to get up to pee at 3am because I drink a TON of water.  I digress.
Sweet potatoes are also part of my Sunday prep.  I roast them in the oven to have on hand for a quick, healthy carb.  I heated this one up and topped it with no-salt cottage cheese, cinnamon, bacon "sprinkles" (thank you, Heather for my new favorite term), and blueberries.  Sweet, creamy, and a teensy bit of salty bacon goodness.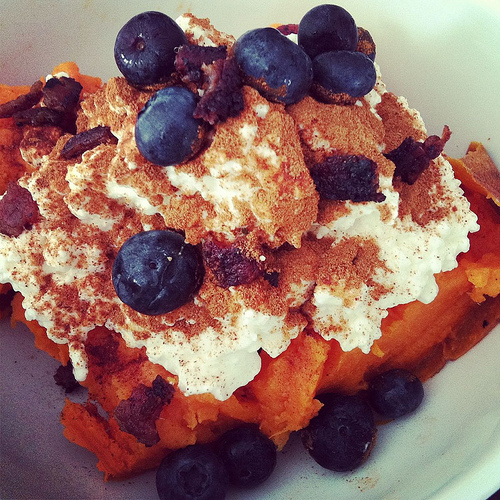 Strange doesn't get any more delicious than this!
_______________________________________________________________________________________
So what's strange but good in YOUR 'hood?
The link up rules can be found here or by clicking on "Strange But Good" in the menu bar above.
In short, I want to see what concoctions have earned you weird looks from co-workers, family and friends!  Post your Strange But Good creations, grab the logo below for your blog, and link up here.
Remember to use #strangebutgood in any Tweets and Instagrams of your creations. 🙂
***
All these berries... I just bought strawberries yesterday (on sale for $3 at Whole Foods!).  I must be craving spring...
Do you like fruit with traditionally savory foods?  I love it with salmon!
Are you a savory or a sweet breakfast person?