If left to my own devices, my natural "awake" time is 10am to 2am.
I blame my mother.  It's hereditary.
The only reason I get excited for morning to come is breakfast.  It's the most delicious important meal of the day, you know.  With very little effort, it can also be the strangest meal of the day.
This weekend was the beginning of softball season.  I received a 6:30am wake up text from our team captain Sunday morning.  We had a tournament starting at 8.  It's a good thing I had breakfast planned, because I am pretty sure I was still asleep on the drive to the field.
 You've all heard of overnight oats in a jar, I'm sure.  I had an almost empty jar, but no oats!  No matter – I remembered my TVP "Oatmeal" and made Overnight TVP in a Jar!  Made just like a traditional recipe, but using TVP rather than oats.  Strange… but good!
I was going to eat this in the car, but was too tired so I ate it at the field… and earned a couple of strange but good stares.  That coffee was GONE by the time I got to the park though.  😉
Overnight TVP in a Jar
1/2 C

TVP

3/4 C unsweetened almond milk (or other liquid)
2 T peanut flour
1/2 tsp cinnamon
1/2 tsp vanilla
1/2 banana, mashed
Almost empty nut butter jar
Mix everything together in your jar and place in refrigerator overnight.
In the morning, remove from fridge and devour!  
Note: If you like your oats warm, you can pop it in the microwave for a minute.  You may need to add more liquid though.
---
Enough of my strangeness… one of my favorite Instragrammers and new blogger, Alina,  took my Oatmeal Cookie Shake and turned up the strangeness.  She made Chocolate Chip Cookie Pancakes… with the nutritional yeast from my original recipe!
Alina was kind enough to send her recipe to me so I could share it with you all.  Check this deliciousness out, and make sure to go to her blog – it's full of creative, delicious dishes!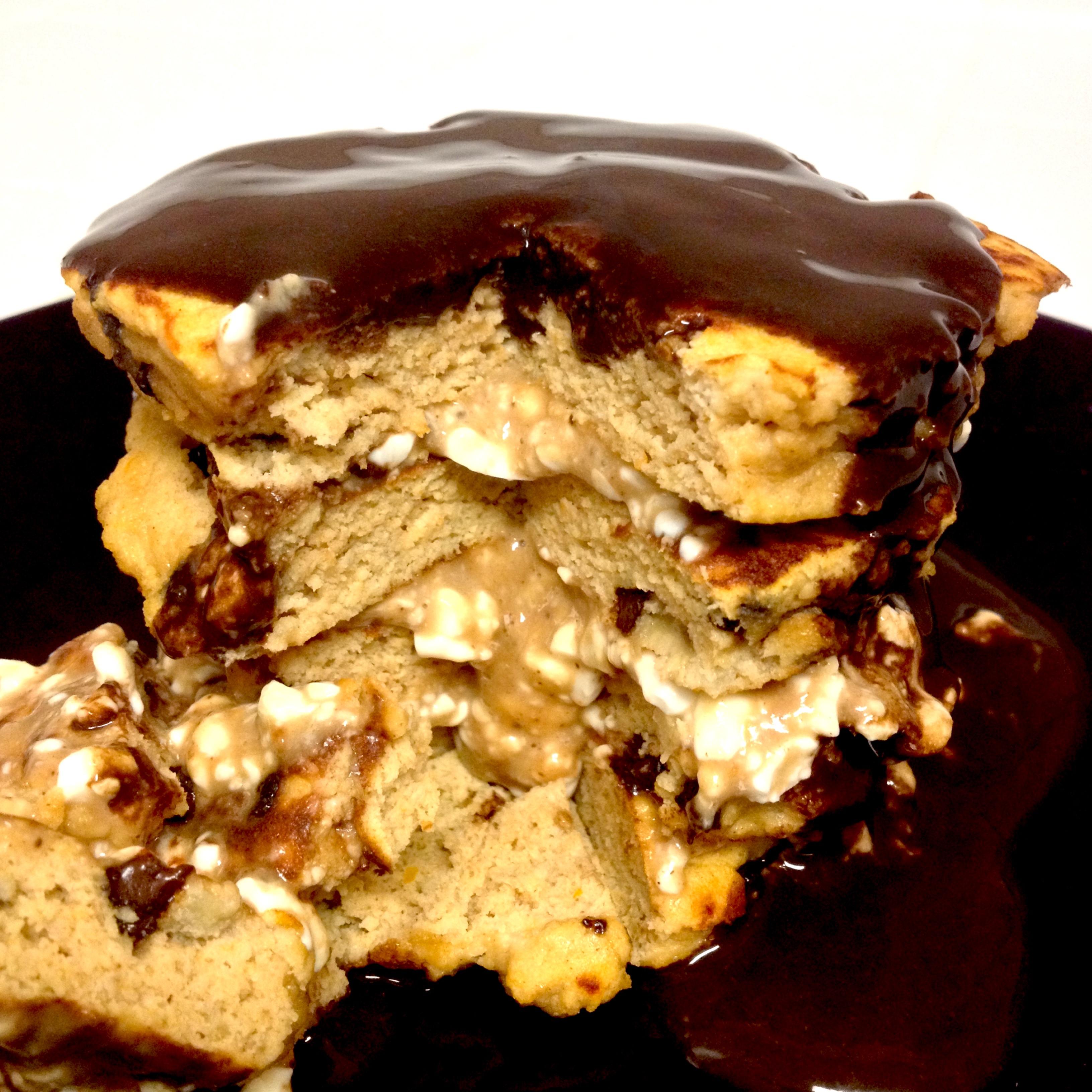 Fluffy Chocolate Chip Cookie Pancakes
2 T coconut flour
2 T pumpkin puree
1 tsp nutritional yeast
1/3 C egg whites
1 T vanilla whey protein
2 T mashed banana
2 T almond milk
1/2 tsp cinnamon
1 tsp vanilla extract
1/8 tsp butter flavor/extract
2 stevia packets
1/2 tsp baking powder
Dash salt
1 T mini Enjoy Life Chocolate Chips (optional)
Mix all ingredients into a thick batter.
Scoop onto griddle or heated pan sprayed with some coconut oil. Yes, the batter is super thick but just spread pancakes to desired thickness and be patient while they cook up!
Flip once until cooked through.
Optional toppings: 2 Tbsp cottage cheese + 1 Tbsp chocolate pb2 , and Walden Farms chocolate syrup.
---
What's strange but good in your kitchen this week?
The link up rules can be found here or by clicking on "Strange But Good" in the menu bar above.
In short, I want to see what concoctions have earned you weird looks from co-workers, family and friends!  Post your Strange But Good creations, grab the logo below for your blog, and link up here.
Remember to use #strangebutgood in any Tweets and Instagrams of your creations. 🙂
***
Another strange but good – going to have a gluttonous dinner with your trainer post-leg workout.  That happened last night.  #strangebutgoodshamelessness
When do you tend to make your strangest creations?
What is your favorite overnight oats combo?