I'm slow sometimes.
Ok, a lot of times… especially in the morning.
Last year was the first time I'd ever heard the term "Blend."  Now I have some amazing blends.  These people continually inspire me, push my thinking, and are some of the best friends I've ever had.
My Blend, Kat,  writes a bi-weekly a guest post on this blog.  Yesterday she included a recipe for Cocoa-Cinnamon-Cayenne Roasted Sweet Potatoes.  I wanted them for breakfast… so I blended her recipe with a breakfast many of you have daily – oatmeal – to start my day with a strange but good treat!
If you are  volume eater (and I am), you'll especially love this.  The sweet potato and the egg whites fluff this up so it's like a giant bowl of sweet potato custard!  The cocoa is more a secondary flavor – I didn't want to be straight up eating dessert – but you could add more if you want.
Don't be afraid of the cayenne.  Start with a little and go from there.  The hint of heat on the end of eat bite is a fun surprise to the palate!
---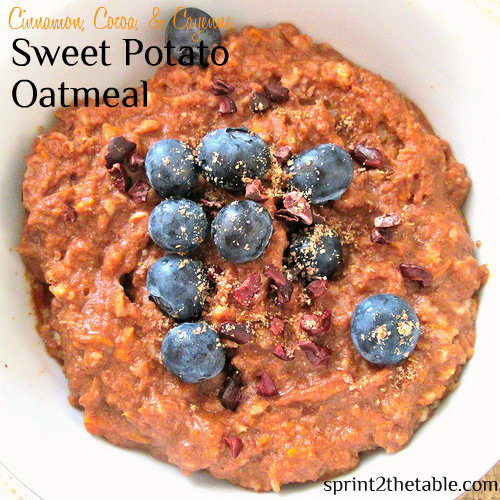 Cocoa-Cayenne Sweet Potato Oatmeal
1/4 C oatmeal
1/4 C mashed sweet potato
2 tsp cocoa
1/2 tsp cinnamon
1/4 tsp cayenne (adjust to your liking)
1/2 tsp maple extract
1/2 C egg whites (optional)
Optional toppings: ground flax, cacao nibs, and blueberries
Cook oatmeal as usual.
Meanwhile, mix together sweet potato, cocoa, cinnamon, and maple extract (you could also use vanilla) in a small bowl.  You may need to add water to keep it moist.
When oats are just down, stir in sweet potato mixture until well-combined.  If using, add egg whites.  Stir constantly to ensure that eggs are well-incorporated and don't become scrambled.
Transfer to bowl, add toppings, and enjoy!
---
One of my best blends, Heather, made a Strange But Good recipe that was linked up here a couple of weeks ago!  Our other best blend,  Heather 2, created this scrumptious Lip Smackin' Vegan Mac, which Heather 1 used to top her burrito stuffings.  Strange but awesome!
---
Speaking of Blends… registration opens for the Blend Retreat opens SUNDAY!  Doesn't someone want to sponsor me?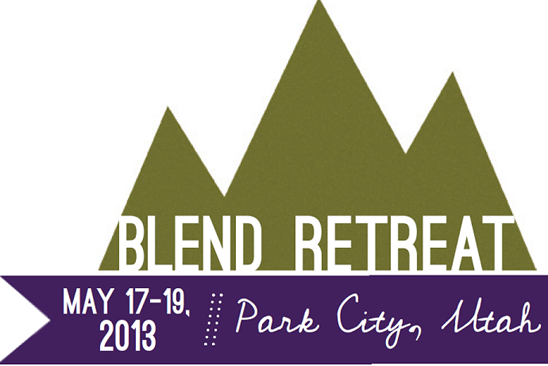 Check out the site.  Register.  Trust me.  This was the BEST retreat I've ever been on .  Lindsay, Janetha, and Katie did a fantastic job getting sponsors, organizing activities, and leaving enough down time for us to all get to know each other.
It's also where I fell in love with Heather!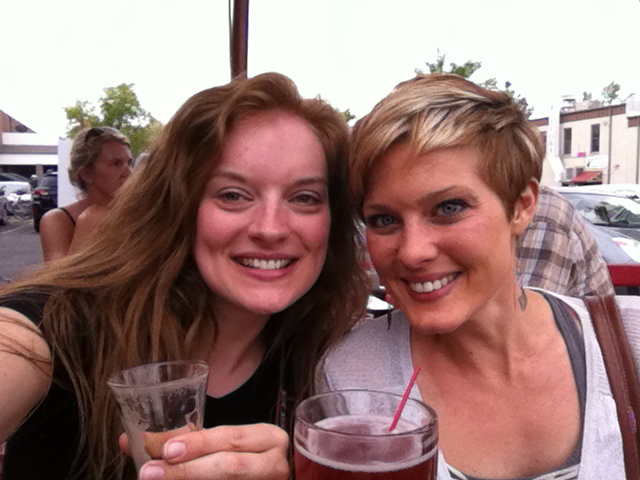 ---
Alright, my strange but good blends… show me your weird food!
The link up rules can be found here or by clicking on "Strange But Good" in the menu bar above.
In short, I want to see what concoctions have earned you weird looks from co-workers, family and friends!  Post your Strange But Good creations, grab the logo below for your blog, and link up here.
Remember to use #strangebutgood in any Tweets and Instagrams of your creations. 🙂
***
Thank you all sooooo much for all of the kind words about the adventure race.  This weekend… I'm resting. 🙂
What is your favorite way to prepare sweet potatoes?
Are you going to Blend???