Fast food wine shakes?
Something about liquor and dairy scares me.
Red Robin ain't skeered.  They are rolling out a boozy little ice cream number mommy can enjoy.  Wine.  Ice cream.  The shake?  A Mango Moscato Wine Shake made with wine, vodka, mango puree and vanilla soft serve.  Hmmmm…
The target market is 35- to 49-year-old moms "in need of a break."  A $7.49 break.  It better be a big shake!
________________________________________________________________________________________
This WIAW I had a seriously fun day of food.  You can't go wrong with pancakes for dinner!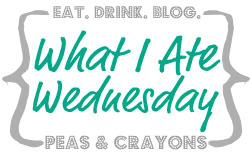 Read on for my eats, and then check out Jenn's blog for everyone else's delicious creations!
________________________________________________________________________________________
Breakfast:
My morning cocktail happened, as always.  Then I enjoyed perfecting  recipe I am REALLY excited to share on Friday's #strangebutgood link up.  It involved coffee and chocolate. Side of eggs.

Mid-Morning Snack:
A quick snack was all I needed before a lunchtime workout.  I was still satisfied from breakfast but love having a mini Think Thin bar for a little extra fuel.
Lunch:
I lifted some heavy weights for back and tri day.  That was a fun refuel!  I had some grilled marlin with veggies and a sweet potato… followed by a sweet treat.  Thank you, office Girl Scout cookie fairy.
Growing up I wasn't a fan of Samoas… thankfully I grew out of that! 😉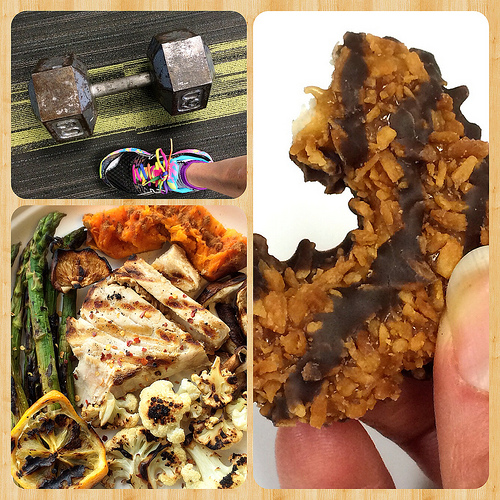 Afternoon Snack:
I have been slammed at work and forgot a pic, but I had tuna salad with cucumbers.
Dinner:
I was starving but snacked on some turkey while I made a recipe from last week's #strangebutgood.  Arman's Grain Free Cheeseburger Pancakes.  They sounded so strange, I knew they had to be good!
I used bison as the beef and babaganoush in place of the ketchup (I cannot stand ketchup).  Arman had mentioned they were difficult to keep intact, so I reduced some of the moisture by just using one whole egg.  It worked like a charm – these were the perfect pancake!  He won't like this… but I left out the cheese too.  Next time I'll be sure to have sone in the fridge to use!  I ate it over field greens and topped it with roasted brussels and drizzles of mustard and balsamic-fig glaze.  HIGHLY recommend you try this strangely good concoction!
Dessert:
Random mix of all the foods I was craving – mashed sweet potato with Greek yogurt, peanut flour, and cinnamon.  Topped with cocoa powder sauce and sprinkles.
Ever wonder where I get my fun extracts, supplements, and peanut flour? herb!  Thru March 31st iHerb is giving extra discounts to new and EXISTING customers!
– 5% off any order less than $60
– 10% off any order of $60 or more
– 12% off any order of $80 or more
– 14% off any order of $120 or more
Place your order here.
***
I need Girl Scout cookie season to end. 
Wine shake.  Strange but good or just strange?
What is your favorite quick snack before a workout?