What do you call cheese that isn't yours?
Nach-yo cheese!
Today's post isn't about nacho cheese.  It's about cream cheese.  However, if you know me you know that I love that joke.  Any excuse to share. 🙂
We do have cheese today!  Greek yogurt cream cheese.  I buy mine from a local company called Atlanta Farm Fresh, but I've started seeing it from larger brands.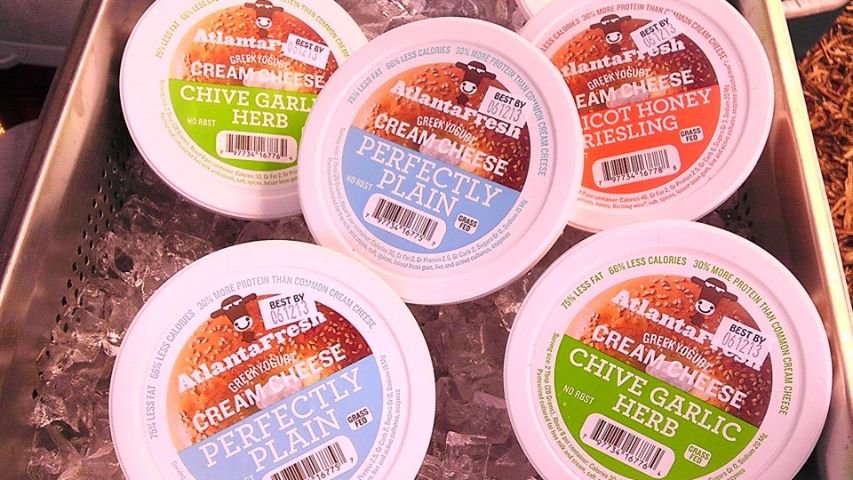 I'm not a big cream cheese fan, but I love the texture and the taste of the yogurt-based version.  It's less thick and rich – normally not a positive to me, but it always bothered me that cream cheese sort of sticks to your mouth.
I've been on a role using it for sweet and savory breakfasts, and for dessert.  It may have resulted in some strange spreads, but they were good!  Below are a few ways I've used it this week.
---
PrOATein Pancakes with Maple-Cinnamon Cream Cheese
2 T cream cheese
2 tsp maple syrup
1/4 tsp cinnamon
1/4 tsp butter extract (optional, but not really)
Prepare pancakes according to instructions.  Meanwhile, mix remaining ingredients in a small bowl.
Plate pancakes and slather with creamy, maple deliciousness.
---
In the Atlanta, we don't have a lot of lox and it's hard to find a good bagel.  This is my Southern version of a New York classic breakfast.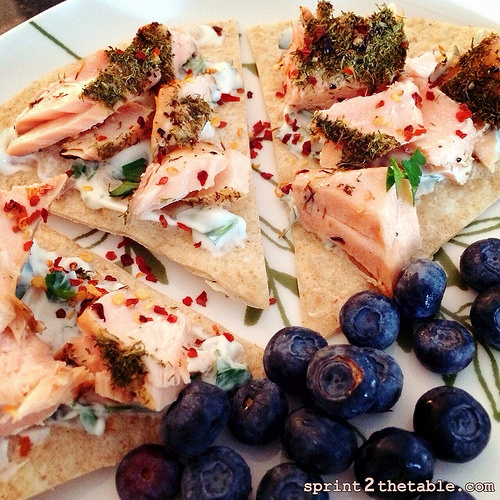 Southern Breakfast Salmon
1 tortilla, toasted and sliced
Salmon
2 T cream cheese
1 T finely chopped parsley
Red pepper flakes, to taste
Slice and toast tortilla and remove pre-baked salmon (mine was done with lemon and dill) from the fridge.
Mix together cream cheese, parsley, and red pepper flakes.  Spread onto tortilla slices.  Top with salmon and more red pepper flakes, if desired.
---
Zucchini Batter with Butterscotch Cream Cheese Protein Spread
1 T cream cheese
1 T vanilla protein powder
1/4 tsp butterscotch extract
Water, to thin
Optional cherry on top
 Prepare zucchini bread batter and set aside.
In a small bowl, combine remaining ingredients.  Add water (or milk) slowly to reach desired consistency.
Spread atop the batter and top as desired.
I could have stopped there with the cherry a chocolate drizzle.  But why?
---
How have you enjoyed making co-workers, friends, or family stare with strange but good creations this week? The link up rules can be found here or by clicking on "Strange But Good" in the menu bar above. In short, I want to see what concoctions have earned you weird looks from co-workers, family and friends! Post your Strange But Good creations, grab the logo below for your blog, and link up here.
Remember to use #strangebutgood in any Tweets and Instagrams of your creations. 🙂


***
It's Friday and I have no plans for the weekend other than then gym tomorrow.  I am elated.
Do you like cream cheese?  Have you tried the Greek yogurt version?
What is your favorite dessert bowl topping?  I'm all about the popcorn crunch!