Occasionally I have a good idea that just keeps on giving.
And occasionally I take it too far an have a disaster.
On this occasion I'd set out to bake with a peanut butter stout I'd gotten from Belching Beaver.  You might remember this Peanut Butter Stout Caramel Corn.
After making the corn, I still had a good amount left in that stout bottle.  The perfect opportunity to create something strange, but decadently good.  Particularly something that I could top with said caramel corn.
This is a little lighter on the sugar than some recipes, but it is by no means a healthy recipe.  It just good.  And it fun to make!  Don't be intimidated with the stove top caramel piece; just relax and enjoy the experiment!
Sticky toffee pudding isn't a sensitive as a cake or other baked good.  If its not perfect, it's okay.  It supposed to be a mess of ooey gooey deliciousness.
You can even have fun with a photoshoot.  Vegas loves* holding up her camera's flashlight so I can take more crappy iPhone pics.
Maybe not, but she does love me… and she loves dessert.
---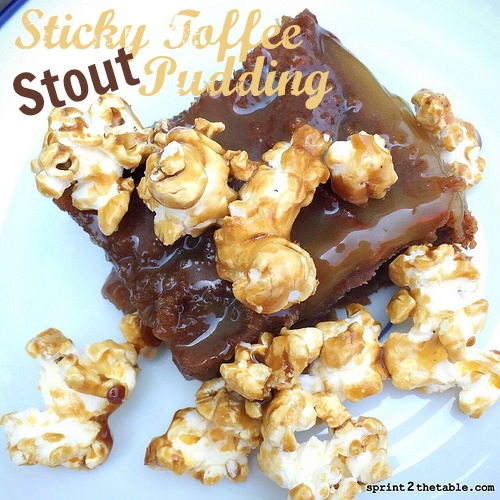 Sticky Toffee Stout Pudding [Recipe]
For the cake:
150 g pitted dates (about 1 C), roughly chopped
1 C stout beer (I used Belching Beaver Peanut Butter Stout)
1/2 C milk (I used unsweetened almond milk)
1/2 tsp baking powder
2 T salted butter, softened
2 T applesauce
1/4 C unpacked light brown sugar
1/4 C Xylitol*
1 tsp cinnamon
1  tsp vanilla
1 1/4 C whole wheat pastry flour 
For the toffee sauce:
1/4 C brown rice syrup
1/4 C Xylitol*
2 T butter
2 tsp  vanilla
2 tsp milk
Juice of 1/4 lemon 
For the Cake:
Preheat oven to 375.  Grease a 9 x 11-inch pyrex dish.
In a medium sized pot, bring stout and milk to a low boil.  Add in dates and reduce heat to low.  Cook for ~1 min, remove from heat, and stir in baking powder.  It will froth a bit.
In a large bowl, beat together butter and sugars until light and fluffy.  Stir in date and milk mixture.
Add the dry ingredients to the wet, stirring until just combined.  
Pour mixture evenly into the prepared dish and bake for 25-30 mins, or until toothpick comes out clean.
For the Toffee Sauce:
When the cake is nearly done, make the toffee sauce by whisking together the sauce ingredients in a medium pot (you can use the same one form the cake).
Bring to a low simmer over medium heat.  Reduce heat to low, whisking frequently making sure it doesn't burn.  Cook for ~5 mins.  Stay close to the pot to watch and stir occasionally.  Remove from heat and set aside.
Remove cake from oven, let it cool for a few minutes, and then prick with a fork all over.  Pour the toffee sauce over the top of the cake, spreading evenly with a spoon.
Portion cake onto plates, and top with Peanut Butter Stout Caramel Corn.  This is also delicious with vanilla bean ice cream.
*Note: You may use all brown sugar or another sweetener of choice.
Served 8-10.
---
How have you enjoyed making co-workers, friends, or family stare with strange but good creations this week? The link up rules can be found here or by clicking on "Strange But Good" in the menu bar above. In short, I want to see what concoctions have earned you weird looks from co-workers, family and friends! Post your Strange But Good creations, grab the logo below for your blog, and link up here.
Remember to use #strangebutgood in any Tweets and Instagrams of your creations. 🙂



***
I swear I don't just sit around a bake all the time… but there's also going to be a cake recipe coming next week.  It's my birthdayyyyy!
What is the strangest thing you've eaten this week?
Have you ever cooked with beer or soda?  I used diet coke to make these S'mores Brownies (again) for the weekend's festivities.