Don't you hate feeling repetitive?
Don't you hate feeling repetitive?
Yes, I do amuse myself… hahaha! 🙂  Seriously though.  I've done quite a few #strangebutgood breakfast posts.  It's just so easy to be strange in the morning!  Maybe I dream about it since I typically fall asleep thinking about breakfast?
I have a few (more) atypical breakfast ideas for you today… but they could double as dinners or even a dessert!
1. Griddled Crab Mexican Pizza
This was inspired by my Griddled Chicken and Grapefruit Pizza.  I told you I'm being repetitive.  #sorryimnotsorry
I've been eating more savory breakfasts lately.  My sweet tooth is legendary, and I find if I don't start the day off with a sweet meal it helps keep it in check.  At least until lunch.  
I prepared this just like in this post, except my toppings were crab, kale, salsa, and avocado.
2. French Toast with #yolkporn Syrup
For some reason I think it's more acceptable for me to use the word "porn" if I hashtag it.  Hmmm…
You may remember this from Wednesday (again with the repetition!), but I wanted to go into more detail.  Because it was that good.  I wanted french toast and a runny egg… so I just combined the two!  That delicious local egg yolk made of a fantastic savory syrup on my toast.
Adding the blueberries on top with a touch of toasted coconut added the slightest sweetness, completing each delectable bite.
I prepared a healthy french toast just like in this PB&J French Toast recipe, using P28 Protein Bread for extra protein.  When I cooked my egg, I just added blueberries and the coconut to the other side of the pan to be warming.  Looks fancy, but it was quick and easy!
3. Peanut Butter Shirataki "Rice" Pudding
My last repetitive meal was created from Wednesday's dinner leftovers.  I had tried the Skinny Noodle Shirataki "Rice" for the first time.  I loved the Israeli couscous-like texture!  Perfect for breakfast, no?
One package is 2 servings.  Since I'd already prepped the whole package (you MUST rinse and warm to avoid the funky flavor), I used the second half to pre-make breakfast.  What resulted was reminiscent a thick, creamy bowl of peanut butter rice pudding.  Incredible.  I sampled a bite before bed and it was all I could do not to house the whole thing right then and there.
Mine was topped with a fresh Georgia peach, but I think any fruit would be good here.  Like banana… mmmm… breakfast tomorrow…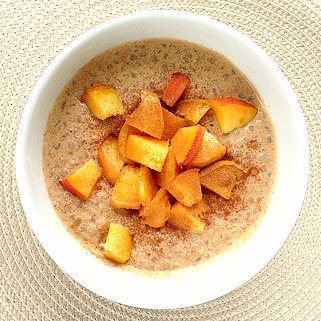 Ingredients:
1 serving Skinny Noodle Shirataki "Rice"
1/2 C unsweetened vanilla almond milk (or other liquid)
1/4 C peanut flour
1/2 tsp cinnamon
1/4 tsp ground ginger
1/4 tsp almond extract
1/4 tsp vanilla extract
Vanilla liquid Stevia, to taste
Mix together all ingredients. Cover and place in the fridge at least one hour, or overnight.  
In the morning, remove from fridge and stir.  You may need to add additional liquid to thin it out to your preference.
Top as desired and enjoy!
Note: I order my peanut flour from iHerb – I like it better than PB2 because it is less processed and doesn't have the added sugar and sodium.  Use my discount code – USO924 – for $5-10 off your order!
____________________________________________________________________________________
 How have you enjoyed making co-workers, friends, or family stare with strange but good creations this week?
The link up rules can be found here or by clicking on "Strange But Good" in the menu bar above. In short, I want to see what concoctions have earned you weird looks from co-workers, family and friends!
Post your Strange But Good creations, grab the logo below for your blog, and link up here.
Remember to use #strangebutgood in any Tweets and Instagrams of your creations. 🙂
***
I hope everyone had a wonderful 4th of July!!!  We got drenched but made the very best of it.
When was the last time you felt repetitive?
Does a more savory start to the day help curb your sweet tooth?