Nothing says 'I love you' like free.
Or cold, hard cash.  Either way.
By now we are all aware of the free Starbucks drink on your birthday.  Even though I didn't get an offer this year – wtf?!  People like to make a game of how much they can get – whether its a birthday freebie or just to pay too much for already over-priced coffee.  The previous record for ONE drink was $54.74.  Child's play!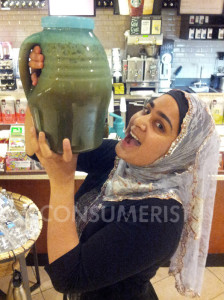 A Florida woman managed to order a $60.58 Frappuccino.  According to Consumerist, the drink consisted of 60 shots of espresso, matcha powder (gotta stay healthy!), and caramel, white mocha, and hazelnut syrups. She even brought along a jug for the barista so it would all fit!  I'm assuming she didn't drink it all… I didn't see any follow up reports about her having a caffeine-induced heart attack.
Yet another way to order obnoxiously at Starbucks.  You're welcome.
________________________________________________________________________________________
This WIAW is a birth-day east celebration!  Actually, it was pretty mundane until dinner… I was busy at work and I knew what was coming to me for dinner!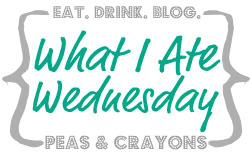 Read on for my eats, and then check out Jenn's blog for everyone else's delicious creations!
________________________________________________________________________________________
Breakfast:
My morning cocktail, as always.  Today I added a shot to celebrate my special day.  An extra shot of cayenne, that is.
Everyone should have pancakes on their birthday.  I saw Gina post her pancakes yesterday on Instagram and saved it with breakfast in mind!  I *almost" followed the recipe.  I just subbed goat milk yogurt for cottage cheese, used Growing Naturals rice protein, and added almond extract.  Topped with cocoa syrup and sprinkles. Amazeballs (you're welcome, Lucie).
Snacks:
This is where some repetition starts.  I'm leaving town this week to go see this girl compete in her second bikini competition, so I didn't do a huge food prep.  And it's my birthday week, so I'm eating out for a couple of meals.  All of this translate to tuna in a can.  Twice.  This was mid-morning and mid-afternoon.  
Tuna mixed with heirloom tomato, mushrooms, and hummus "dressing."  I love making quick sauces with hummus, apple cider vinegar, and spices.  This one had cayenne and garlic added.
Lunch:
Another easy meal – salad in a box!  Local greens, no-salt deli turkey, red bell pepper, and snow peas.  I dressed with with peach salsa.
Dinner:
For my birthday, all I really wanted was to do "bro day" at my gym with one of my trainers.  Bro day (chest and biceps) is my favorite, so I never get to do it with a trainer.  It's the day where I can push myself alone, so I generally save the paid sessions to lower body (which I dislike), or areas I need to focus more on.
The other thing I wanted was to try what is allegedly the best burger in Atlanta.  My trainers, my friend Natoshia, and I headed to Illegal Food to check it out.  I'm a skeptic – I have tried most of Atlanta's touted burgers and have a running list of the top 5.  Let's just say this lived up to expectations.  Holy mother of burgers, I have found the new #1 burger.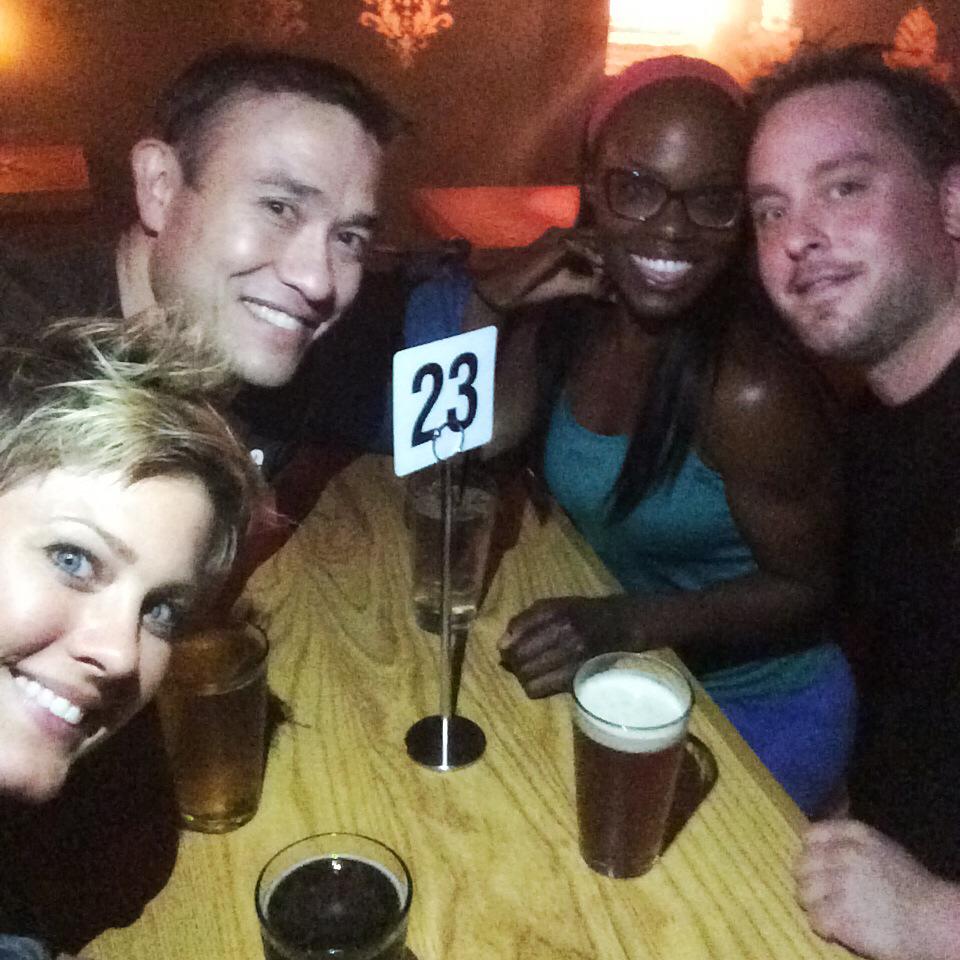 We got 3 different varieties and a chicken sandwich.  Of course, we passed them all around to sample all the meats.  I swear, each bite was better than the last.  After the first tastes we sat there for a moment in stunned silence before alternating between wanting to devour it as fast a possible and wanting to slowly savor each delectable bite.
My selection was a special called The Warden's Burger.  7.5 ounces of meaty goodness (a secret blend that involves brisket, shoulder, and other fatty cuts) with goat cheese mousse, summer tomato jam, red onion, rocket (arugula), and a pain de mie bun from H&F Bread Co. (aka the most perfect bun in Atlanta).  Think of the most juicy, flavorful patty you've ever had with pillowy tangy cheese and on a bun that refused to get soggy.  Add a little sweet from the jam and a teeny bite from the rocket… I'm getting chills all over again just typing this.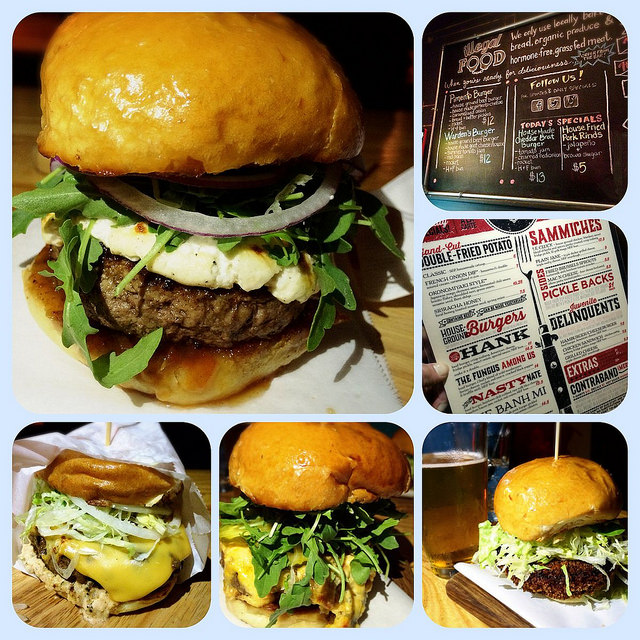 The pile of sushi-like fries in the top right below was also stand-out.  It was a giant plate of fries worth every cent of the $10 they cost.  They're called okonomiyaki-style fries, a nod to the Japanese dish.  They're hand-cut before being soaked and double fried.  What this means to you is that each bite remains perfectly crispy on the outside, even after it's topped with the multitude of Japanese flavors.  
With accouterments like shredded cabbage, green onion, seaweed, bonito flakes, okonomi sauce, Japanese mayo, fermented chili sauce, sesame seeds, and red pickled ginger, each bite is a party in your mouth.  #twss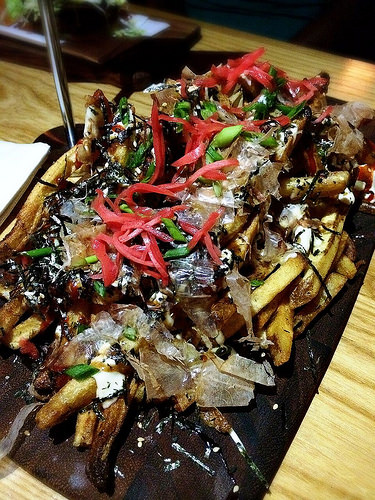 Now for the sad news… Illegal Food is currently operating out of Joystick Gamebar.  At the end of June they were given a 60 day notice to vacate.  There are two sides to every story, but the conclusion is that Joystick prefers to lend its kitchen as an incubator to new restaurant concepts and decided it's time Illegal stand on its own.  Hopefully they'll make bail and move on to bigger and better things.  They have to… because I have an addiction to feed.
If you're in Atlanta, you should go immediately if not sooner.  And buy some beers from the crew at Joystick.  It's the perfect pairing to that pornographic piece of meat heaven.
***
Don't forget to check in with the #MoveHappy week 3 challenge! I'm hobbling Monday's leg day Monday AND I can barely lift my arms.  #winning
Do you have workouts you're better at pushing yourself on than others?
How do you like to celebrate your birthday?