Do you realize how much you sit?
It makes my hips hurt!
I've gone through a lot of "hacks" to have standing desks.  At one job I stacked up Girl Scout cookie boxes to set my laptop on.  When I'm at home working, I use the condo gym to build a treadmill desk.   I can't stand to sit still.  Standing up while I'm working helps to improve my focus.  Hey!  Something shiny!
When my boss suggested I look into a "real" standing desk, I was thrilled.  After some research, VertDesk offered to hook me up with one of their adjustable height desks.  Talk about not sitting still – I was bounce-off-the-walls elated.  The VertDesk even has a push button control to make height adjustment easy.  My co-workers can adjust it to their height and use it and, if I ever DO decide to sit, I can simply push a button to lower it.
We've all seen the articles about how sitting is killing us… but why exactly is a standing desk beneficial?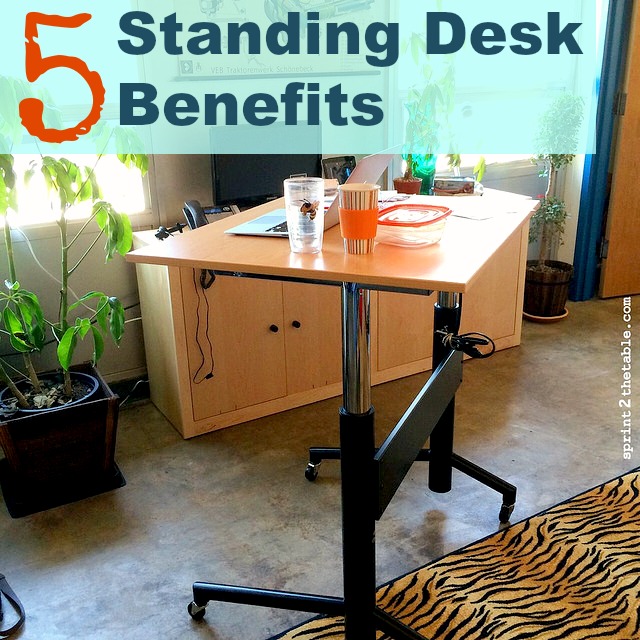 Metabolism: Standing burns a third more calories than sitting.  That adds up!  Slumping in your chair all day causes your metabolism to slow down.
Posture: Working at a standing desk keeps your core and back muscles engaged throughout the day, thus improving your posture.
Alleviate Back Pain: I've seen a vast reduction in my back and hip pain.  When you sit you let the chair hold you; you don't use your own muscles to hold your upper body.  This causes compression in the chest and abs, leads to slouching, and rolls your spine… all of which cause back pain.
Productivity: Standing helps me stay focused.  It releases restless energy, improves circulation, and fights fatigue.  Basically, it keeps you engaged.  Staying active and alert all day also helps you sleep better at night!
Longevity: Sitting increases your chances for developing cardiovascular disease and blood clots. Studies have shown some dramatic effects of sitting for long periods of time. Those who sit a lot are 54% more likely to have a heart attack.  Women who sit more than 6 hours a day have a 40% higher mortality rate, for men it's a 20% higher. If you sit for more than 23 hours a week you are 64% more likely to die from heart disease.
---
This WIAW is 9 weeks out from my competition!!!  I should get an extra cheat meal or something because all of my food was eaten standing up. 😉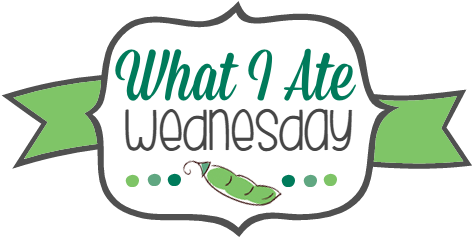 Read on for my eats, and then check out Jenn's blog for everyone else's delicious creations!
---
Meal 1:
The usual morning cocktail, followed by my morning sludge.
Breakfast was simple – Herb and garlic egg white scramble with a whole egg dropped in.  Toast to sop up all that yolk porn.
Meal 2:
Like last week, I added Thai spice to my Sizzlefish cod.  I had it with some delicious brussels that I roasted with balsamic.  I also roasted parsnip fries and plenty of sweet potato, which I topped with cinnamon and a little NuNaturals cocoa stevia syrup for "dessert."  
Meal 3:
Chicken with roasted red bell peppers.  Japanese sweet potato.  Good, but not exciting.
But heyyyyy… check out my snazzy desk!  See that button with the arrows?  That's what moves it up and down.*
*Animal carpet not included. 
Meal 4:
The best part of the day is the carb and fat snack.  Quinoa crisps with avocado-chocolate spread.  I just mushed up avocado with cocoa powder, cinnamon, and a little bit of vanilla liquid stevia.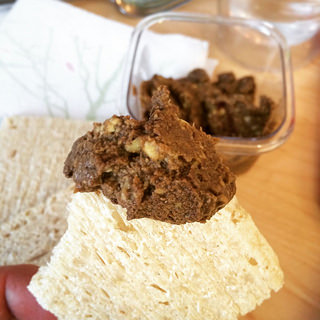 Meal 5:
Salmon sashimi with seaweed snacks and sautéed veggies.  Purple sweet potato.  I really love purple sweet potatoes.
Full disclosure: There was a protein shake post-workout here.  Too busy to take a pic though.
Meal 6:
I received a special delivery from Arctic Zero a fews days ago – all the flavors of the protein ice cream!  For those of you who haven't tried it yet, I recommend it as a sweet treat.  Don't expect regular, full-fat ice cream… it's a little icier, not fatty… but it does the trick.  The new orange flavor tastes like a push-up!
What I did here is unrelated to the orange.  I was craving the chocolate peanut butter.  And sweet potato (like I didn't have enough already).  So I melted the chocolate peanut butter a bit and mashed up the sweet potato to mix in.  I also added a little cinnamon and some vanilla.  I stuck it back in the freezer for an hour before topping it with homemade popcorn and peanut flour sauce.
Sweet potato chocolate peanut butter popcorn ice cream.  Boom.
*I order peanut flour from iHerb.  Use discount code USO924 for $5-10 off your order!
***
I'm going on 2 weeks with the desk and love it.  People ask if my feet hurt.  They don't… but I do wear flats or running shoes to work.
Do prefer to sit or stand to work?
What is your favorite kind of sweet potato?  Have you tried the white or purple?