Sriracha and I have a long relationship.
Second only to my relationship with my hair stylist.
Spicy is a food group all its own in my house.  I put Sriracha or some sort of heat source on nearly everything.  Even my chocolate sauce is "Mexican" with the addition of cayenne.  Why should muffins be any different?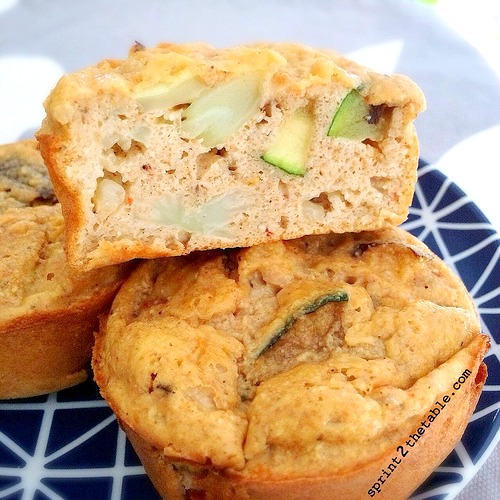 If adding Sriracha to muffins isn't strange enough, I also added veggies.  I choose red peppers, zucchini, and shiitake mushrooms to compliment the Vietnamese feels of the Sriracha.  You can easily change it up with your favorites.
This spicy little number is also low carb thanks to coconut flour.  I also added stay-powder with healthy amount of cottage cheese and eggs to amp up the protein.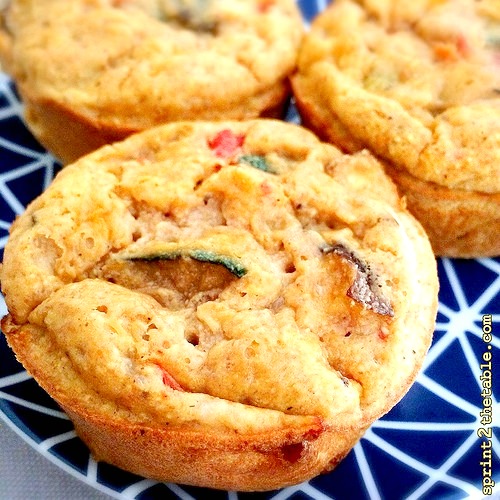 Heat up your morning (or your evening) with a spicy little number.  They're good from the freezer too – just pop it in the microwave ~30 seconds to thaw.
It may sound strange, but it's good.
---
12MUFFINS
adjust servings
Ingredients
1

small red pepper, diced

1

C cauliflower, chopped

1

C shiitake mushrooms, sliced

1/2

C zucchini, chopped

2

cloves garlic, minced

1/2

C spelt flour

1/4

C coconut flour

1

tsp ground coriander

1/2

tsp pepper

1/2

tsp onion powder

1/4

tsp sodium-free baking powder

1/2

C no-salt cottage cheese

2

eggs

1.5

C egg whites

1

T sriracha
Instructions
Preheat oven to 375. Coat a muffin tin with cooking spray.
Heat pan over medium-high heat and coat with cooking spray. Saute veggies until tender. Set aside.
Meanwhile, mix together dry ingredients in a large bowl. Stir in wet ingredients. Lastly, fold in sautéed veggies.
Divide evenly into muffin tins. Bake 20-25 mins, until toothpick come out clean.
Can be stored 5-6 days in the refrigerator, or 3 months in the freezer.
Approximate nutrition (per muffin): 81 calories, 1.6g fat, 88.8mg sodium, 8.5g carbohydrates, 2.2g fiber, 1.3g sugar, 7.3g protein
---
How have you enjoyed making co-workers, friends, or family stare with strange but good creations this week? The link up rules can be found here or by clicking on "Strange But Good" in the menu bar above. In short, I want to see what concoctions have earned you weird looks from co-workers, family and friends! Post your Strange But Good creations, grab the logo below for your blog, and link up here.
Remember to use #strangebutgood in any Tweets and Instagrams of your creations. 🙂


***
It's finally going to be sunny all weekend here!  Perfect timing for a long weekend.
What is your favorite hot sauce or spice?
Do you prefer savory or sweet muffins?