Atlantarctica no more!
Working from home was nice, but the cold was no bueno.
This week we are finally thawing out down South (sorry about your luck, in the Northeast).  While I hope it's here to stay, I find myself craving a getaway.  To some place thing warm.
Now that they aren't shut down, California's Huy Fong Foods factory (a.k.a. where Sriracha is made) is giving tours of the factory!  It's purportedly to educate people about "how our Sriracha is made and how delicious it smells" after near-by residents complained that the spicy Sriracha production caused "unpleasant odors and burning eyes."  Wusses.
Who's up for a field trip???
________________________________________________________________________________________
This WIAW I'm back in the office and on the wagon with meal prep.  I brought back a few favorites, and learned to cook something new!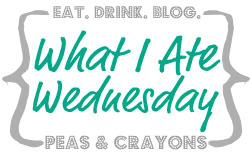 Read on for my eats, and then check out Jenn's blog for everyone else's delicious creations!
________________________________________________________________________________________
Breakfast:
The usual apple cider morning cocktail was followed by one of my favorites: overnight oats in an almost-empty nut butter jar.
I usually make this with Greek yogurt, but I used a new find from Whole Foods.  Elli Quark is thick and creamy, and even higher in protein per serving!
Banana-Almond Butter Overnight Oats (in a jar)
1 almost-empty almond butter jar
1 serving Elli Quark (or Greek yogurt)
1/2 diced banana
1/4 C oatmeal (I used Purely Elizabeth)
1/2 tsp cinnamon
Stevia and almond milk (or other liquid), to taste
Mix it all together and place it in the fridge overnight.  Remove from fridge in the morning, stir, and add additional liquid if necessary.  You can also warm it in the microwave if you're using a glass jar.
Mid-Morning Snack:
I'm loving KIND bars as a pre-workout snack.  I had a Peanut Butter & Strawberry one before a lunchtime back and tri workout.
Lunch:
Sea Bass roasted with lemon, garlic, and rosemary with a spinach and beet salad drizzled in mustard.  I saved the cinnamon-topped sweet potato for "dessert."
Afternoon Snack:
Chicken, roasted eggplant, BBQ Cauliflower Bites, and my last Dora frozen edamame.  I'm really sad the store quit carrying these little packets. 🙁
Dinner:
Soy bean pasta (Whole Foods find!), vodka marinara sauce, spinach, scallops, annnnd… bacon.
This was a partial-leftover dish.  I made the scallops on Sunday.  It was my first time (successfully) making scallops, but it was really easy!
I sautéed minced garlic and shallots in olive oil, then added the scallops and fresh lemon juice to sear (~2-3 mins each side) before dumping in the marinara sauce and letting that simmer another 4-5 mins.
Pre-dessert was a (unpictured) Purely Twins' Protein Thin Mint.  These are amazing.  I made the 1/2 cocoa, 1/2 carob version, and I swear they taste just like the real-deal.
Dessert:
Carrot Cake Batter made with cottage cheese and a scoop of coconut flour.  I warmed it a bit before topping it, which was a good call.
Decorated it with popcorn, cocoa powder sauce, and my favorite peanut flour sauce (I get my peanut flour on iHerb  – use discount code USO924 for $5-10 off your order).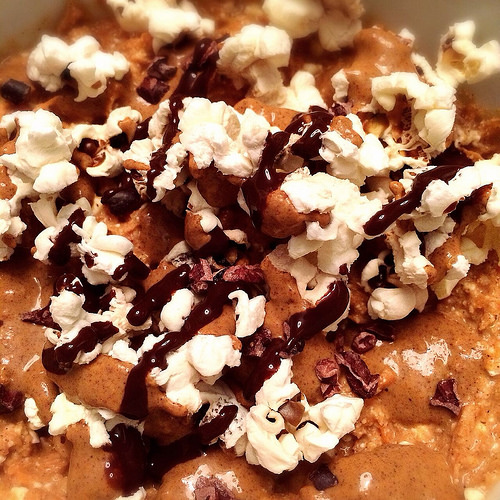 ***
After writing this, I realized I ate gluten-free all day… completely on accident!
What new recipes or foods are you liking lately?
Do you like overnight oats?  What's your go-to recipe?