I'm ahead of the "trendy" curve.
This is a first.
According to this article, sriracha may be the new pumpkin.  Many of you saw the chips.  They have now gone so far as to turn it into a vodka flavor.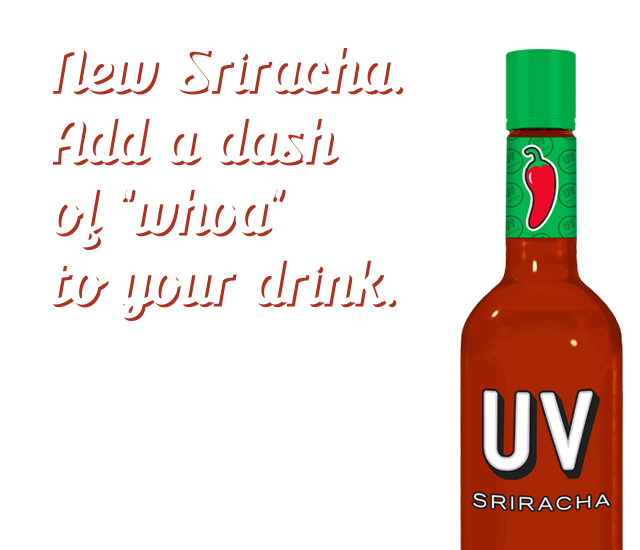 Why does EVERYTHING good need to be turned into vodka?  I like a good drink, and I admit that a sriracha Bloody Mary sounds good… but PB&J?  Really?
The point was going to be that I like sriracha before it was cool.  Before the pumpkin obsession.  Before even the bacon obsession.  So there.  Pass me a pumpkin-bacon-sriracha martini.  
________________________________________________________________________________________
This WIAW felt like it was going to be "meh" after a rushed food prep.  Looking back it didn't turn out too badly.  I'm pressed for time, but having quick proteins has helped – on busy weeks I rely on no-salt deli turkey and rotisserie chicken.  With a few simple flavor adds, semi-homemade tastes pretty good!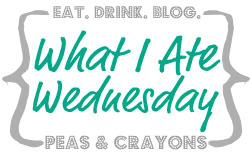 Read on for my eats, and then check out Jenn's blog for everyone else delicious creations!
________________________________________________________________________________________
Breakfast:
It hasn't cured my cold, but the day still began with my apple cider morning cocktail.

I crave random things when I'm sick, so breakfast was even more random than usual.  Cinnamon-ginger egg white scramble with strawberries, topped with hemp cereal and Apricot-Riesling Greek yogurt cream cheese from Atlanta Farm Fresh.
Mid-Morning Snack:
I lost track of time, so this was more like lunch.  I had my salmon with snow peas and Roots spinach hummus (a Whole Foods find), but I got pulled into a meeting that had lunch brought in… so I added a little supplement in the form of a chopped salad and a cookie.  I went back for seconds on the cookies.
Lunch:
Shredded rotisserie chicken (naked from Whole Paycheck) made an appearance again this week.  I meant to make a giant batch of a hearty soup Monday night, but I made it super-thick so it's more like casserole.  Whatever.  It included swiss chard, sweet potato, onion, garlic, and a ton of Indian spices.
Mid-Afternoon Snack:
I ended up working really, really late so I was especially grateful for my desk snacks.  I love this bar.
Dinner:
Dinner was late, but I had to make something warming when I finally did get home.  Skinny Noodles shirataki noodles were a quick and easy base for this marinara and turkey dish.  I used Whole Foods' no salt tomato sauce, but added mushrooms, cayenne, nutritional yeast, and a drizzle of balsamic reduction.
Dessert:
Total comfort food.  I used my 150 Calorie Chocolate Cake recipe to make a pumpkin version with vanilla protein powder, pumpkin puree, and pumpkin pie spices.  I alternated between shoveling this in my mouth and trying to savor each bite… it was SO good!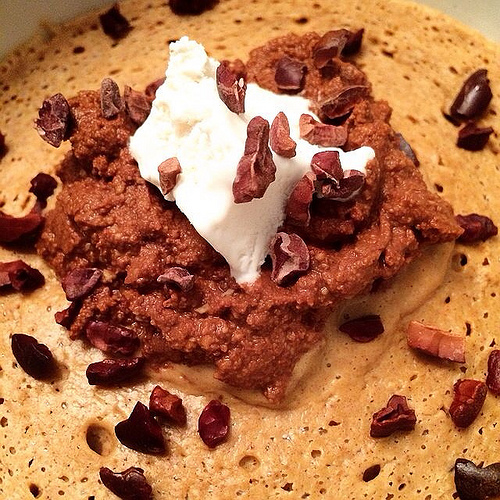 The icing on this cake was the icing – Cocoa Pumpkin.  I mixed cocoa powder, cinnamon, pumpkin puree, coconut flour, almond milk, and liquid vanilla Stevia to make one helluva fluffy topper.  With a dollop of Tru Whip and cacao nibs.
Maybe I should make a sriracha flavor.  With a shooter. 😉
***
I'm back home but sick and crazy busy… blogging is taking a back seat this week, but I promise to have a fantastic (my mom's assessment!) #strangebutgood recipe up on Friday!
Would you buy sriracha vodka?
How are you surviving the holiday insanity?  Vodka?